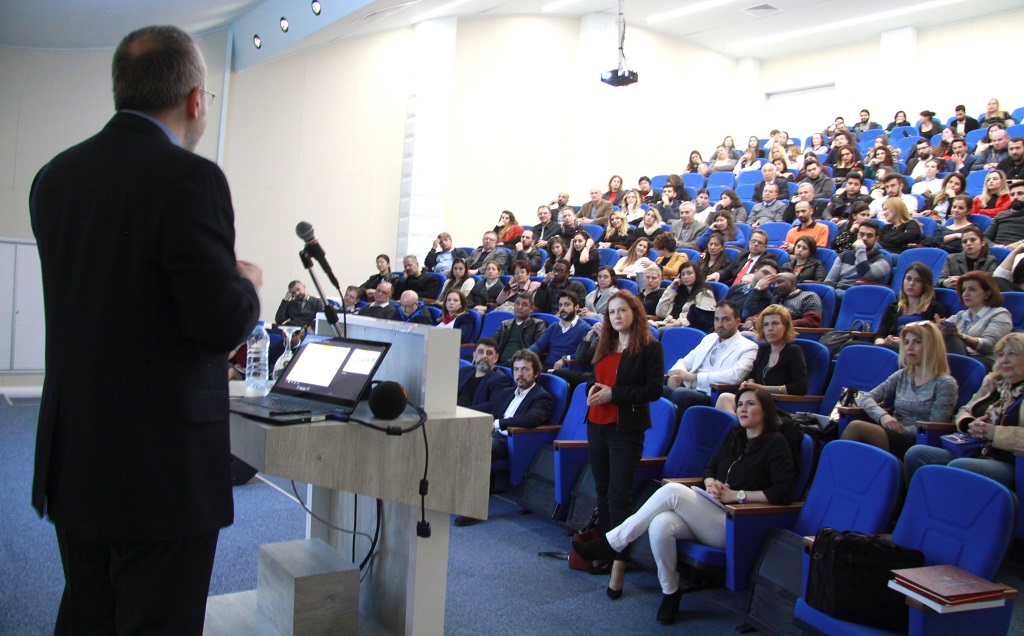 Organized by Near East University, Conference Series on '100 Reasons to Produce Science' continue to provide forum for scholars and keynote lecturers to address scientific issues, to present their scientific studies and promote the scientific studies for new discoveries. Having been scheduled to host top100 Turkish Scientists from all around the world, the Conference Series has hosted many worldwide renowned Turkish scientists so far. Being devoted to providing institutional contribution to innovative scientific information production and ensure excellence in education and innovative scientific studies, Near East University continues to host worldwide renowned scientists and provide opportunity for the faculty members and students to enhance their knowledge through fruitful plenary conferences.
Within the scope of the Conference Series, Near East University hosted Professor İbrahim DİNÇER as the keynote speaker. Professor İbrahim DİNÇER, whose name is mentioned amongst the rare forerunners of studies on sustainable energy technologies, is the first UOIT faculty member to receive Canada Premier's Research Excellence Award.
During the conference, Professor DİNÇER delivered information on the key role of university education, innovation and innovative research studies in raising successful generations.
The Conference provided platform for delivering comprehensive and detailed information on the role of education and innovation in raising well rounded individuals….
Addressing the participants, Professor DİNÇER underlined the crucial role of universities in raising individuals having vision, critical thinking ability and creativity. Stating that universities should also attach importance on maintaining the cultural values, Professor İbrahim DİNÇER highlighted that a well-established program comprising all these core components is a must to accomplish the determined goals. Underlining the necessity of innovative approach for technology, science, economy and all relevant fields, Professor DİNÇER stated that man and innovation are the key parameters for achieving success in all mentioned domains. Highlighting the significance of funds, team work, scholar researchers, incentives, appropriate policies and strategies, research and marketing infrastructure, as well as academic freedom for innovative research studies, Professor DİNÇER stated that success in education and science is closely associated with innovation.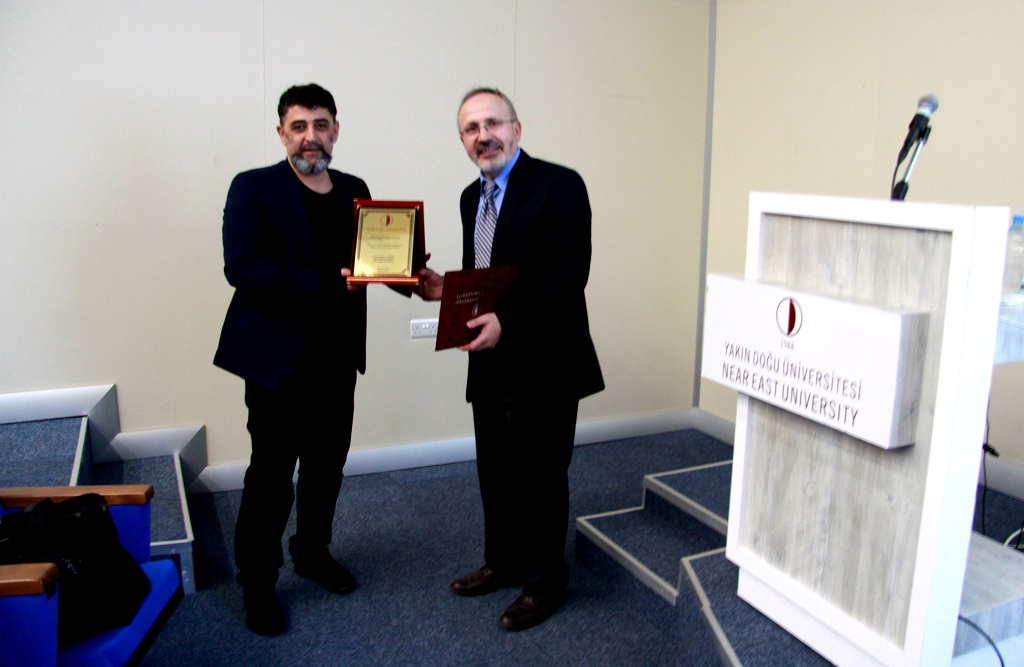 Assoc. Prof. Dr. Mustafa KURT: "Scientific Mind and Method as well as Scientific Ethics are three of the fundamental parameters that Near East University grounds on"
At the end of his presentation, Professor DİNÇER answered the respective questions directed to him. Expressing his pride of being invited to such an outstanding conference, Professor DİNÇER extended his appreciations to NEU Rectorate, faculty members and students for their intense interest in the conference. Attending the conference on behalf of Near East University, the Vice Rector Assoc. Prof. Dr. Mustafa KURT extended his appreciations to Professor DİNÇER and presented him a plaque of thanks in recognition of his unique contributions to the conference. Highlighting NEU's commitment to ensure all possibilities for scientific studies, Near East University vice Rector Assoc. Prof. Dr. Mustafa KURT stated that they attached the upmost importance to ground all that they do on scientific mind, method and scientific ethics.
Who is Professor İbrahim DİNÇER?
Graduated from Selcuk University in 1987, İbrahim DİNÇER received his MSc degree and Ph.D. degree in Mechanical Engineering at Yıldız Technical University in 1991, and at Istanbul Technical University in1993 respectively. During and after his post-graduate education he worked at TUBITAK Marmara Research Center for 6 years. In 1994, he joined Canada Victoria University. After working there for more than 3.5 years, in July 1997, he joined King Fahd University in Saudi Arabia. In July 2003 he returned to Canada and started to work at University of Ontario as a founding faculty member.
Professor İbrahim DİNÇER is currently a full professor of Mechanical Engineering in the Faculty of Engineering and Applied Science at the University of Ontario, Institute of Technology (UOIT). He is Vice President for Strategy in International Association for Hydrogen Energy (IAHE) and Vice-President for World Society of Sustainable Energy Technologies (WSSET). Renowned for his pioneering works in the area of sustainable energy technologies, he has more than 400 scientific articles. He has also authored and co-authored numerous books and book chapters, and more than 250 refereed journal articles and conference papers, as well as 50 technical reports. He has chaired many national and international conferences, symposia, workshops and technical meetings. He has delivered more than 30 keynote and invited lectures.
Professor DİNÇER is an active member of various international scientific organizations and societies, and serves as editor-in-chief, associate editor, regional editor, and editorial board member on various prestigious international journals. He has received numerous research, teaching and service awards, including the Premier's Research Excellence Award (PREA), which is one of the most distinguished awards in Canada. He has been recognized by Thomson Reuters as one of the Most Influential Scientific Minds in Engineering.
News Video