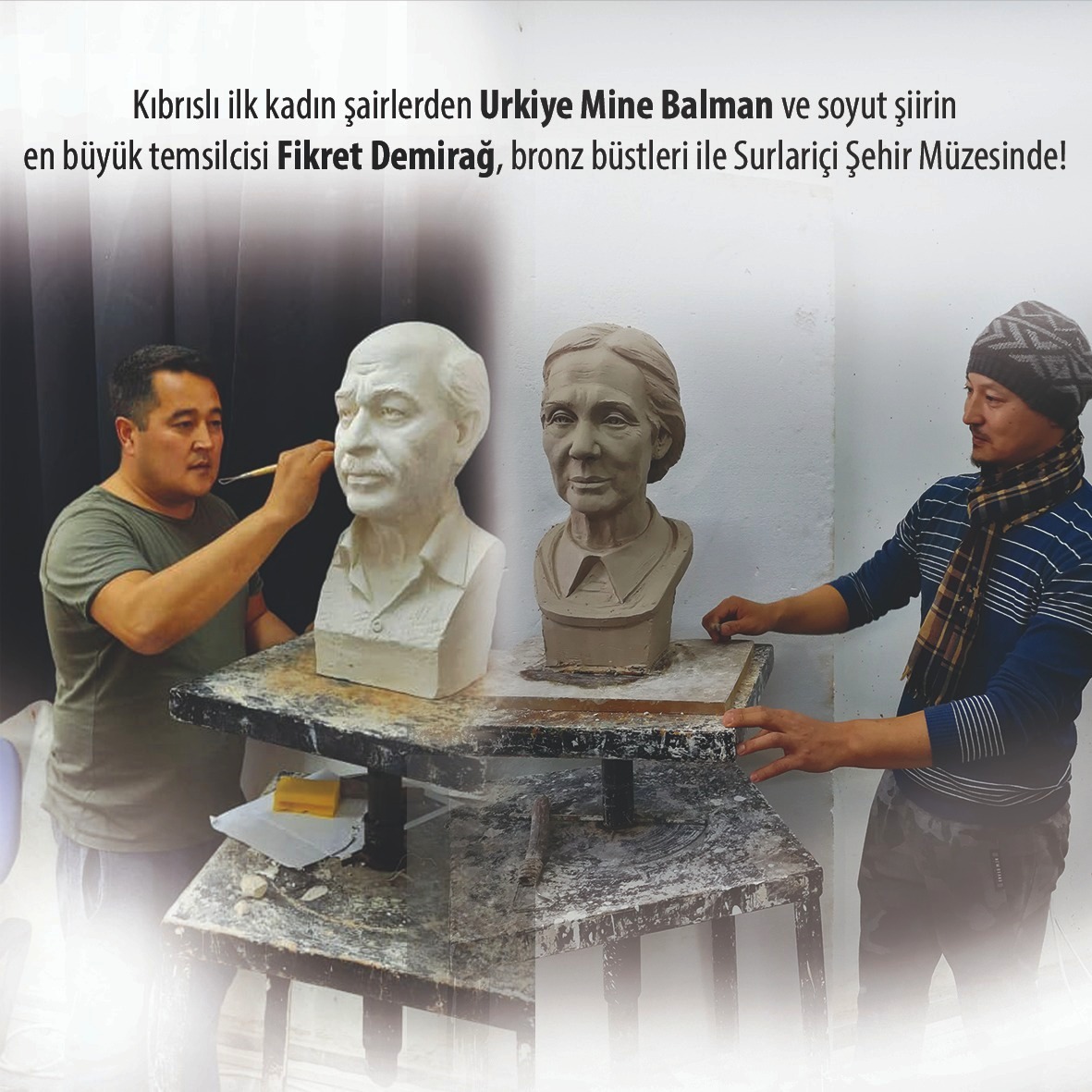 The names to be included in the "Turkish Cypriot Writers Bust Collection" at the walled City Museum, which includes Turkish Cypriot writers who have contributed to the Turkish Cypriot literature, history and culture, continue to be identified. Bronze busts of Urkiye Mine Balman, one of the first Cypriot female poets, and Fikret Demirağ, one of the most powerful representatives of the abstract movement in Turkish Cypriot poetry, will take place at the Walled City Museum, in the "Cyprus Turkish Writers Bust Collection". Recently was announced that the bronze busts of Kaytazzade Mehmet Nazım, the first novelist of the Turkish Cypriot Literature, the father of the Turkish Cypriot modern novel Hikmet Afif Mapolar, Osman Türkay, known as the "space poet" and Özker Yaşın, a versatile writer have been featured in the collection. Along with Urkiye Mine Balman and Fikret Demirağ, the number of names confirmed to be included in the collection with their bronze busts reached six. "Cyprus Turkish Writers Bust Collection" will continue to grow with new names.
The first female poet from Cyprus
Urkiye Mine Balman, one of the first Cypriot female poets, started to write poetry during her school years and wrote her first poem in 1940. Balman's first poetry book was published 70 years ago, in 1952, under the name "Roads to My Homeland". The first poems of Urkiye Mine Balman, one of the most influential writers of the "Syllabic-Romantic" movement, which is accepted as the first contemporary poetry movement and which manifested itself clearly in the 1940s and 1950s, took place is in the "Avalanche Selection", the first anthology and selection published in 1943. Balman, who made great contributions to the Turkish Cypriot community as a teacher in addition to her poet identity, never broke off from poetry while continuing her teaching career.
Many poems of Urkiye Mine Balman, who contributed significantly to contemporary Turkish Cypriot Poetry, were published in Yeşilada (Greenland) Cyprus, Yedigün (SevenDays) and in journals such as the Turkish Language in Turkey. Balman, who generally wrote free-style poems, was honored with the Leading Poet Award as part of the Ali Nesim Literature Awards in 2017. The thesis "Urkiye Mine Balman's life and poetry analysis" prepared by Halide Civil at Near East University by making interviews with the poet was published in 2012. Urkiye Mine Balman died at the age of 91 in 2018.
Second New in Cyprus
Another poet from Lefke to take place with his bronze bust in the "Cyprus Turkish Writers Bust Collection" is Fikret Demirağ who is regarded as one of the greatest representatives of abstract poetry in Cyprus. He stands out as one of the most prolific poets of Turkish Cypriot poetry with 20 poetry books published. Although the effects of many poetry movements can be seen in Demirağ's works, he is regarded as the "Second New" in his early works, and after 1970 as one of the most important representatives of socialist poetry in Cyprus. There are exotic, futuristic traces in his poems.
Demirağ, who worked as a teacher for many years like Urkiye Mine Balman, also contributed to the publications of the magazines called Şölen (Feast) and Sanat Postası (Art Post) and the newspapers Halkın Sesi and Yenidüzen. After retiring in 1989, he worked as a manager in the culture and arts section of the Kıbrıs newspaper.
Described as "the most interesting of Cypriot artists" by Behçet Necatigil, Fikret Demirağ's poems and interviews have been published in Varlık (Existence), Alaz (Blaze), Cumhuriyet Kitap (Republican Book), Dost (Friend), İnsan (Human), Kedi Şiir Seçkisi (Cat Poetry Selection), Kurşun Kalem (Pencil), Kül (Ash), Ortam (Ethos), Özgür Edebiyat (Liberal Literature), Sincan İstasyonu (Sincan Station), Yasak Mevye (Forbidden Fruit) and Yenidüzen (New Order). He was deemed worthy of the Turkish Bank Culture and Arts Award in 1994 and the M. Necati Özkan Culture Award in 1995. Fikret Demirağ died in 2010 in Istanbul due to heart failure.