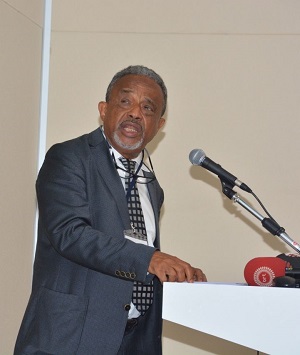 Dr. Azhari Fatahalla Ahmed: "The Nasal Spray Project may open the way for an important and promising implementation in the global fight against the virus…"
Nobel Prize winner in 2007, Dr. Azhari Faahalla Ahmed commented on the protective Nasal Spray project carried out by Near East University to prevent the spread of COVID-19. Dr. Azhari Faahalla Ahmed said that the "Nasal Spray" project, of which Near East University is a partner, is an important project that offers an innovative solution to fight against the COVID-19 outbreak.
Dr. Azhari Faahalla Ahmed: "Nasal Spray project, which is jointly conducted by Near East University, Perugia University, Erciyes University, European Biotechnology Association (EBTNA) and Italian MAGI Group to prevent the spread of COVID-19, is an important project that offers an innovative solution to the COVID-19 pandemic. Near East University researchers may have taken a leading role in the fight against the virus on a global scale, opening the way for a promising application." Dr. Azhari Faahalla Ahmed noted that the protective Nasal Spray containing natural active ingredients has a positive effect in terms of its reliability, since no toxic side effects were found in laboratory tests.
Consists of natural components obtained in olive leaf…
The protective Nasal Spray, developed to prevent SARS-CoV-2 from infecting cells, is obtained from olive leaf and the active ingredients in it have anti-viral and anti-oxidant properties.
It will be tried in high risk groups…
Nasal Spray, which is tried on volunteers in Italy, continues to be applied in the control group in the Turkish Republic of Northern Cyprus, in high-risk groups that come into contact with people with suspected COVID-19 and close contacts of people with COVID-19 positive.
Participated in Nobel Prize Winner study…
Known for his successful studies in environmental science, air quality and climate change, Dr. Azharı F. M. Ahmed won the Nobel Prize with his study group in 2007 for his contribution to the studies on climate change within the scope of the Intergovernmental Panel on Climate Change (IPCC). He also served as an advisor to the national climate change committee. Ahmed conducts extensive studies on atmospheric chemistry and air pollution in environmental sciences, air quality, air pollution emissions, transportation, conversion, dispersion, deposition, and modeling.