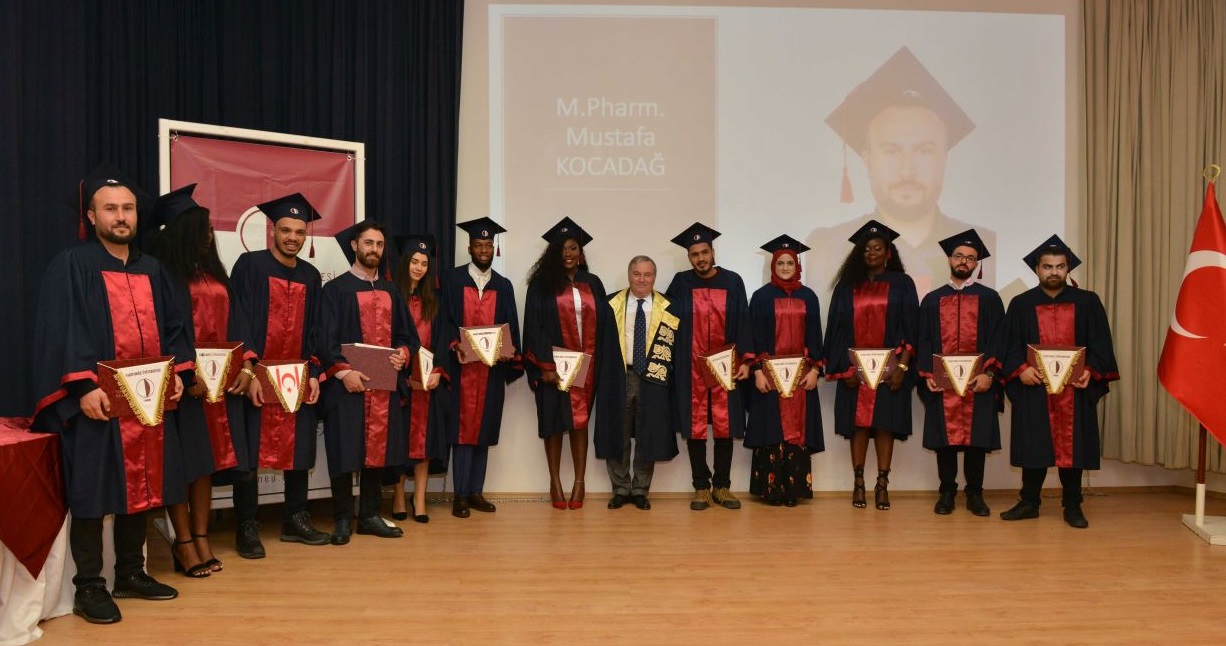 2018-2019 Academic Year Fall Term graduates of Near East University Faculty of Pharmacy received their diplomas with a glorious ceremony held at the Orange Hall at the Faculty of Communication.
According to the press release issued by the Directorate of Press & Public Relations Office of NEU, the graduation ceremony was realized with the participation of NEU vice Rector Prof. Dr. Tamer Şanlıdağ, NEU Faculty of Pharmacy Dean Prof. Dr. Ihsan Çalış, department chairpersons, faculty members, graduates and their parents.
The graduation ceremony began with a commemorative stand in silence for Mustafa Kemal Atatürk, Turkish Cypriot leader Dr. Fazıl Küçük, TRNC Founding President Rauf R. Denktaş and all martyrs and followed by national anthem. Then, NEU vice Rector Professor Tamer Şanlidağ, Pharmacy Faculty Dean Professor Ihsan Çalış and on behalf of the graduates Hasan Şeker delivered the opening remarks.
He wished success for the Graduates in their professional lives...
Underlining the key role of pharmacists in achieving the optimal public health, Professor Ihsan Çalış stated that pharmacy was one of the professions, which always existed and functioned validly throughout human history and never lost its importance in the lives of societies.
Indicating that they were bidding farewell the graduates of a long and dedicated academic year, Professor Çalış expressed his views: "As a member of Near East family and the Faculty of Pharmacy, I would like to express my gratitude to all of you. I firmly believe that NEU Faculty of Pharmacy has raised you well. Now, you are closing a page and opening a new one in your lives. You have successfully completed an important process in your life and you are starting a new road with a new energy, with high skills and knowledge that you have acquired throughout your education process. I believe that you will practice your profession responsibly with conscience, integrity, and dignity which are consistent with its values, ethical principles, and ethical standards. I congratulate all of you and your teaching staff who exerted great efforts to raise you in the best way and congrats to your parents who spared no sacrifices and supported you throughout your education.
Near East University grounds on Producing Science and Transforming Scientific Data into benefit of society...
In his opening remarks, NEU vice Rector Professor Şanlıdağ drew attention to the importance of universities in society and expressed his views: "From the time of Plato and Aristotle to the process extending today, universities have grounded their basis on philosophical principles of idealism. Universities are unique institutions that produce and disseminate information to society and integrate various components such as education and science within their bodies. "With her gigantic steps towards being a 4th generation university, Near East University aims to transform all scientific data obtained through academic studies, research and R & D activities for the benefit of society. Pharmacists have a key role in contributing to ensure the optimal public health. Human love is essential for ensuring a sustainable public health. I hope human love will guide your way while performing your jobs" said he.
NEU vice Rector Professor Şanlıdağ ended his remarks by wishing success for the new pharmacists.
"I owe Near East University a debt of endless thanks..."
Delivering a speech on behalf of the graduates, Hasan Şeker expressed his views. "I feel the excitement of going back to my country and the sadness of leaving here. Throughout our education process, we faced bravely the hardships of life and regained our self-confidence. I wish success to all my friends in their new lives. I owe Near East University, my teaching staff and my parents a debt of endless thanks" said he.
They have taken their first steps to practice their profession by swearing the Professional Oath...
Following the speeches, the participants enjoyed joyful moments with the violin recital performed by Nina Kudret, faculty member at the Department of Music Teaching. Then, the graduates took the professional oath and received their diplomas and enjoyed the joy of graduation by throwing their caps.