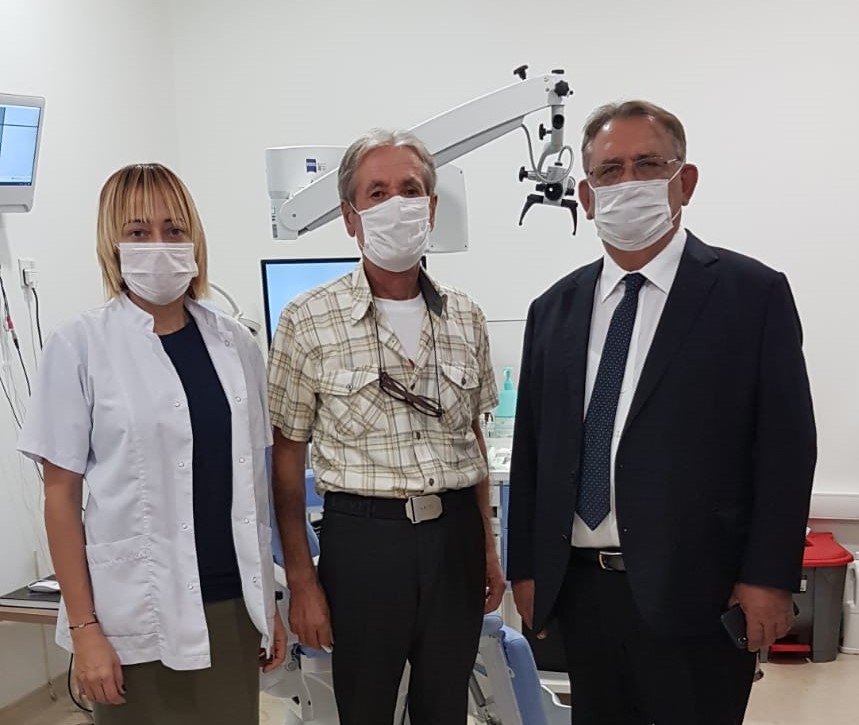 Saban Aydemir, 61, who applied to Near East University Hospital Otorhinolaryngology Head and Neck Surgery Department with the complaint of a non-healing wound on his soft palate, was operated after the pathology result indicating soft palate cancer. The cancerous area was cleaned, and a new palate was made from the buccal mucosa. This operation is also a first in our country in terms of preserving the patient's eating, swallowing and speaking functions.
Head of the Department of Otorhinolaryngology Head and Neck Surgery, Near East University Hospital. Dr. Ferhat Erişir reported that soft palate cancer was found in the examinations of the patient who applied with a non-healing wound on his palate. Stating that the cancerous area is cleaned and a new palate is made by using the cheek mucosa, Prof. Dr. Ferhat Erişir said that this way, the patient's quality of life was protected.
The soft palate, which is located between the mouth and the pharynx and consists of muscles, prevents the food from getting into the nose during swallowing.
Prof. Dr. Ferhat Erişir; "We preserved the patient's functions of eating and talking."
Stating that the soft palate of the patient was reconstructed with the mucosa taken from the mouth, Prof. Dr. Ferhat Erişir stated that after the surgery, the patient could eat and speak very comfortably, despite a mild disorder.
"Simultaneously clearing cancerous tissues and making the palate from the cheek is a big and difficult operation. As a team, we successfully performed the surgical procedure of the patient," Prof. Dr. Ferhat Erişir said that with the removal of the border tissues, the tumor tissue was completely cleaned during the surgery.
Prof. Dr. Ferhat Erişir; "Cancerous tissue spreading to neck lymph was completely cleaned."
As the cancerous tissue was densely located on the right side of the soft palate and the lesions spread to the right neck lymph, the right neck lymph was completely cleaned and the left neck lymph of the patient was also taken as a precaution. The treatment of the patient will continue with the application of radiotherapy in the future.
Şaban Aydemir expressed his satisfaction saying "I was discharged from the Near East University Hospital, thanks to my doctors, after a 1-month treatment period. It was a successful operation. I am very pleased with Dr. Ferhat and his team, as well as the nurses and all healthcare professionals who take care of me. Thank you very much".
Oral Cancer Symptoms
The soft palate located in the upper part of the small tongue in the mouth is among the risky areas for oral cancers. The presence of white or red colored areas is among the first symptoms of the disease in intraoral cancers, in which pain complaints usually occur in advanced stages. Wounds that do not heal for more than two weeks, tenderness, irritation, tissue deterioration, difficulty in swallowing, loss of sensation and swelling should bring to mind cancers in the mouth.