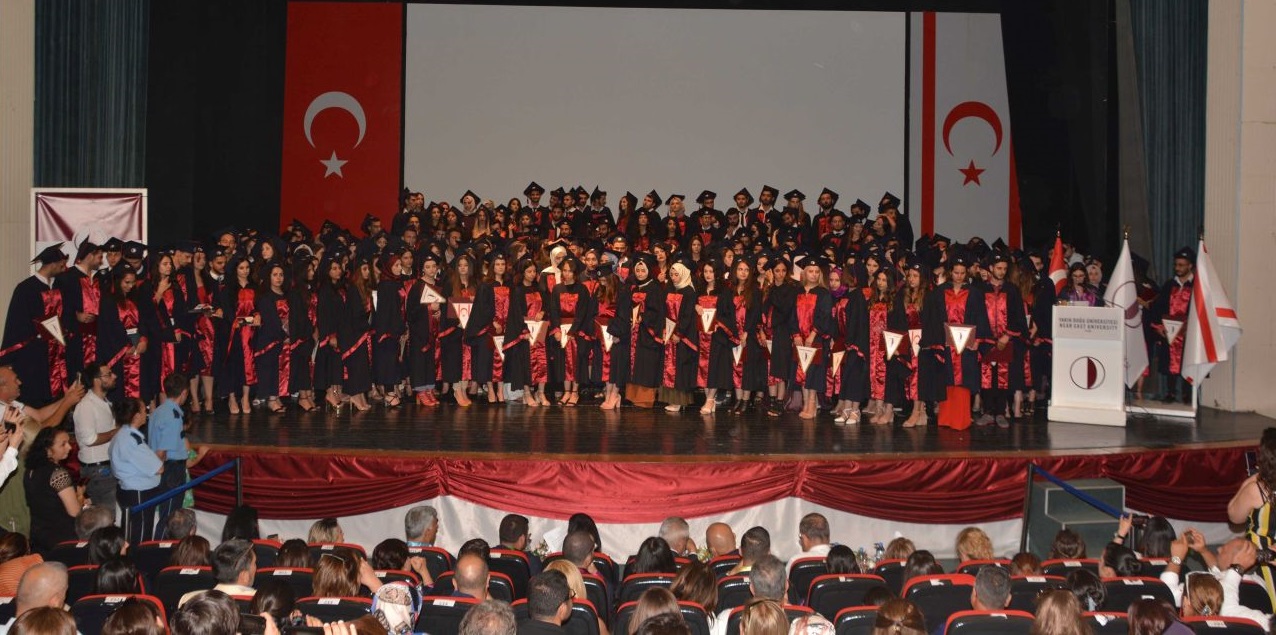 Being committed to providing quality education and equipping students with comprehensive professional knowledge and ethics and total experiences required to make them capable to accelerate change towards the health and wellbeing of the society, The Faculty of Health Sciences of Near East University once again feels the right pride of raising very talented graduates.
2018-2019 Spring Term graduates of Faculty of Health Sciences of Near East University received their diplomas with a glorious ceremony held at Atatürk Culture and Congress Center (AKKM).
According to the press release issued by the Directorate of Press & Public Relations Office of NEU, the graduation ceremony was realized with the participation of the Economy and Energy Minister Hasan Taçoy, NEU vice Rector Prof. Dr. Tamer Şanlıdağ, NEU Faculty of Health Sciences Founding Dean Prof. Dr. Sevinç Yücecan, Kyrenia University Hospital Chief Physician Professor Nail Bulakbaşı, department chairpersons, faculty members, students and their parents.
The graduation ceremony began with standing a moment in silence for Mustafa Kemal ATATÜRK and for all martyrs and followed by national anthem.
The participants enjoyed joyful moments with the music recital performed by pianist Atakan Sarı and singing and individual vocal training instructor Ahmet Zeytin, the faculty members from the Department of Music Teaching.
In her opening remarks, Professor Yücecan, the Founding Dean of the Faculty of Health Sciences, stated that for the first time since the establishment of the faculty they had the pride and enthusiasm of graduating students from all departments except the Department of Gerontology and the departments that offer education in English.
"You Reach Your Destination Sooner or Later, If You Believe in Your Strength"
Our Graduates are experiencing the privilege of being graduated from Near East University, which is the biggest education and culture center of our country offering quality education national and international standards and which adopts "success at every step" as a principle and which always has a great appetite for awards.
Addressing the graduates, Professor Yücecan expressed her views: "Dear Graduates, you are going to receive your diplomas from a faculty known as the training ground of many successful professionals working around the world. As NEU Faculty of Health Sciences, we have undertaken a crucial role in training you and paving the way for you towards establishing a cutting-edge career over the others. While we are proud of your future accomplishments, you will also feel the right pride of being a graduate of Near East University which has a prominent place with an international identity. You should trust yourselves and never lose your faith. I truly believe that you will fulfill your responsibilities in the best way".
Making mistakes is not important, what important is to learn to get a lesson from mistakes and gain experiences…"
Dear graduates, I am firmly sure that you, without compromising the principles of Atatürk, will continue your way by working harder than ever before with enthusiasm and I have no doubt that you'll be attentive to leaving your mark on everything you do. The thing that will lead you to your destination is your inner strength. Keep in your mind that making mistakes is not important, what important is to learn to get lessons from your wrongdoings and gain experiences. The greatest prize of whatever we encounter is the experiences that we gained. Experience is like a gold bracelet. Each failed experience leads you towards new fresh ideas, new visions and different perspectives needed to develop yourselves. Believe in your strength and trust yourselves. You will reach your destination sooner or later, if you believe in your strength. Do not forget that the only way to achieve great things is to love your job. While performing your profession, at every step you take, as your lecturers and colleagues, we will always be at your side with every fibber of our beings, with our knowledge and experiences. I wish continuing success and a brilliant future for all of you".
Underlining that the Faculty of Health Sciences with her competent academic staff, leading educational programs and research and scientific studies had achieved numerous accomplishments and made her name known at international platforms, Professor Yücecan addressed the faculty members: "Dear Colleagues, today, we have gathered here to share the graduation joys of our students. Our graduated students are closing a page while opening a new one in their lives. I would like to take this opportunity and extend my thanks in recognition of your devoted efforts in raising such well-equipped students. Today, we are experiencing one of the most enjoyable moments of our profession; our students are here as graduates. No doubt that we are proud of them and share their joy".
Professor Yücecan ended her remarks by addressing the parents: "Dear parents, undoubtedly you did everything and provided all kind of support for your beloved ones. You entrusted your children to us during their university education. Be sure that we educated them in the best way. As Near East University, we have no doubt that they are well equipped with up-to-date information and professional skills to make impact in their fields. You are here today with high feelings. You are experiencing the right proud of witnessing your children receiving their diplomas. We share the same excitement and pride with you. Don't have any doubt; Near East University has raised these young people well. Be sure of their future success and trust them, be proud of them".
Professor Şanlıdağ: "We have set a right path and target for the professional development of students…"
In his opening remarks, Near East University Vice Rector Professor Tamer Şanlıdağ stated that the universities that produce, disseminate and present information to the society are institutions that integrate different elements such as science and education based on the philosophical principles of idealism.
"With her gigantic steps towards being a 4th generation university, Near East University aims to transform all scientific data obtained through academic studies, research and R & D activities for the benefit of society.  Near East University has undertaken it as mission to offer quality education beyond the standards set by national and international bodies. Near East University, which adopts the 4th generation university model, is committed to continuing to offer quality education and to raise creative and self-confident individuals, who have universal values, who are able to think critically and independently, who internalize the processes of producing and using information effectively, who keep their responsibility over everything, and who are highly equipped with research, teamwork and problem-solving skills as well as professional ethics. Near East University with her educational, research and scientific accumulation use her energy to contribute to the economic, social, psychological and cultural development of the society in local and global scale. Since its establishment, Near East University has been covering firm steps towards being a global information center. Within a period of time that can be considered relative to the history of a comprehensive and high level institute of science and education, Near East University has developed with a dazzling pace and become the largest education, culture and research center of Cyprus. Our goal is to take place amongst the world's top 500 prestigious universities. Being devoted to opening new horizons for her country via great breakthroughs, Near East University achieved numerous firsts in Cyprus. Özay Günsel Children's University, the first and only children's university across the country, has lately been brought into being by Near East University" noted he.
Minister Taçoy: "This small island, situated in the Eastern Mediterranean, is one of the most secure countries in the world…"
In his opening remarks, Minister Taçoy stated that the parents entrusted their children to a prominent university on on a small island, which is one of the safest countries in the world, and today, they were experiencing the great joy of seeing their children as graduates.
Stating that scientists would graduate from our country's schools and most of them would be graduates of Near East University, Minister Taçoy underlined the crucial role of contemporary education and reliable academicians in blending and shaping this raw ore. "Our academicians work devotedly and demonstrate their abilities in raising well equipped individuals, who look to the future with hope and who are capable to change and shape the future and pave the way towards a more sustainable and inclusive society.
"Dear young people, in fact, your struggle starts from today. Up to now, you had got through a process that you needed to be blended and shaped like a crude ore. Today, you have closed a page and opened a new page in your lives. You have reached a point where you need to proceed further by making your own decisions. Learning process hasn't come to an end. Learning is a process that lasts lifelong. Trust yourselves, you have knowledge, skills and the capacity to make your dreams true. What you should do is take concrete steps towards leaving your marks on whatever you do. I wish continued success for all of you" said he.
"We would like to thank all our teachers, who haven't spared any sacrifices and who have been instrumental to emerge the ore within us…"
Faculty's top performing graduates Dilara Sarp and Rabia Büşra delivered a joint speech on behalf of the graduates of the Faculty of Health Sciences.
"We are experiencing the honor of delivering this speech representing our dynamic, hardworking and valuable fellows who graduate from our faculty in 2018-2019 Spring term. We all came to the Near East University from different cities with different dreams and emotions. Near East University, which we chose as an educational ground to make our dreams true, provided us with every opportunity to shape our future freely and without any restriction in a friendly academic environment. Throughout our educational process here, we had the opportunity to adopt a culture encompassing the mission and vision that will contribute to the society. We would like to extend our gratitude to our all valuable teachers, who contributed to us with their knowledge and experiences, who haven't spared their supports, who have been instrumental in the emergence of the ore within us, and who worked devotedly to raise us as well equipped individuals. On behalf of all our graduate friends, we promise that we will always work devotedly to ensure human and public health without compromising professional ethics as you have taught us".
They received their diplomas and experienced the graduation joy by throwing their caps…
Following the speeches, NEU vice Rector Professor Tamer Şanlıdağ and NEU Faculty of Health Sciences Founding Dean Professor Sevinç Yücecan presented the diplomas to the top performing graduates of the faculty. Then, department chairpersons and faculty members presented the diplomas to other graduates. Following the diploma presentation ceremony, accompanied by Faculty Founding Dean Professor Yücecan, the graduates took the professional oath and enjoyed the joy of graduation by throwing their caps.