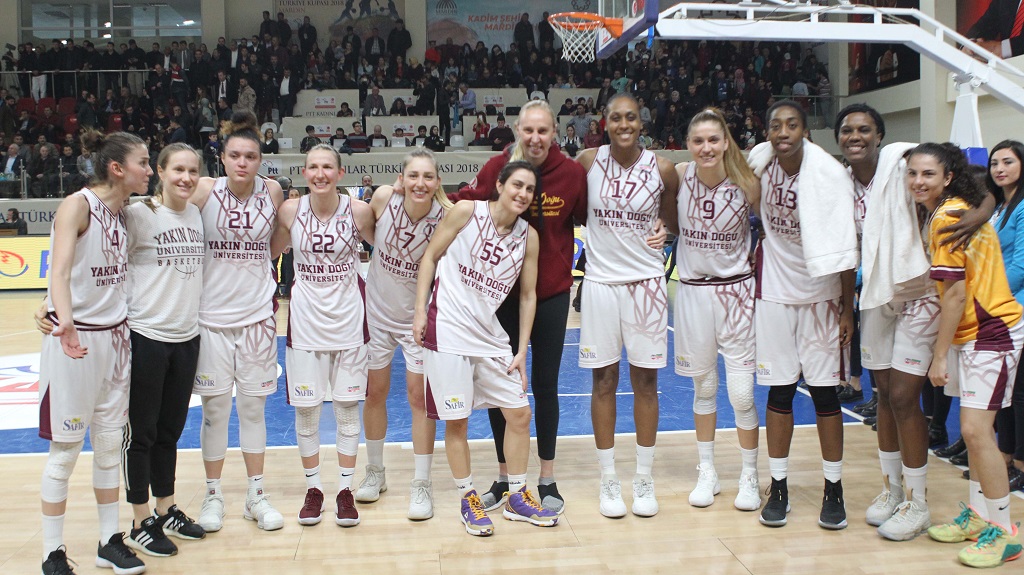 Near East University Women's Basketball Team, becoming champion of PTT Women Turkey Cup 2018 and completing the FIBA Europa League as leader of Group B undefeated with 12 winning, is going to quarter-finals and challanging to the Bourges Basket of France, ranked fourth in Group A, in the first leg of play-offs. In the most important organization for women's basketball in clubs, Near East University will reach 2 wins in the quarter-finals and will write their name in Final-Four in case of competition.
According to a press statement made by the Near East University Sports Club, the quarter-finals first match hosted by Near East University will be played at Istanbul Caferağa Sports Hall on Wednesday, February 28, 2018, at 19.30 with TRNC hour and at 20.30 with Turkey hour. The match will be broadcast live on BRT1 HD and on www.fiba.com.
Matchups of group quarters of group winners and quarter final winners were Dinamo Kursk – Famila Schio, Near East University – Bourges Basket, Sopron Basket – Fenerbahçe, UMMC Ekaterinburg – USK Prague.
Teams passing the quarter-finals will meet in the Quartet Final to be held on April 20-22.
Zafer Kalaycıoğlu: "We Want to Mark Our Name to Final Four"….
Near East University Women's Basketball Team Head Coach Zafer Kalaycıoğlu said that their biggest goal was to go up to Final Four at the FIBA Women's Euroleague.
"It is a great success to be able to take part in Europe's elite level Final Four," said Head Coach Kalaycıoğlu, who stated that they wanted to print the names of the Near East University and the Turkish Republic of Northern Cyprus amongst the members of Final Four. "To accomplish this, we need to go through this stage. We will do our best in this hard tough race to achieve our goals", he said.
Kalaycioglu said that the French Bourges team is one of the important basketball teams in France. "Bourges won the Eurocup championship and is a member of Final Four Club. There are four French players in the team who are important and tough ones. They seem advantageous against us in terms of rebounds with their tall players. Our first goal was to get a home advantage. We've done this. Now we want to win the match in our home by using this advantage. We will do our best. "