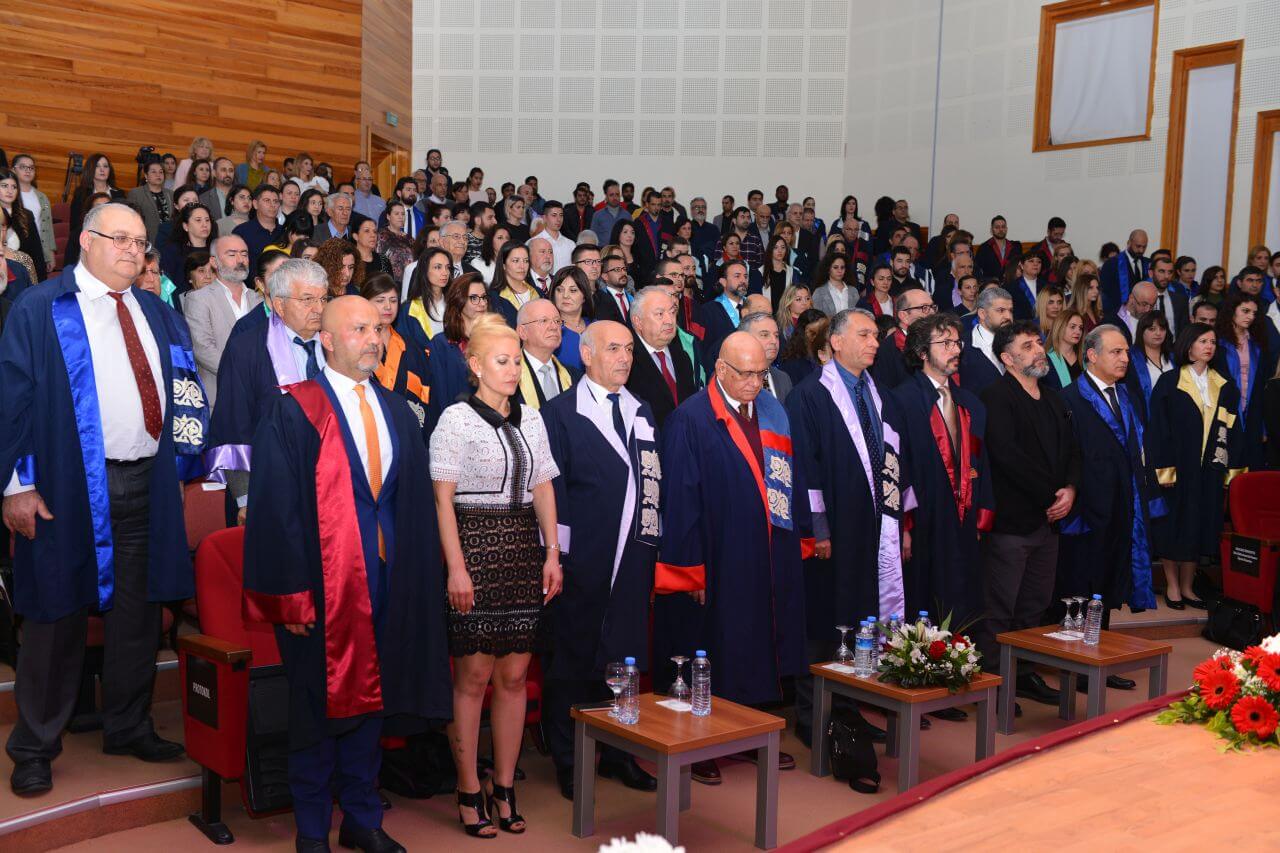 Organized by Near East University annually in order to foster and honor the researchers and faculty members for their scientific studies and publications, 2017 Science Awards Ceremony was held with great participation.
According to the press release issued by NEU Directorate of Press & Public Relations Office, Near East University felt the pride of granting science awards in four categories; "Young Researchers Award", "Honorable Mention Award", "Publication Award" and "Publication Honor Award" were presented to 145 researchers and faculty members in recognition of their resounding scientific studies and publications.
In order to express its commitment to producing science, disseminating scientific information through national and international conferences, congresses and symposia, Near East University also granted "Thanks Certificate" to the researchers and scholars who participated in such events and represented the university successfully. Recognizing the crucial role of faculties and faculty members in raising well equipped individuals, Near East University has also delivered two distinguished awards; namely "Faculty of the Year" and "Faculty Member of the Year".
The Science Awards 2017 Ceremony was realized at Near East University Grand Library Hall 4 with the participation of Rector Professor Ümit Hassan, vice rectors, faculty deans, Graduate School directors, faculty members and their families.
Near East University 2017 Science Awards Ceremony began with stand in silence and followed by the National Anthem. Then, the participants experienced pleasant moments with the music recital performed by soprano soloist Vasfiye Çakırtaş and the pianist Professor Cevanşir, faculty members of Near East University.
The Chairperson of Higher Education Planning, Evaluation Accreditation and Coordination Council (YÖDAK), Professor Akile Büke, who could not participate in the ceremony due to her tight program, sent a message and extended her thanks to Near East University for providing contribution to science and the Turkish Republic of Northern Cyprus through qualified experts of science.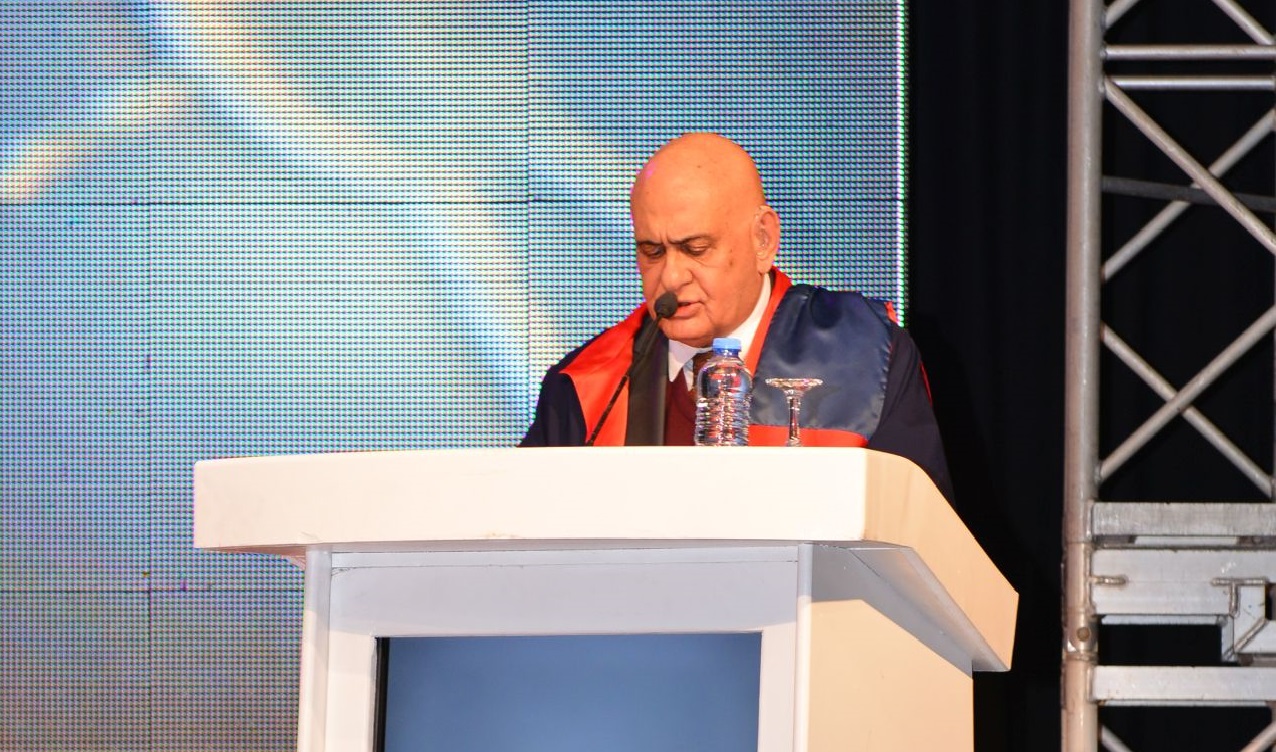 Prof. Dr. Ümit Hassan, "This Program Will Provide Us with Pride, Success, Elation and New Accelerations"
In his opening remarks, NEU Rector Professor Ümit Hassan underlined the crucial role of scholar studies and efforts for achieving the objectives. "In the last 48 hours, we have been experiencing significant days such a 14 March Turkish Medicine day, Einstein's Birthday and Pi Day. Today, we are also living the right pride of realizing the third of NEU Science Awards. The presence of the valuable scientists here crowns these last 48 hours. Let yesterday be today, let today be yesterday, in fact, it is possible to consider the last 48 hours as a single day in terms of its importance in science. "In a scientific sense, innovative studies have a crucial role in producing scientific information and paving the way towards new discoveries. Our scholar researchers work devotedly and introduce very notable information to scientific literature through their notable publications. Today, we are here to present them awards as a tribute to their successful accomplishments. Being committed to producing science and inspiring young generations, we feel the right pride of crowning the work of the leading scholars and young scientists at work at Near East University. This award ceremony will provide them with pride and honor as well as new accelerations.
I would like to take this opportunity and congratulate all winners of Near East University Science Awards 2017 not only in name of my own but on behalf of our university. I would also like to extend my appreciations to all scientific community members at work at Near East University, and congratulate all relevant administrator fellows and our protocol members" said he.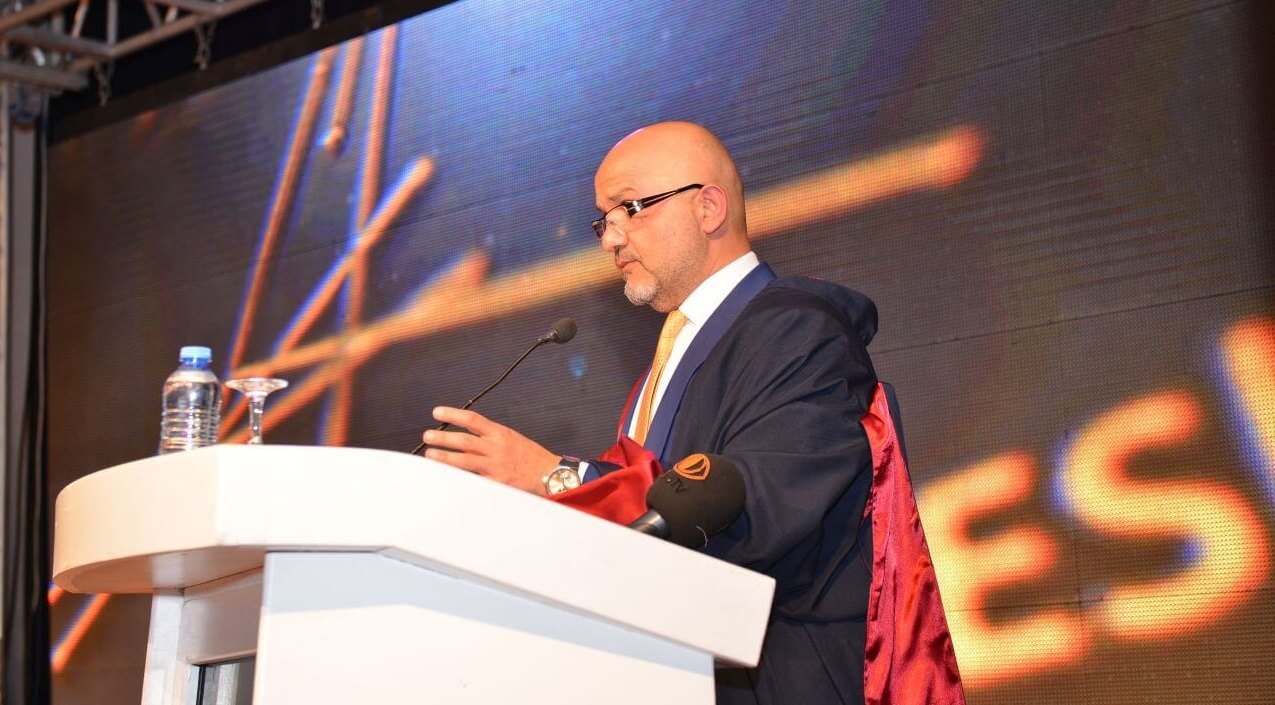 Prof. Dr. Tamer Şanlıdağ: "We Adopt the 3rd Generation University Model; We Offer All Scientific Outcomes of Our Scholar Studies, Investigations and R&D Studies to the Benefit of Public"
In his remarks, NEU vice Rector Professor Tamer Şanlıdağ centered his talk on the development of third generation universities and NEU's objectives: "As is known; the 3rd Generation University concept defines a model based on transforming all the scientific data relevant to academic studies, research and R&D activities of the universities into the benefit of the society. From Plato and Aristotle to our present day, universities have been generating and disseminating knowledge for the benefit of mankind. University teaching, therefore, differs from other modes of education not only by seeking the highest levels of sophistication, but also by deriving its vitality from the studies, researches and other significant scholar activities aimed at the benefit of public".
Indicating that the world of science opened different doors of universe, Professor Şanlıdağ stated that we lived in Newtonian universe. "It is possible to see scientific mind, scientific methods and ethics, which are the rules of the Newtonian universe, in all NEU's activities that based on its ongoing accumulation and the culture that it formed in higher education" said he.
Near East University Carries Out Joint Projects with 121 Respectable Institutions, Organizations and Working Groups
Touching upon the crucial role of supporting and encouraging research projects in motivating and young academics for broader studies, Vice Rector Prof. Dr. Tamer Şanlıdağ underlined the commitment of Near East University to contributing to the world of science through resounding scientific projects. "With 27 academic units and 32 fully equipped research centers and laboratories, Near East University provides all support for multidisciplinary and interdisciplinary studies with strategic importance. "Approximately two hundred and fifty projects are funded and supported each year. We aim to develop R & D capacity with works that can create international effect. Near East University carries out joint projects with 121 respectable institutions, organizations and working groups, mainly World Health Organization (WHO), Harvard University, Oxford University and Cambridge University" said he.
Near East University Has Raised to the 652nd Rank over the World, the 3rd Rank in Turkey and the First Rank in Cyprus
Delivering information regarding the number of students studying at Near East University, Professor Şanlıdağ stated that Near East University with its vast educational opportunities, competent academic staff and international identity provided quality education for 27 thousand students. "Currently 3759 graduate students study post graduate programs. This number corresponds 14% of total. For postgraduate programs, we offer scholarships twice a year. Within this context, 1549 graduates around the world applied for these scholarships in 2017 and 82% of them were granted with scholarship. In January 2018 edition of Web of Metrics that based on the citation rates as of July 2017, Near East University ranks the 652nd over the world, the 3rd in Turkey and the 1st in Cyprus" noted he.
Professor Şanlıdağ ended his remarks by congratulating the winners of Science Awards 2017.
Following the speeches, Near East University 2017 science awards were granted to the winners. The ceremony ended with a cocktail party.