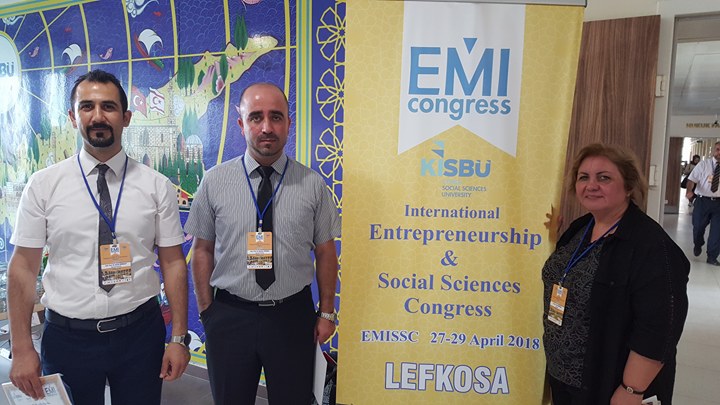 Organized by DILKUR Academy in collaboration with Cyprus Social Sciences University, Nişantaşı University, Haliç University and Journal EMI Editor, the International EMI Entrepreneurship and Social Sciences Congress was hosted by Cyprus Social Sciences University in Nicosia on 27-29 April, 2018.
According to the press release issued by the Directorate of Press and Public Relations Office of Near East University, NEU faculty members represented Near East University at the congress which provided platform for more than 200 scholars to share their original scientific studies regarding all fields of social sciences, particularly entrepreneurship and management. NEU Faculty members including Asst. Prof. Dr. Mustafa Yeniasır from Ataürk Faculty of Education-Department of Turkish Language Teaching, Assist. Prof. Dr. Burak Gökbulut from the Faculty of Arts and Sciences-Department of Turkish Language and Literature, and Prof. Dr. Esra Karabacak, Head of the Department of Turkish Language and Literature, contributed to the congress with their study on "An Investigation on Uighur Turkish Variant of the Folktale 'Garip and Senem'" and ""Linguistic Evaluation of a Dictionary Introduction: Kâmûs-ı Türki". Besides, Professor Esra Karabacak chaired a session.
The study on ther folktale "Garip and Senem" presents the similarities and differences between the Uighur tale "Aşık Garip" and its Turkish version "Garip ile Senem". In her presentation, Professor Karabacak evaluates the role of Şemsettin Sami's Turkish dictionary "Kâmûs-ı Türki" which has been the source of many linguistic and dictionary studies.