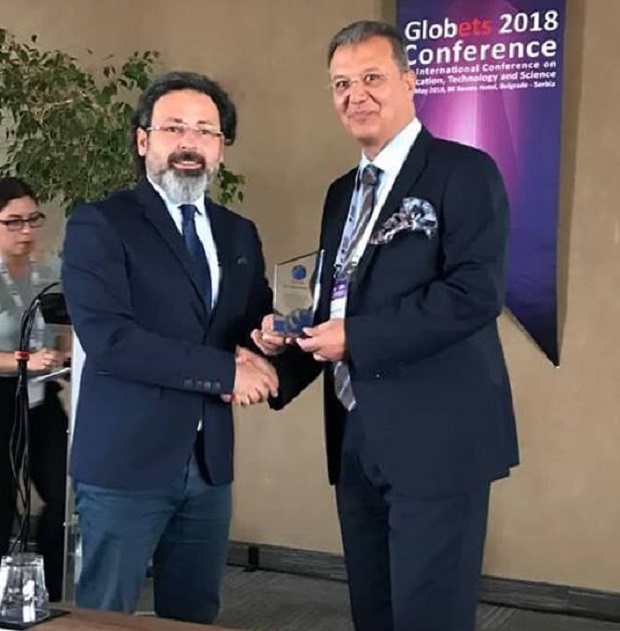 Dean of Near East University Atatürk Faculty of Education Prof. Dr. İsmail Hakkı Mirici, has been invited as a speaker at GlobETS 2018 conference to make an opening speech. GlobETS, an International Conference in Education, Technology and Science was held in Belgrade, Serbia on 6-9 May 2018.
It was stated that GlobETS 2018 brought practitioners, researcher, educators, policy makers and related parties in the field of education together and shared experiences, knowledge and new ideas and discussed how to create a sustainable world in peace and full of confidence about the future of humanity. Furthermore, it was stated that the conference was dedicated to the advancement of the theory and practices in education and promote collaborative excellence between academics and professionals from different fields of education.
Prof. Dr. İsmail Hakkı Mirici: "Education should be designed according to the realities of today!"
According to the press release issued by the Directorate of Press and Public Relations of Near East University, during his speech at the conference Prof. Dr. İsmail Hakkı Mirici stated that there was a need to take a global approach to education and relatively, design education in accordance with the needs and therefore 'realities' of today. He also made reference to the United Nations and UNESCO reports and added that these did not reflect the true nature of developing countries.
NEU Academic Members contributed to GlobETS 2018 with four different studies…
Academic Member of NEU Atatürk Faculty of Education Assist. Prof. Dr. Gülsüm Aşıksoy made a presentation on "Gamification in Education: Flipped Classroom Example"; Dr. Didem İşlek made a presentation titled as "Preschool Teacher Candidates' self-efficacy, beliefs and opinions on using museums as education environments"; Dr. İpek Danju made a presentation titled as "The Effectiveness of Educational Programmes on Cyprus and Cyprus Turkish History in schools in Cyprus"; and finally, Assoc. Prof. Dr. Yağmur Çerkez, Assoc. Prof. Dr. Serap Özbaş and Sılay Bağlama gave a presentation on "The Examination of positive and Negative Feelings of Secondary School Students".