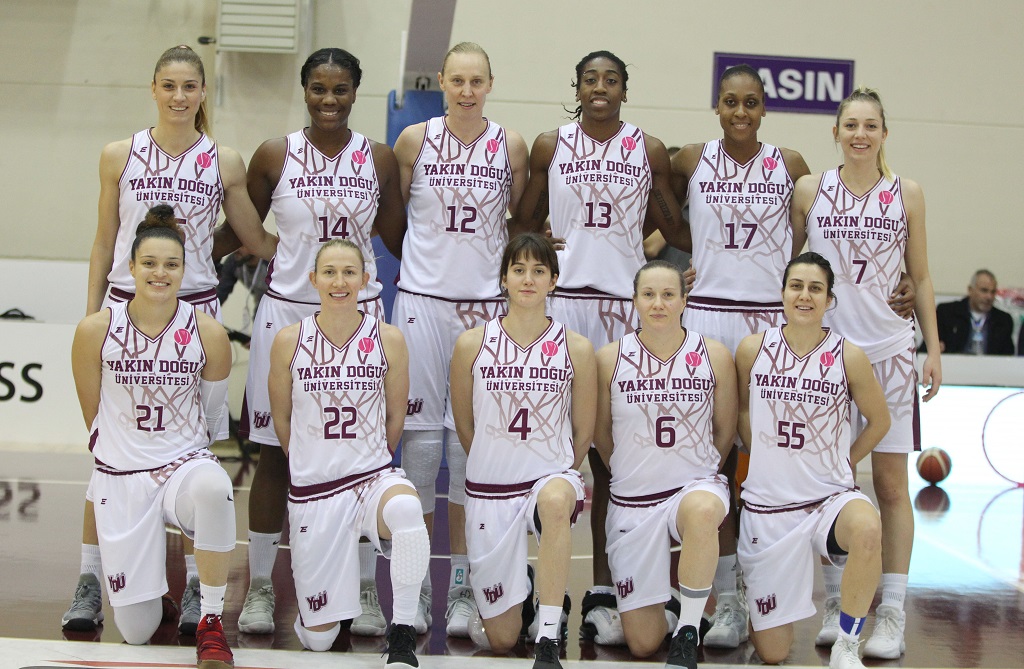 Near East University continued their own perfect record as the lone victors by defeating BLMA 81-61 at home. Followed up last week's victory versus Italian Famila Schio, Near East University maintained their momentum with a more comfortable 81-61 win at home versus French BLMA.
According to the info released by the Near East University Sports Club, Near East University Women's Basketball Team started the game with Courtney Vandersloot, Kayla McBride, Sandrine Gruda, Jantel Lavender and Elin Eldebrink. The periods ended 16-14, 42-24, 59-44 and 81-61.
The game between Near East University and BLMA promised to be a breathtaking one and it lived up to the expectations when the two teams clashed at Caferağa Sport Saloon in Istanbul on Wednesday night. It was a perfect night for Near East University on Gameday 9 as they clung on to an 81-61 win against their rival, with the one-two punch of Sandrine Gruda and Kayla McBride doing most of the damage.
Sandrine Gruda netted 22 points while Kayla McBride added 19 points, and Courtney Vandersloot weighted in with 11 points, 7 rebounds and 9 assists to lead Near East University to a comfortable 81-61 win at home to Group B strugglers, BLMA.
The game was important for Near East University to maintain their leadership in the toughest group of FIBA Euroleague Women. With 17 points and 8 wins out of 9 games, Near East University is the leader of FIBA EuroLeague Group B.
Standouts:
Near East University: Sandrine Gruda 22 points, 8 rebounds, Kayla McBride 19 points, 7 rebounds, 4 assists, Courtney Vandersloot 11 points, 7 rebounds, 9 assists, Jantel Lavender 10 points, 11 rebounds, 6 assists, Ann Wauters 8 points, 5 rebounds, Elin Eldebrink 3 points 7 rebounds, 6 assists, Cansu Köksal 4 points.
BLMA: Giorgia Sottana 17 points, 3 rebounds, 5 assists, Courtney Hurt 13 points, 5 rebounds, Rommy Bar 11 points, 4 rebounds, 2 assists, Assitan Kone 9 points, 5 rebounds.
Emre Vatansever: "We will continue our way by giving necessary struggle…"
Delivering a brief evaluation after the match, Near East University Assistant Coach Evre Vatansever stated that they did well on the court. "We are improving our game every week by reflecting our trainings on the court. It seemed we experienced some problems in our concentration but we exhibited the performance required to win the match. We have to maintain our momentum without relaxing as important games are waiting for us. I extend my appreciations to Coach Zafer Kalaycıoğlu for his trust in us" said he.