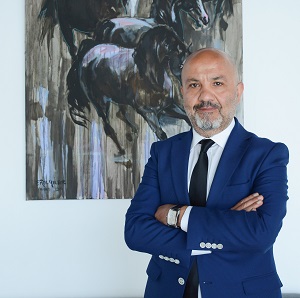 A new project is launched by Near East University researchers to investigate the types, spread, and relationship of SARS-CoV-2 with its clinical sources in our country, which has been declared a pandemic in the world.
In the statement made by the Press and Public Relations Directorate of Near East University, it was stated that "SARS-CoV-2 Whole Genome Sequencing of Patients Diagnosed with COVID-19 in TRNC, the Viral and Genetic Diversity and Pedigree, which will give important clues in fighting with the epidemic, will be identified by the sequence analysis of the virus. It has been announced that the "Determination of Lines" project will start.
Prof. Dr. Tamer Şanlıdağ: "We will identify the types of SARS-COV-2, its entry routes to the country, its spread and its relation with the clinical course of the disease…"
Near East University Vice-Rector and project manager Prof. Dr. Tamer Şanlıdağ, reminding that there was a successful pandemic process after the diagnosis of the first case in our country in March and that SARS-Cov-2 has started to increase in the country recently, said that Near East University will start a new project to determine how it affects people and its spread in the society and a decide on a new way to fight with the pandemic with the help of the data to emerge.
183, 144 people entered the country; which ways the virus entered into the country will be investigated…
In the project, where the local spread of SARS-Cov-2 will be monitored, samples diagnosed with positive COVID-19 after July 1, 2020, by using the PCR test at the Near East University will be used. Thus, it can be identified in what ways the virus entered the country. Between 1 July and 31 August 2020, 117 thousand 561 people entered the country at the land border gates, 116 thousand 815 people departed, 52 thousand 124 people entered by air, 48 thousand 872 people departed, 13 thousand 459 people entered the country by sea, 12 thousand 396 people also departed.
Positivity rate according to the Near East University COVID-19 PCR laboratory results 1.7 per thousand…
Prof. Dr. Tamer Şanlıdağ stated that a total of 37,475 tests were carried out at the Near East University COVID-19 PCR Laboratory between 1 July 2020 and 03 September 2020, and pointed out that 29,945 of them were those who came to our country by air and sea routes and 53 (0.17%) were positive. Prof. Dr. Şanlıdağ also stated that 7530 of these people were those transferred from the Near East University Hospital, Kyrenia Dr. Suat Günsel Hospital and from Güzelyurt and Famagusta Dispensaries and 14 of them (0.18%) were positive.
Cases asymptomatic or mild…
According to the official statements made by the Ministry of Health, 418 COVID-19 positive cases were detected in TRNC between 1 July and 6 September 2020. 280 of these cases have recovered and discharged, 39 are under treatment in the pandemic center, and 88 are followed up at the pandemic hotel