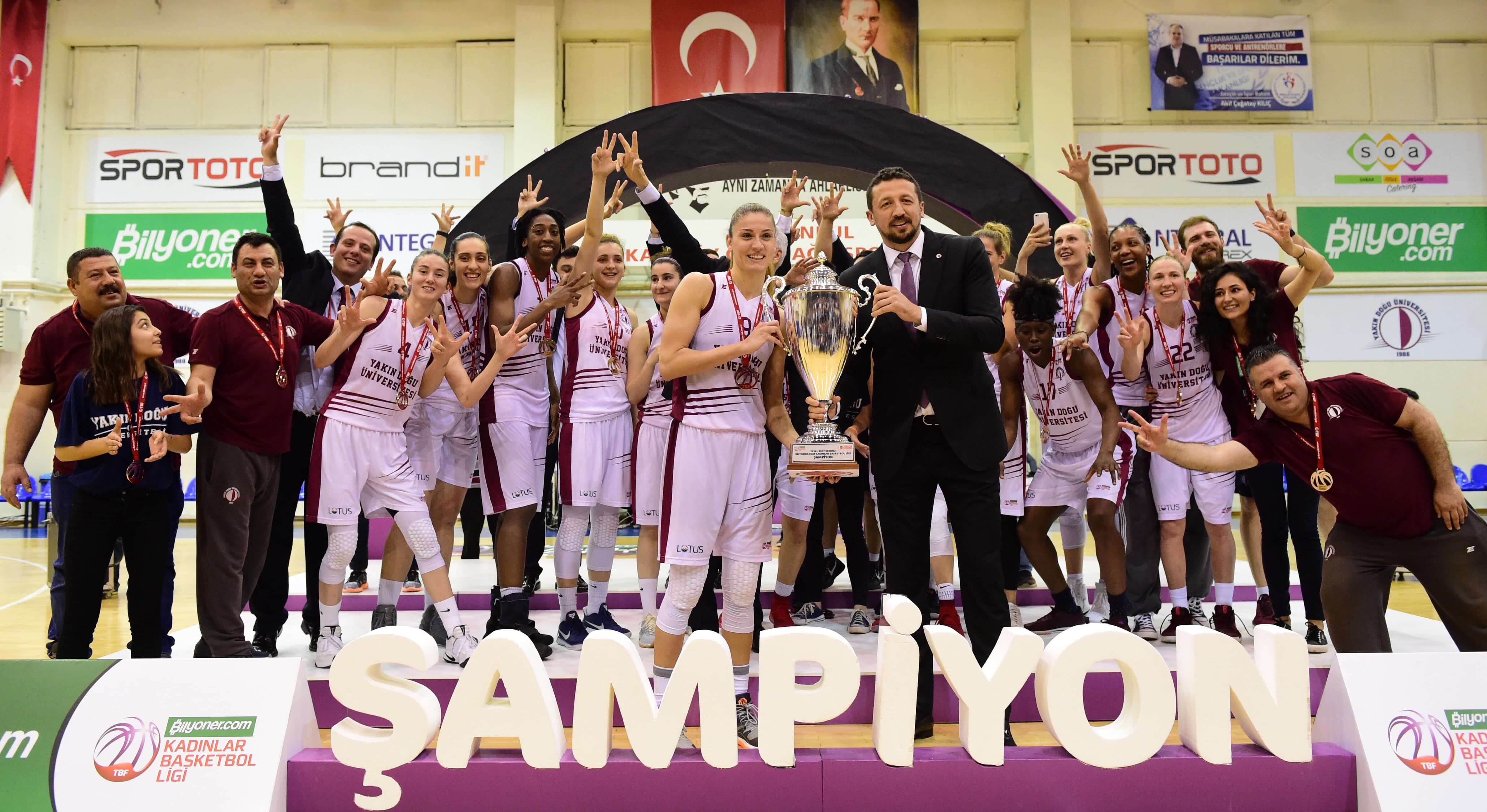 At the final series, 5th match of the Turkish Women's Basketball League, Near East University won the away game played against Fenerbahçe with a score of 76-75. Resultantly, Near East University completed the series as 3-2; becoming the champion of the 2016-2017 season. It was pointed out that with this championship, Near East University has taken a total of three championship cups to its museum; including the one stated above, the FIBA European Cup and the Turkish Championship Cup.
According to the press info release issued by the Directorate of Press and Public Relations of Near East University, the 5th match was played at Istanbul Caferağa Sports Hall and Kayla McBride, CourtneyVandersloot, QuanitraHollinghsworth, Yelena Leuchanka and Bahar Çağlar competed against Fenerbahçe, dominated the game, making the NEU team champion at the away game. It was added that the Near East University had become the champion of the league for the first time.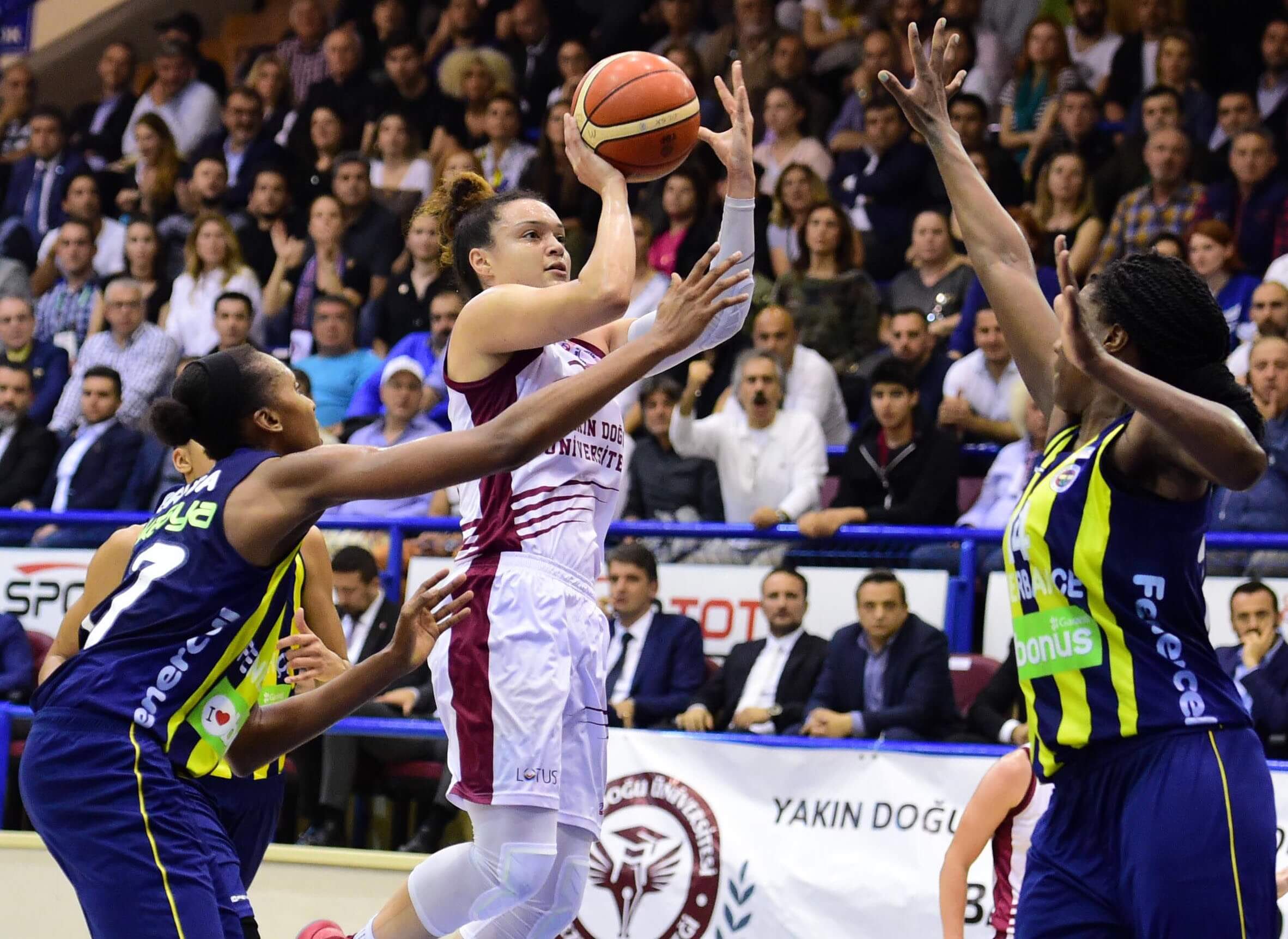 The highlights of the match…
Near East University: Quanitra Hollingsworth scored 20 points, 10 rebounds; Kayla McBride scored 21 points, 3 assists; CourtneyvVandersloot scored 17 points, 6 rebounds, 14 assists; Elin Eldebrink scored 8 points, 2 rebounds, 1 assist; Olcay Çakır scored 4 points, 1 rebound, 1 assist; and Bahar Çaplar scored 4 points and 6 rebounds.
As for Fenerbahçe: Sandrine Gruda scored 21 points, 9 rebounds, 3 assists; Candace Parker scored 18 points, 12 rebounds, 5 assists; Birsel Vardarlı Demirmen scored 15 points, 6 rebounds and 11 assists.
Vandersloot has been chosen as the most valuable player…
Near East University athlete who is known as one of the world's best quarterbacks, Courtney Vandersloot, who wears basketball uniform number 22, has been chosen as the most valuable player due to her success in defence and attacks during the game.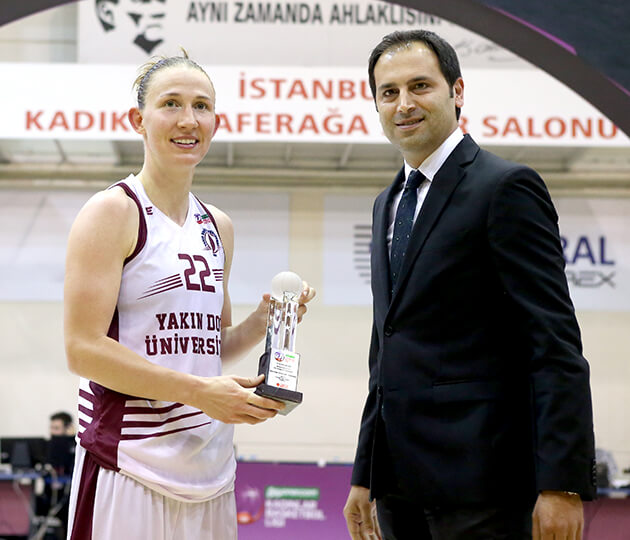 Vandersloot: "We have achieved our success as a team!"
Making a short speech subsequent to the match, Vandersloot said that they had had an enormous season and that each success was achieved as a team. She added that Fenerbahçe was a very good team but that they had achieved to win the game played against them. She ended her words by stating how proud and happy they were of their achievements.
Kayla McBirde: "I am very proud!"
Wearing NEU Uniform numbered 21, Kayla McBirde, who is known for her high percentage of scoring points, has also provided a short statement on the matter and said that she was feeling rather emotional. She added that they had become like a family and that everyone had taken on their responsibility well. She ended her words by stressing that she was very proud of her team.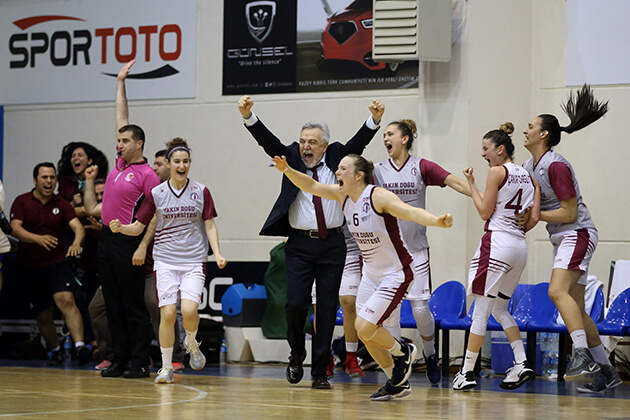 Near East Angels are named as Champions once again…
Chief Coach of the team Zafer Kalaycıoğlu stated that they had displayed a very successful status at the current basketball season and that Near East University Angels had drawn the attention of many, as a team, due to their achievements. With players such as ; Courtney Vandersloot, Kayla McBride, Quanitra Hollingsworth, Bahar Çağlar, Olcay Çakır, Elin Eldebrink, Anna Vajda, Essence Carson, Angelica Robinson, Yelena Leuchanka, Sinem Ataş, Gizem Başaran, Berfin Satır, Emine Koç they had completed the 2016-2017 season with a total of three championship cups including; The Championship Cup of Turkey, EuroCup and League Championship
Cup; noting down to history as the first Turkish Cypriot Women's Basketball Team to make such achievements.