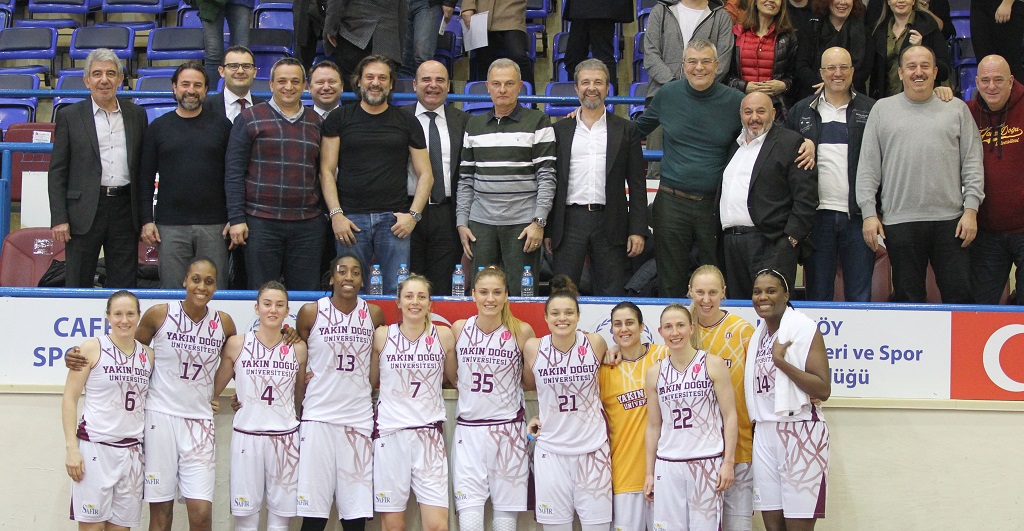 Near East University continued their own perfect record as the lone victors by defeating Nadezhda 93-71 at home. Followed up last week's victory versus Fenerbahçe, Near East University maintained their momentum with a more comfortable 93-71 win versus Russian Nadezhda.
The last gameday of the FIBA EuroLeague Women Regular Season was the scene of a thrilling game between Near East University and Nadezhda at Istanbul Caferağa Sport Saloon. As Nadezhda had to win to be certain of EuroCup Women and Near East University needed to win to take first spot in Group B, the game promised to be a breathtaking one.
The game lived up to the expectations when the two teams clashed at Caferağa Sport Saloon in Istanbul on Wednesday evening. The last gameday of FIBA Euroleague was perfect for Near East University as they clung on to a 93-71 win against their rival, with the one-two punch of Sandrine Gruda and Kayla McBride doing most of the damage.
Under the helm of the Head Coach Zafer Kalaycıoğlu, the versatile players of Near East University exhibited excellent performance and powered their way to a 93-71 win to cement first place in Group B and have the all-important home advantage for the Quarter-Finals. For the first match of Quarter Finals, Near East University will host Bourges Basket (the 4th place team in Group A). Nadezhda took the last remaining ticket for EuroCup Women even though they were defeated 93-71.
Near East University Sports Club released that Near East University completed the group matches in FIBA EuroLeague and cemented the top spot in Group B with a hard-fought 93-71 win versus Nadezhda. Near East University Women's Basketball Team started the game with Courtney Vandersloot, Kayla McBride, Sandrine Gruda, Jantel Lavender and Elin Eldebrink. The periods ended 29-23, 47-43, 65-58 and 93-71.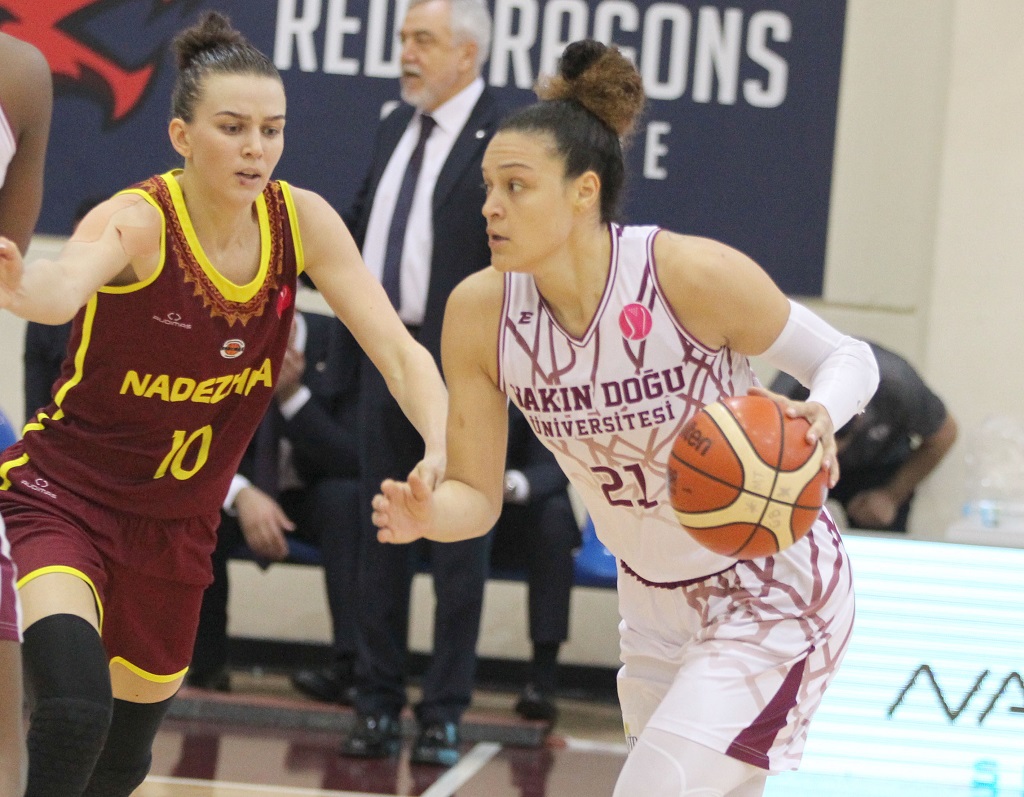 Kayla McBride netted 24 points while Sandrine Gruda added 18 points, and Courtney Vandersloot weighted in with 13 points, 6 rebounds and 13 assists to lead Near East University to a comfortable 93-71 win at home against Group B strugglers, Nadezhda.
With 13 points and 13 assists Courtney Vandersloot and with 10 points and 10 rebounds Jantel Lavender performed double-double.
Courtney Vandersloot with 13 points, 6 rebounds, 13 assists, and 6 steals was the top performer of the game while Emanuel Canon with 28 points was the top scorer player of the game.
After a devastating first period of 29-23, Nadezhda Orenburg struggled to compete but Near East University choked off any further indoors from Nadezhda with effective defense and dominated the game. The frontcourt players of Near East University netted 18 points while Nadezha players netted 20 points during the second quarter. Near East University completed this tough-fought period by 47-43 win.
Emma Cannon netted 18 points and hit the top as the scorer player of the first half.
Both teams started the third quarter with high tempo to grasp and get the game. The court was the scene of tough defense and fights. There were many turnovers and efforts to drive the ball to basket. With effective defense, Near East University didn't give way their opponent to lead the game. Near East University completed this period with 65-58 win.
Without resting on their score advantage, Near East University began the final quarter very effectively. The versatile players of Near East University began to get inside the paint and drive the ball to basket. They stormed into a 92-69 lead against Nadezhda and set a great platform to propel their team to a historic victory by a net score 93-71.
Thus, Near East University signed off their Regular Season with a 93-71 historic victory against Nadezhda by cementing the top spot in EuroLeague Women Group B.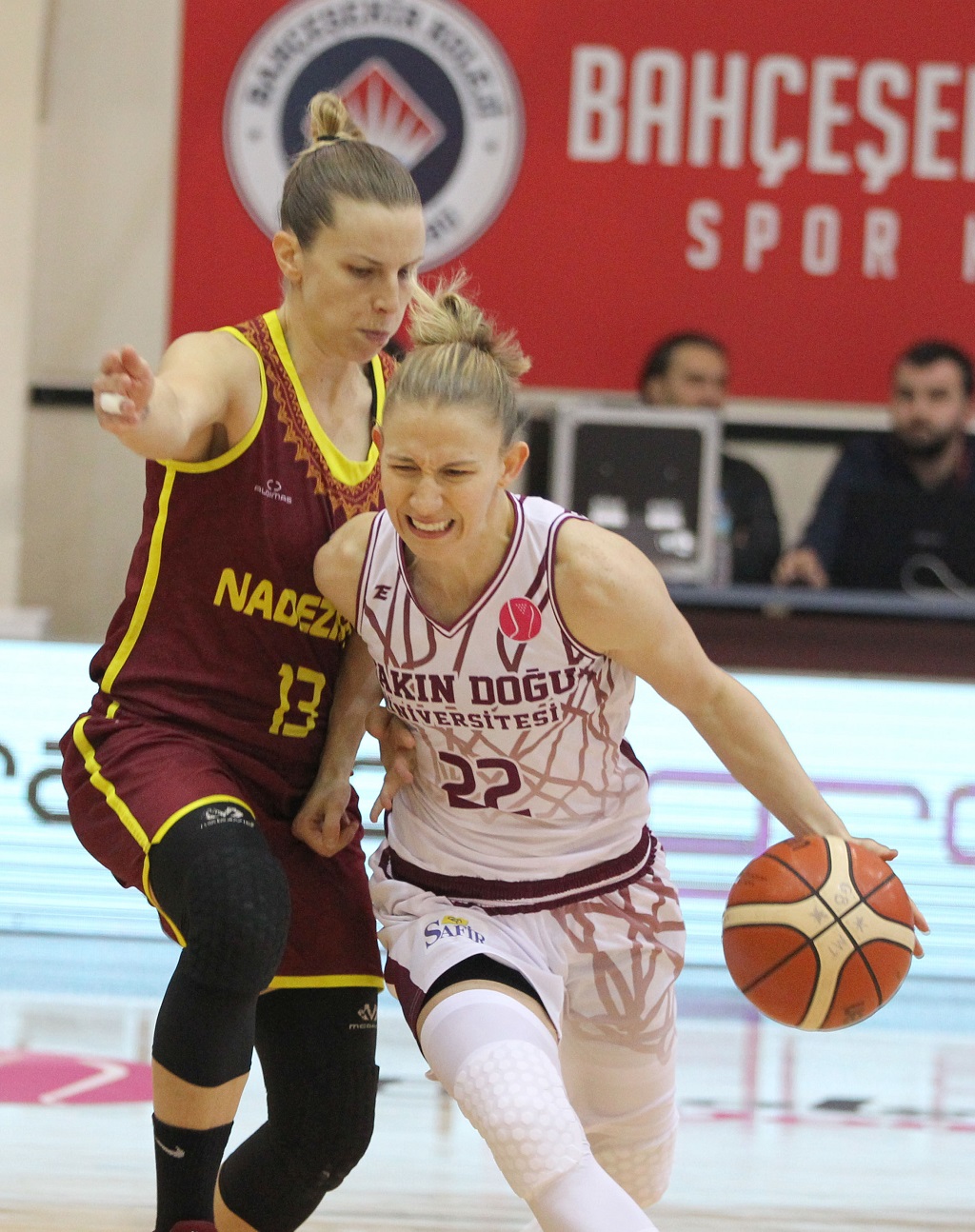 Standouts:
Near East University: Kayla McBride 24 points, 7 rebounds, 2 assists, Sandrine Gruda 18 points, 7 rebounds, 3 assists, Courtney Vandersloot 13 points, 6 rebounds, 13 assists, Jantel Lavender 10 points, 10 rebounds, 3 assists, Elin Eldebrink 8 points, Quanitra Hollingsworth 7 points, Bahar Çağlar 9 points, 3 rebounds.
Nadzedha Orenburg: Emma Cannon 28 points, 7 rebounds, Sandra Ygueravide 12 points, 5 assists, Alexsanria Bentley 9 points, 3 rebounds, 4 assists,  Brionna Jones 6 points, 4 rebounds, Kseniia Tikhonenko 6 points, 5 rebounds.