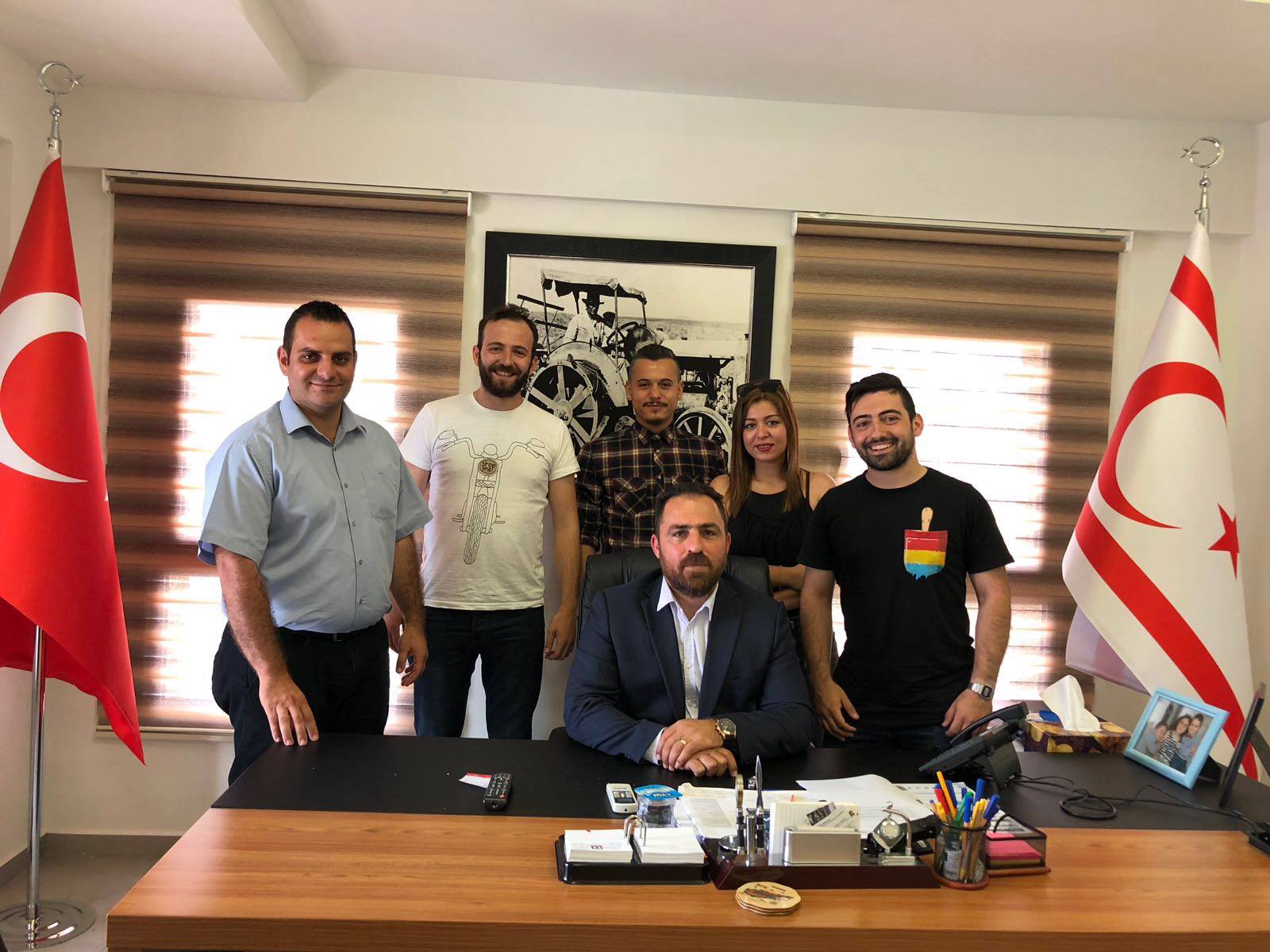 Along with lecturer Ahmet Hamdi the students studying international marketing at the Department of Marketing of the Faculty of Economics and Administrative Sciences paid a visit to Cyprus Turkish Farmers' Union.
Near East University Directorate of Press and Public Relations Office released that students studying at the Department of Marketing of NEU Faculty of Economics and Administrative Sciences along with their lecturer Ahmet Hamdi visited Cyprus Turkish Farmers' Union. During the visit, Turkish Cypriot Farmers' Union Chairman Hüseyin Çavuş Kelle has briefed the students on the history of the Turkish Cypriot Farmers' Union. In his remarks, Mr. Kelle touched upon the important role of agriculture in adding value to a country and its people. He also delivered information regarding their relations with the World Farmers Organization (WFO).
"We should have place in International Markets with Carob and Olive Products that integrated with Turkish Cypriot Culture"
In his remarks, Mr. Kelle talked about many agricultural products that should be produced or produced in the country and underlined that such products had the capacity to create different added values. Stating that the climate in Cyprus was appropriate to produce crops earlier than many other countries, Mr. Kelle underlined the significance of this advantage in taking place in international markets earlier than others. "Within this context, our countries agrıcultural policies should be reviewed, enriched and designed with a special focus on the conservation of the trees and plant species native to our country" said he. Stating that olive and carob cultivation were integrated with Turkish Cypriot culture, Mr. Kelle highlighted the necessity of preservation these plant species by effective fighting against swarms of locusts and insects posing a threat. He also added that olive and carob cultivation should be made more widespread and the crops of these plants should take place in international markets on behalf of Turkish Cypriots.
Touching upon the difficulties that they encountered due to wrong agricultural policies, Cyprus Turkish Farmers' Union Chairman Kelle extended his thanks to the lecturer Ahmet Hamdi and his students for their significant visit.
How to Market the Agricultural Crops produced across the Country to International Markets?
In his remarks, the lecturer Ahmet Hamdi highlighted the crucial role of the planning, organizing, directing and handling of agricultural products in such a way as to satisfy the farmer, producer and the consumer. He also underlined that they attached great importance on ensuring quality education and raising students equipped not only with comprehensive knowledge acquired through theoretical and practical applications but also with skills required for marketing the crops produced across the country to international markets. "Although the international market is very immense, it is possible to transform it into a controllable market via appropriate marketing policies placing consumer satisfaction forefront. I would like to extend my thanks to the Chairman Kelle for his warm welcome and hospitability" said he.