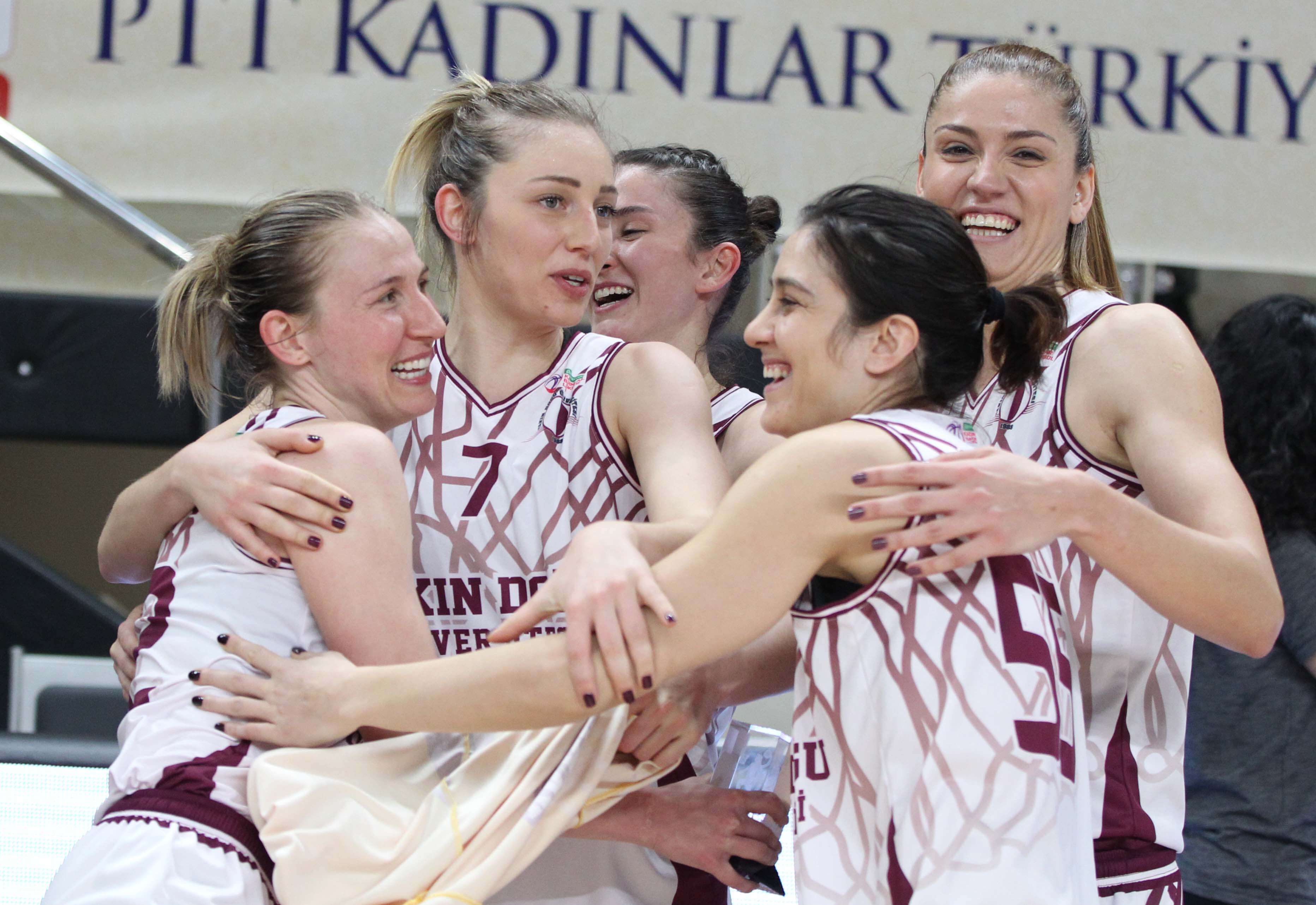 Near East University Women's Basketball Team defeated Botaş Spor 79-63 in PTT Turkey Women Cup semi-final match and marked its name in the finals. Near East University will struggle against the winner of Fenerbahçe-Hatay BŞB match on Sunday, February 25, 2018.
According to the information given by the Near East University Sports Club, the match played in Mardin Artuklu New Sports Hall started with Olcay Cakir Turgut, Quanitra Hollingsworth, Kayla McBride, Sandrine Gruda and Courtney Vandersloot. Match periods ended 7-15, 33-30, 61-46 and 79-63. Courtney Vandersloot at Near East University was chosen the most valuable player of the game.
In the first period of the game which started with mutual baskets, Near East University, which increased the tempo of the match and continued to make scores with Sandrine Gruda, Jantel Lavender and Kayla McBride, finished the first period 33-30 ahead.
Near East University opened the gap further in the second half of the game with Jantel Lavender's three-point basket (36-30). Within the first two minutes of the period catching the 7-0 series, the Near East University increased the gap to10-point with the rival, the score was 40-30. Near-East University, which did not give a chance to score an easy-to-beat field press, carried the score to 47-32 while passing 6.18 hours. Jantel Lavender, Kayla McBride, Olcay Cakir Turgut 's dominant performance increased the gap up to 16 numbers, and Near East University completed the period 61 - 44.
Near East University started the game with a gap of 15 points in the last period and continued the game up to the last three minutes with the advantage of 74-59. Near East University keeping the gap open with its rival, left the field victorious 79-63 and managed to rise to Turkey Cup finals.
Featured ...
Near East University; Kayla McBride 18 points, 5 rebounds, 3 assists, Courtney Vandersloot 15 points, 8 assists, Jantel Lavender 14 points, 5 rebounds, Sandrine Gruda 14 points, 4 rebounds, Quanitra Hollingsvorth 7 points, 6 rebounds, Olcay Cakir Turgut 7 points, 3 ribaunt, 6 assists, spring ages 4 points, 4 rebounds were the leading names of the team.
In Botas Spor; Chelsea Gray 12 points, 4 rebounds, 6 assists, Sehernaz Kidal 12 points, 3 rebounds, Kiah Stokes 8 points, 7 rebounds, Nevin Patriots 4 points, 3 rebounds, 3 assists, Frida Eldebrink and Elif Erat played with 3 points.