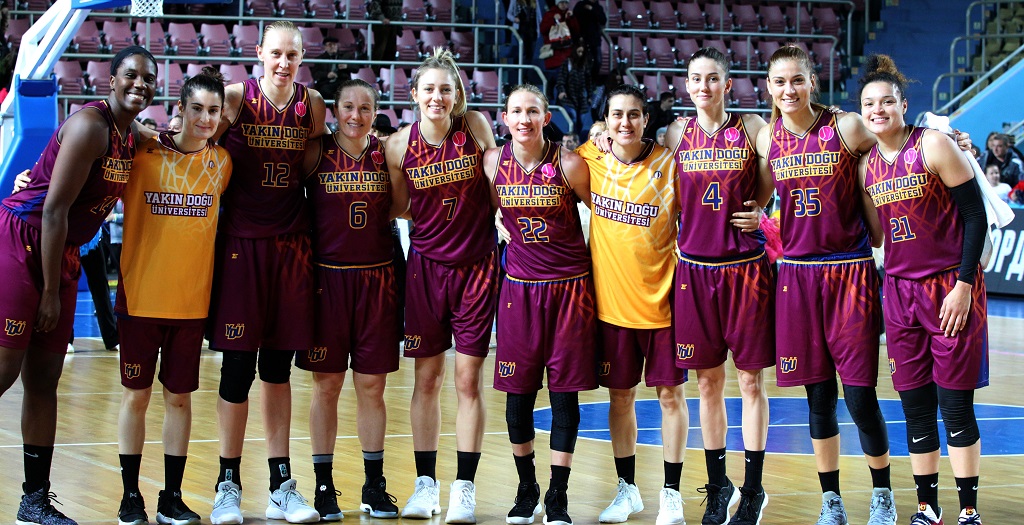 Regular Season Gameday 14 of FIBA EuroLeague Women will be the scene of a breathtaking game in Group B. Near East University is facing Russian Nadezhda Orenburg at Istanbul Caferağa Sport Saloon at 17:30 (Turkey local time 18:30) on Wednesday 31 January 2018 for the last match of FIBA EuroLeague Women Group B.
Near East University is currently leading Group B with 11 wins out of 13 games while Nadezhda is ranking the 6th place with 4 wins and 9 defeats. Although Near East University has qualified for the Quarter-Final Play-Offs, the game is of great importance for them to secure their leadership. On the other hand, the game is important for Nadezhda to secure the 6th place and qualify for FIBA EuroCup Women.
According to the info released by the Near East University Sports Club, Near East University Women's Basketball Team faced Russian Nadezhda for the first match on Wednesday 06 December 2017 and defeated the Russian rival 76-81.
Basketball enthusiast can watch this thrilling game live on BRT HD 1 or on www.fiba.com.
Zafer Kalaycıoğlu: "We have prepared mentally for the tough fight……"
Evaluating the game that they would play versus Russian rival, the Head Coach Zafer Kalaycıoğlu stated that they wanted to win the last game of the group on their ground. "We have played very challenging games since the beginning of the regular season of FIBA EuroLeague Women. We have made it 11-2 in 13 matches. With 24 points, we lead the Group B. We are in the straight final stretch of the competition. This is a match to win and receive the recompense of our efforts. Our rival will fight to win the match and secure their 6th place because the 5th and 6th placed teams in the group will qualify for EuroCup Women. With this fact, the game is promising to be a tough and challenging one. Being aware of this, we have prepared our players mentally for a tough fight" said he.
Zafer Kalaycıoğlu: "Our aim is to win and not to allow Ekaterinburg to take over the leadership…"
Reminding that they completed the group matches in EuroCup as leader and won the FIBA EuroCup Women 2017, the Head Coach Kalaycıoğlu expressed his views: "It is important for us to be able to sustain these achievements. You are considered really successful when you sustain these achievements. We want to complete the group as a leader. If we complete the Group B as leader, we will face the 4th placed team in Group A at Final Play-Offs. If we finish the Group B in the second place, we will face the third placed team in Group A. Our priority goal is to win the game and secure our leadership. Then we will continue fighting for the Final-Four" noted he.