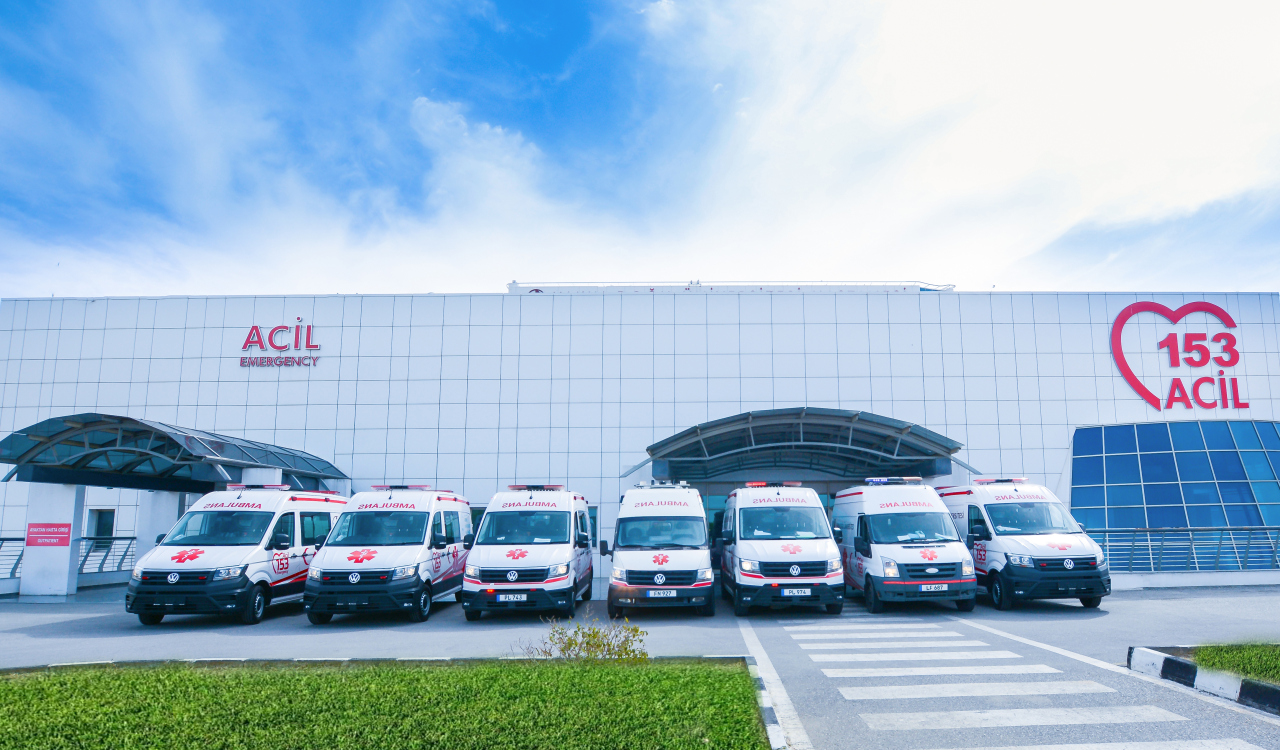 Near East University Hospital and Dr. Suat Günsel Girne University Hospital 153 Emergency Services increased the number of ambulances to provide faster and effective response opportunities in vital health and ambulance services. The number of 153 Emergency Service ambulances was increased to 14. Near East University Hospital, Emergency Medicine specialist Dr. Koray Kadam made a statement regarding the new ambulances added to the ambulance fleet and the vehicle fleet was expanded and renewed with the purchase of 3 new ambulances to 153 emergency services serving in all regions.
Fully equipped ambulances in service in every region
Specialist Dr. Koray Kadam said in his statements that 153 Emergency Services, which are within the emergency health system of our country, aiming to reach the cases in the city centers and outside the cities in the fastest and most reliable way, provide active service in every region with 3 new ambulances equipped with the latest technology. Specialist Dr. Koray Kadam stated that the ambulances deployed in Nicosia, Kyrenia, Famagusta, Güzelyurt, Bafra and Ercan Airport have all kinds of equipment, including mobile breathing apparatus and defibrillators.
153 Emergency ambulances transfer patients to the nearest hospital in line with the scope of the Near East University Hospital and Dr. Suat Günsel Kyrenia Univesity Hospital, which provide fast and reliable services to patients from a single center connected to 153 Emergency Call Center. Dr. Koray Kadam noted that patients are transferred to the nearest hospital with ambulances, which also have a navigation system that prevents time loss in accessing cases.
Dr. Koray Kadam; "The latest technologies are the basis of our complete service policy along with the services of well-trained healthcare professionals."
Expressing that the number of ambulances with modern equipment has been increased to fourteen with the 3 new ambulances brought to the fleet of 153 Emergency Services, Dr. Koray Kadam stated that 153 Emergency Services are capable of immediate intervention to any patient in Cyprus, with expert medical personnel and expanded fully equipped ambulance fleet. Dr. Koray Kadam continued his statements as follows; "Health is one of the most important wealth of human life. In recent days, all humanity has been learning this by experiencing it due to the epidemic. In case of possible health problems, when you need emergency service, make sure to get the expert support. Our 153 Emergency Service line is always available for you and your loved ones. The availability of highly trained and dedicated healthcare personnel along with the most up-to-date technologies and medical materials and medicines used in accordance with globally accepted guidelines constitutes the basis of our complete service understanding and policy."