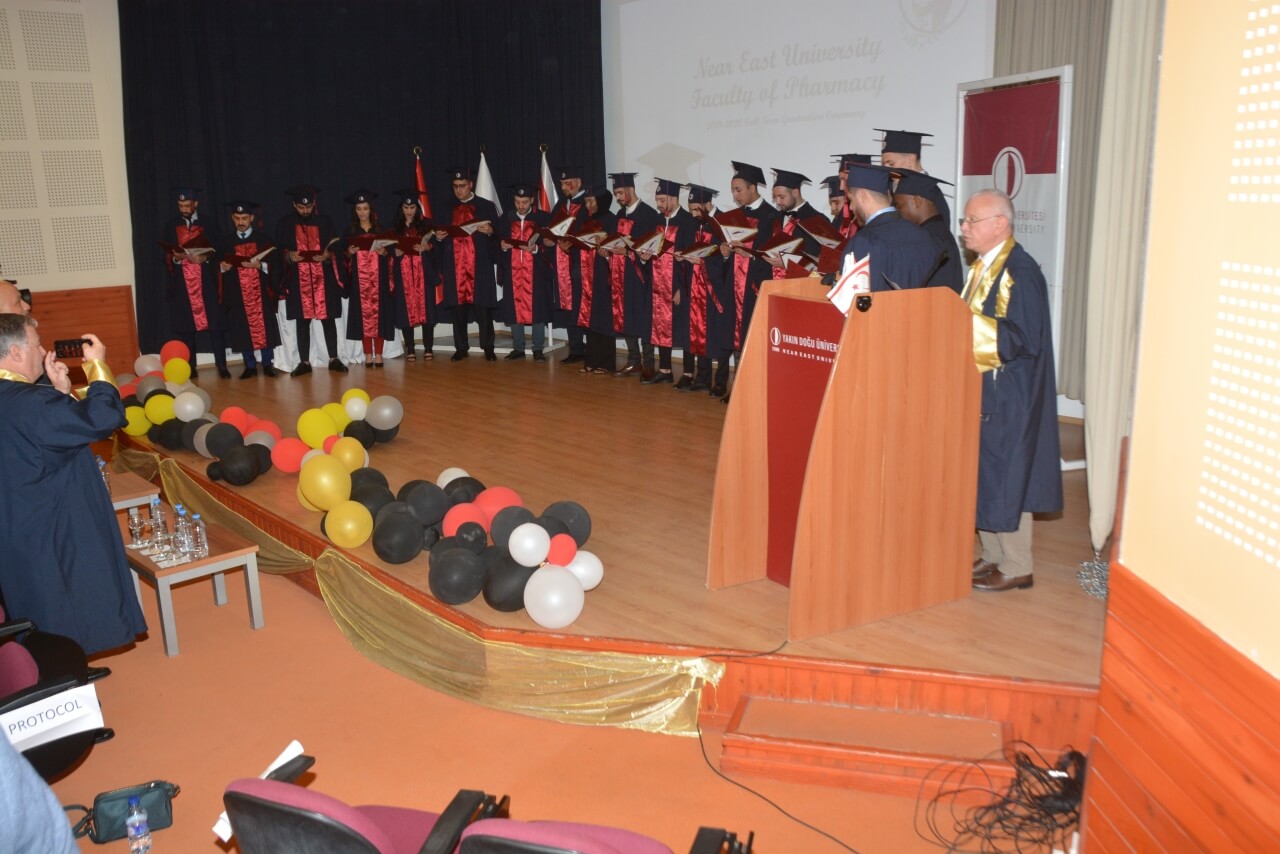 2019-2020 Academic Year Fall Term graduates of Near East University Faculty of Pharmacy received their diplomas with a glorious ceremony held at the Orange Hall at the Faculty of Communication.
According to the press release issued by the Directorate of Press & Public Relations Office of NEU, the graduation ceremony was realized with the participation of Özay Günsel Children's University Rector Prof. Dr. Filiz Meriçli, NEU vice Rector Prof. Dr. Tamer Şanlıdağ, NEU Faculty of Pharmacy Dean Prof. Dr. Ihsan Çalış, department chairpersons, faculty members, graduates and their parents.
The graduation ceremony began with a commemorative stand in silence for Mustafa Kemal Atatürk, Turkish Cypriot leader Dr. Fazıl Küçük, TRNC Founding President Rauf R. Denktaş and all martyrs and followed by national anthem. Following the violin recital performed by Nina Koçubey from the Music Teaching Department of Atatürk Faculty of Education, the opening remarks were delivered respectively by the Pharmacy Faculty Dean Professor Ihsan Çalış, NEU vice Rector Professor Tamer Şanlidağ, Pharmacy Faculty Dean Professor Ihsan Çalış and on behalf of the graduates Fatima Nasiru Ahmed and Arkan Qasim Lateef.
Professor Dr. İhsan Çalış; "You have received a multidisciplinary and original pharmacy education…"
Touching upon the key role of pharmacists in achieving the optimal public health, Professor Ihsan Çalış, the Dean of the Faculty of Pharmacy, addressed the gradates: "Dear graduates, I firmly believe that NEU Faculty of Pharmacy has raised you well. Now, you are closing a page and opening a new one in your lives. You have successfully completed an important process in your life and you are starting a new road with a new energy, with high skills and knowledge that you have acquired throughout your education process. You have received a multidisciplinary and original pharmacy education and gained unique competencies through theoretical and practical courses based on active learning methods going beyond the standards set by national and international bodies. You will be pharmacists who have professional responsibility towards the society, who are capable to use the information they acquired from different sciences, interpret this information together, identify problems, develop their analysis skills, act in accordance with moral and ethical values. The unique competencies that you gained by dint of the quality education at the Faculty of Pharmacy of Near East University will propel you to establish a competitive career over the others. With these competencies, throughout your lives, you will understand that you are in a very different position among other professions. I hope you can feel this difference and appreciate its value. What you need to do is to continue and develop the competencies you have gained by adopting continuous education throughout life".
Underlining that learning is a lifelong process, Professor Çalış advised the graduates to start their future careers with this awareness, to constantly improve themselves and to meet the requirements and expectations of their profession, which is a respected profession aimed at serving people for a healthy and happy life.
Prof. Dr. Ihsan Çalıs ended his remarks by reminding the graduates to practice their profession responsibly with conscience, integrity, and dignity which are consistent with its values, ethical principles, and ethical standards. "In addition to being a good pharmacist, continue your way as a good person in your future lives, learn to listen and understand others, try to question yourselves and renew yourselves" noted he.
Prof. Dr. Şanlıdağ: "Near East University provides globally resounding significant contributions to science, R&D and art …"
Underlining that Near East University provided globally resounding significant contributions not only to science and R&D but also to culture and art, NEU vice Rector Professor Tamer Şanlıdağ stated that they would exist as long as they produce in medicine, information, technology and art.
Underlining NEU's commitment to continuing to work and produce for the benefit of the society, Professor Şanlıdağ delivered information concerning NEU's accomplishments in the field of science, innovation, technology and art: "Our university, which has been making significant investments in R&D for a long time, has achieved world championships with the Robotic football team, on the one hand, has sown the seeds of a new future with solar cars RA-25 and RA-27. Following the R&D processes that started with RA-25 and RA-27, GÜNSEL; our first domestic electric car developed by 109 engineers by adding the night to the day, is also getting ready to hit the road. We are launching the Museums Zone on Near East University Campus. The Museums Zone will house seven museums including the Car Museum, Herbarium and Natural History Museum, the National History Museum, the Maritime Museum, the Knife and Sword Museum, and Cyprus Museum of Modern Arts. Research and exchange programs have a crucial role in providing students with opportunity to gain educational and training experience abroad. With this awareness, we ensured the full membership of our Medical Students' Association and Dental Students' Association to the International Federation of Medical Students Associations and International Federation of Dental Students'
Association respectively. Within the scope of Erasmus Program, we have realized internship and research exchange programs with many universities across the globe. Currently, 2 students from the Lithuanian medical faculty are doing internships at Near East University Hospital. The full membership of Near East University Veterinary Medicine Students' Association was approved at the General Assembly of the International Veterinary Medicine Students' Association that held in Morocco. Consequently, the students studying at NEU Faculty of Veterinary Medicine will be able to benefit from internship exchange programs while foreign veterinary medicine students will be able to do internships at Near East University as well" said he.
Professor Şanlıdağ ended his remarks by congratulating the graduates and wishing them continued success.
Diplomas were presented and the professional oath was taken…
Following the speeches, the graduates were presented their diplomas by vice Rector Professor Tamer Şanlıdağ, Faculty of Pharmacy Dean Professor Ihsan Çalış and Deputy Dean Assistant Professor Banu Keşanlı. Following the diploma presentation, the graduates took the professional oath along with Professor K. Hüsnü, Head of the Department of Pharmacognosy and the Director of the Graduate School of Health Sciences. The graduates enjoyed the joy of graduation by throwing their caps and having a souvenir photo taken.