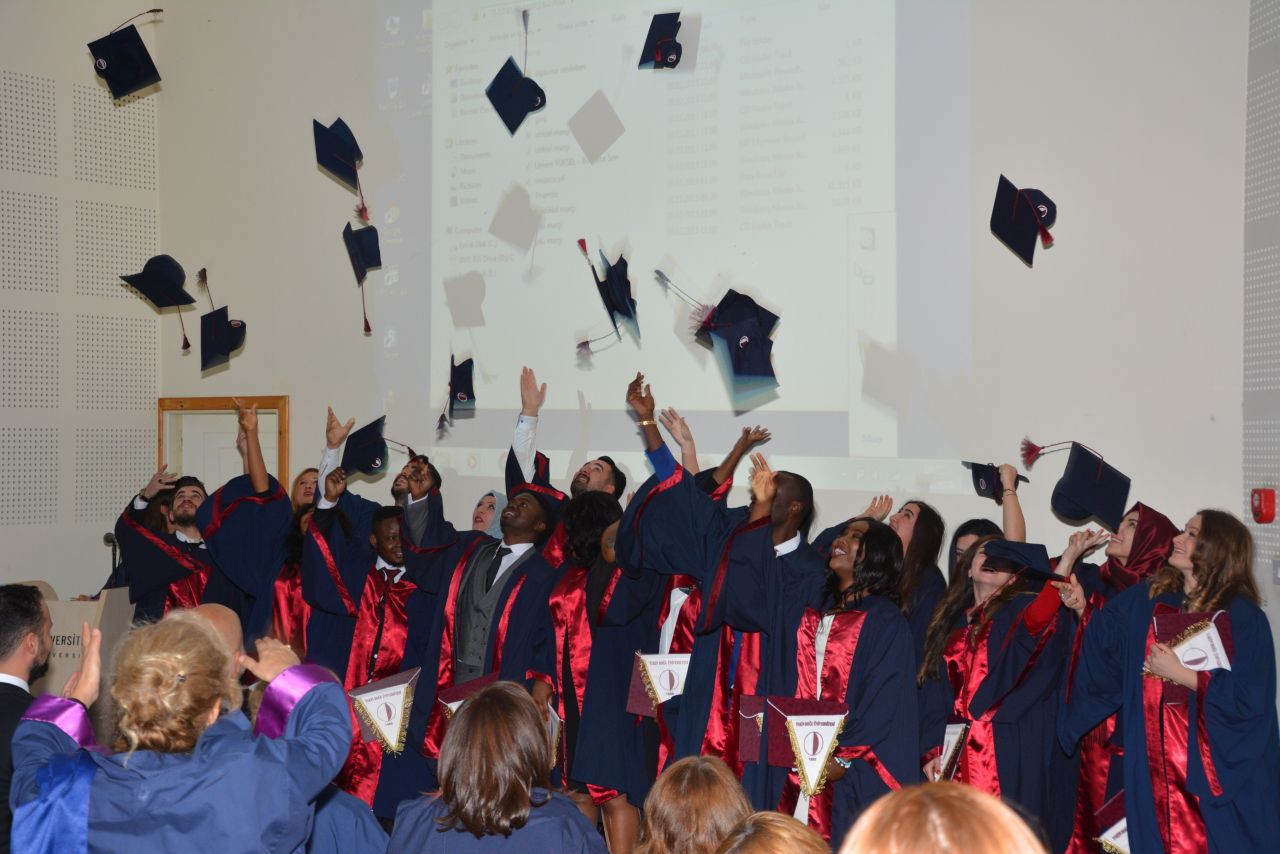 2017-2018 Fall Semester graduates of Faculty of Health Sciences of Near East University received their diplomas with a glorious ceremony held at the Grand Library Hall 3.
According to the press release issued by the Directorate of Press & Public Relations Office of NEU, the graduation ceremony was realized with the participation of the Board of Trustees Chairman Assoc. Prof. Dr. İrfan S. Günsel, NEU vice Rector Prof. Dr. Tamer Şanlıdağ, NEU Faculty of Health Sciences Founding Dean Prof. Dr. Sevinç Yücecan, faculty deans, department chairpersons, faculty members, students and their parents.
The graduation ceremony began with a commemorative stand in silence for Mustafa Kemal ATATÜRK and for all martyrs and followed by national anthem.
Professor Sevinç Yücecan: "Our students are graduating from the biggest education and culture center of Cyprus that always has a great appetite for awards"
In her opening remarks, Professor Yücecan underlined that Faculty of Health Sciences offered quality graduate and undergraduate education both in Turkish and English. "Today, our students that graduated from graduate programs and undergraduate programs are receiving their diplomas from Near East University, which is the biggest education and culture center of Cyprus that achieved success at every step and adopts success as a principle and never fed-up with getting awards" said she.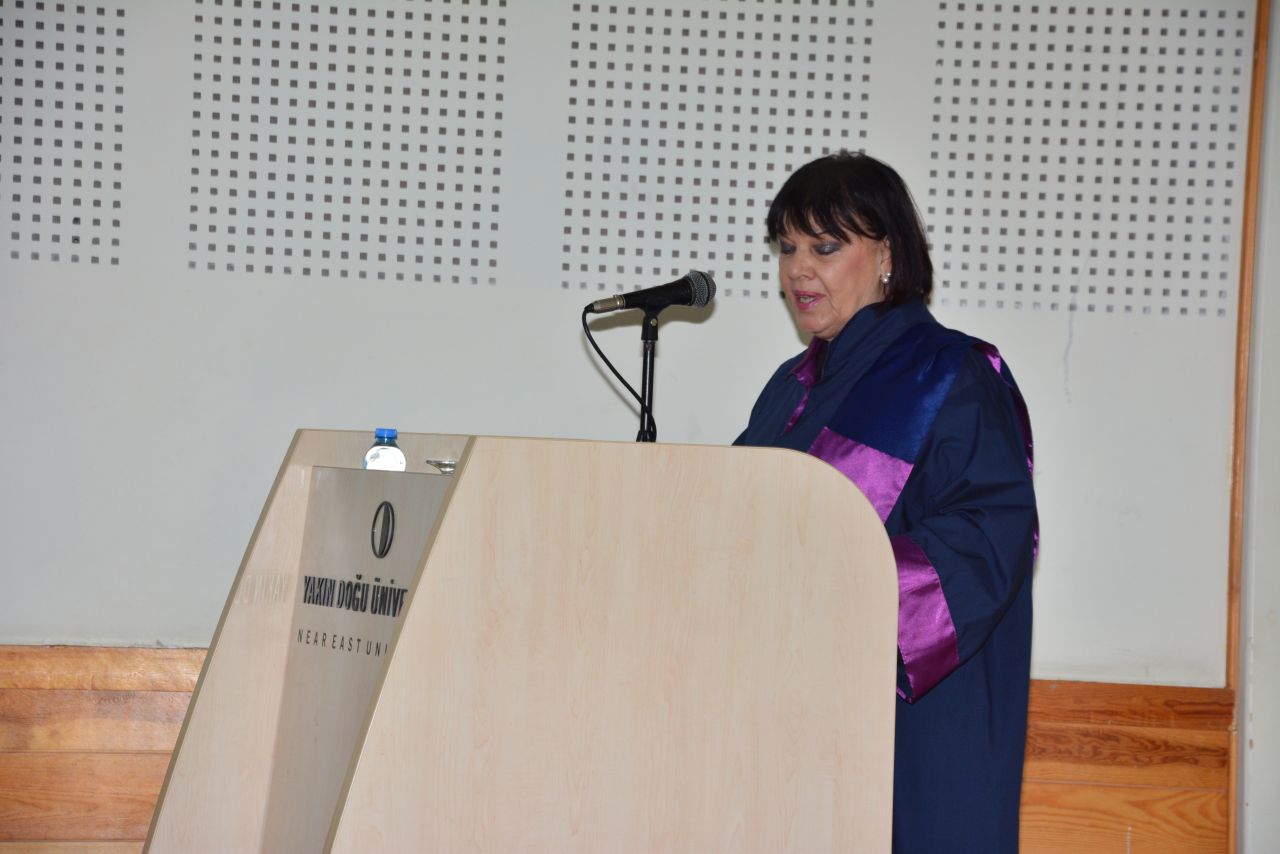 Professor Sevinç Yücecan: "You should trust in yourselves and never lose your faith"
Addressing the graduates, Professor Yücecan expressed her views: "Dear students, from now on, you will be working as our colleagues. You should trust yourselves and never lose your faith. I truly believe that you will fulfil your responsibilities in the best way. I'm sure you'll be attentive to leaving your mark on whatever you do. While performing your profession, at every step you take, as your lecturers and colleagues, we will always be at your side with every fibber of our beings, with our knowledge and experiences, with our hearts and our success wishes".
Prof. Dr. Sevinç Yücecan ended her remarks by extending her appreciations to the Founding Rector Dr. Suat İ. Günsel, NEU Board of Trustees Chairman Assoc. Prof. Dr. İrfan S. Günsel, administrators and faculty members for their contributions and participations.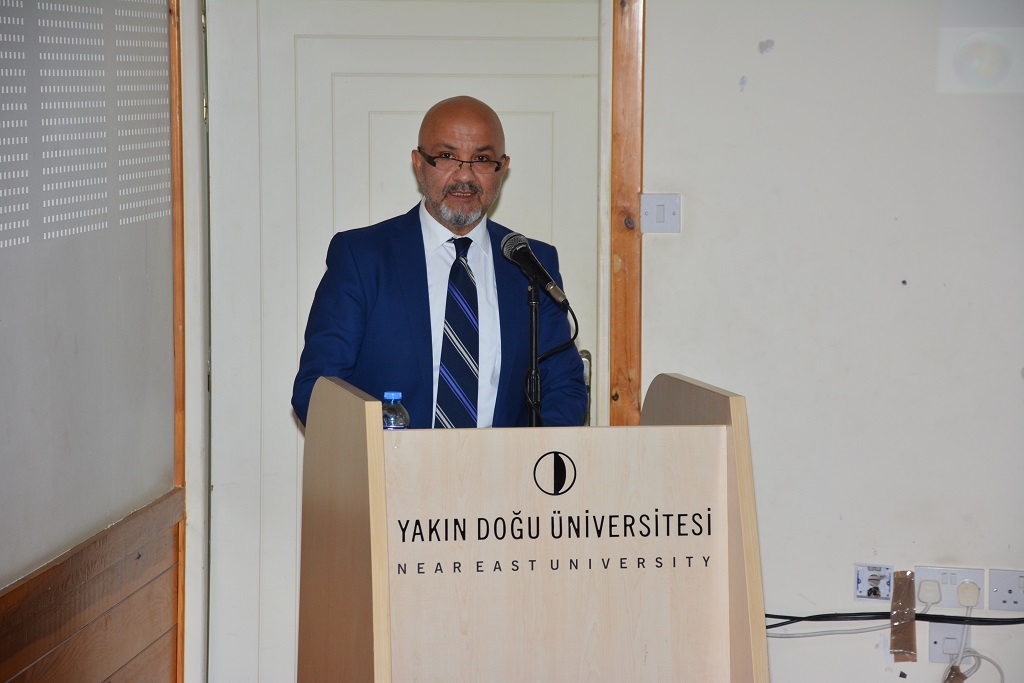 Professor Tamer Şanlıdağ: "Our goal is to take place amongst the world's top 500 universities"
In his opening remarks, Near East University vice Rector Professor Tamer Şanlıdağ delivered information regarding the university and the fundamental objectives of the university: "Since its establishment in 1988, Near East University has undertaken it as mission to offer quality education beyond the standards set by national and international bodies. With 16 faculties, 6 graduate schools, 2 schools, 4 vocational schools, 32 research centers and 1500 academic staff, Near East University provides the best education and research environment for almost 27,000 students from different countries. Near East University, which is currently a member of 118 national and international organizations and the training ground of many successful professionals working across the world, is committed to continue to offer quality education and to raise creative and self-confident individuals, who are able to think critically and independently, who keep their responsibility over everything, and who are highly equipped with research, teamwork and problem-solving skills as well as professional ethics with a special focus on social and historical values.
Within a period of time that can be considered relative to the history of a comprehensive and high level institute of science and education, Near East University has developed with a dazzling pace and become the largest education, culture and research center of Cyprus. Our goal is to take place amongst the world's top 500 prestigious universities" said he.
Professor Şanlıdağ ended his remarks by addressing the graduates: "You will find yourself constructing or strengthening your society, if your fate comes out like this, be delighted, because the society is the only substantial thing in the world; the rest has no meaning. Always keep strict to scientific and ethical rules taught to you. I wish that your new life brings success and happiness to you. May God keep your way open" said he.
Graduates of the Faculty of Health Sciences received their diplomas after swearing professional oath
Before swearing the professional oath, Perihan Afyon and Bilhan Japet, who graduated from Nursing Department, made speeches on behalf of graduates.
After the speeches, the Founding Dean of the Faculty of Health Sciences, Professor Sevinç Yücecan swore the oath of profession with graduates. Following the oath, the graduates were presented their diplomas. Upon receiving their diplomas, the graduates experienced the joy of the graduation by throwing their caps……