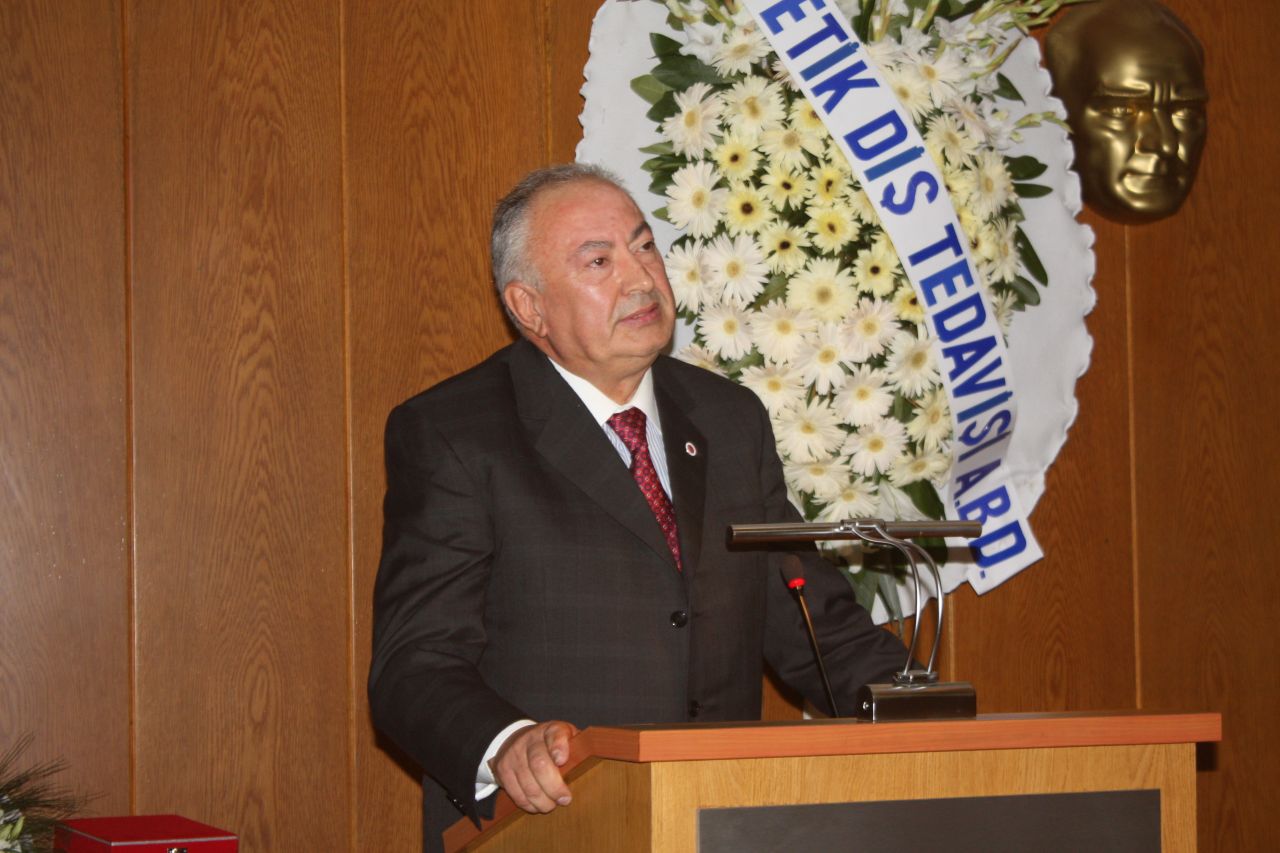 Prof. Dr. Mutahhar ULUSOY, Dean of NEU Faculty of Dentistry, delivered a message:
"Driven by our mission, and under the light of contemporary science and with the high-end equipment of the world's most advanced technologies, as Near East University Faculty of Dentistry, we have been continuing to strive to achieve excellence in everything we do since 2007.
Dentistry is one of the most important fields of Health Sciences. Oral & Dental health is essential to general health and quality of life. Dentistry faculties, which are growing in number in our countries, strive to contribute to this scientific education process. Under the light of the contemporary science, driven by its fundamental mission since 2007, high-tech equipped Near East University Faculty of Dentistry has been progressing on its way by embracing quality education as a path to innovation, learning, mutual respect and excellence.
The history of dentistry is almost as ancient as the history of humanity and civilization. However, in the contemporary meaning, we are celebrating the 109th anniversary of it. Every year November 22 and the week it is in is celebrated as Dentistry Day/Week. With all my cordial wishes, I celebrate our Dentistry Day/week.
From Primitive dental care to contemporary Dentistry…
In Early Ages, people suffering from toothache tried almost everything to alleviate the discomfort associated with toothache. Those standing out with special talents or those that believed to have metaphysical powers were asked to provide dental care. They used primitive methods for treating decayed teeth and gum disease, and extracting teeth. They used animal teeth, cadaveric teeth or pebbles to replace the missing teeth. They described a "tooth worm" as the cause of dental caries and used drops made of boiled earthworms to reduce pain and to fight against tooth decay. During the Middle Ages and throughout the 19th century, dentistry was not a profession in itself, and often dental procedures were performed by barbers or general physicians.
When we look at the history of humanity, it seems that some applications had been performed which can be considered as the firsts of today's techniques.
For example, we know that implant was performed in the 10th century in Andalusia.
On such days, we should look at history to understand the way covered by dentistry, and we need to commemorate those in recognition of their efforts exerted for the establishment of dentistry as a profession
Due to some reasons, Ottoman medicine and dentistry fell behind the medical sciences developed in Europe. While dentistry was considered as a distinct field of education in Europe, physicians dealt with dentistry in Ottomans. In Evliya Çelebi's Seyahatname, there are records that the physicians dealt with the dentistry. Based on this book, we know that in the 18th Century there were 400 surgeons in Istanbul who travelled from village to village to provide dental care including tooth extraction and abscess drainage. Resources proclaim that the foreign nationality doctors and pharmacists having diplomas also came to our country and took charges both in the Ottoman palace and in the military state hospitals. Also, diplomas were given or sold to the persons who trained on master and apprentice basis and agreed to work in colonies. Even though these persons were not physicians, they took charge in Ottoman palace.
In the Ottoman Empire, there were groups including surgeons, physicians, the persons, who were licensed as dentist after a simple exam, realizing the profession of the dentistry before the opening of the "Dişçi Mektebi" ("School of Dentists").
While the situation in the country was in such a negative situation, in 1908 the Minister of National Education, Emrullah Efendi, asked Cemil Topuzlu Pasha, who had specialized in surgery in Europe, to open 'Dişçi Mektebi' (School of Dentists). The buildings, which were left empty with the moving of the Sivil Tıbbiye (Civil Medical School) from Kadırga to Haydarpaşa, were allocated for the Dentistry, Pharmacy and Nursing Midwifery Schools. On November 22 1908, the budget for Dişçi Mektebi was approved and official structuring began. This date that we celebrate its 109th anniversary today is a milestone for scientific, contemporary Turkish dentistry education. Cemil (Topuzlu) Pasha, Emrullah Efendi and Halit Şazi Bey had important roles in the establishment of the Dişçi Mektebi (School of Dentists). The profession and training of dentistry in the professional meaning was started with the opening of the "Dişçi Mektebi" ("School of Dentists").
I would like to commemorate the deceased ones, who exerted effort for establishing dentistry as a profession, with mercy and gratitude, and I wish health and well-being for our colleagues who currently exert effort for dentistry with contemporary educational mission.