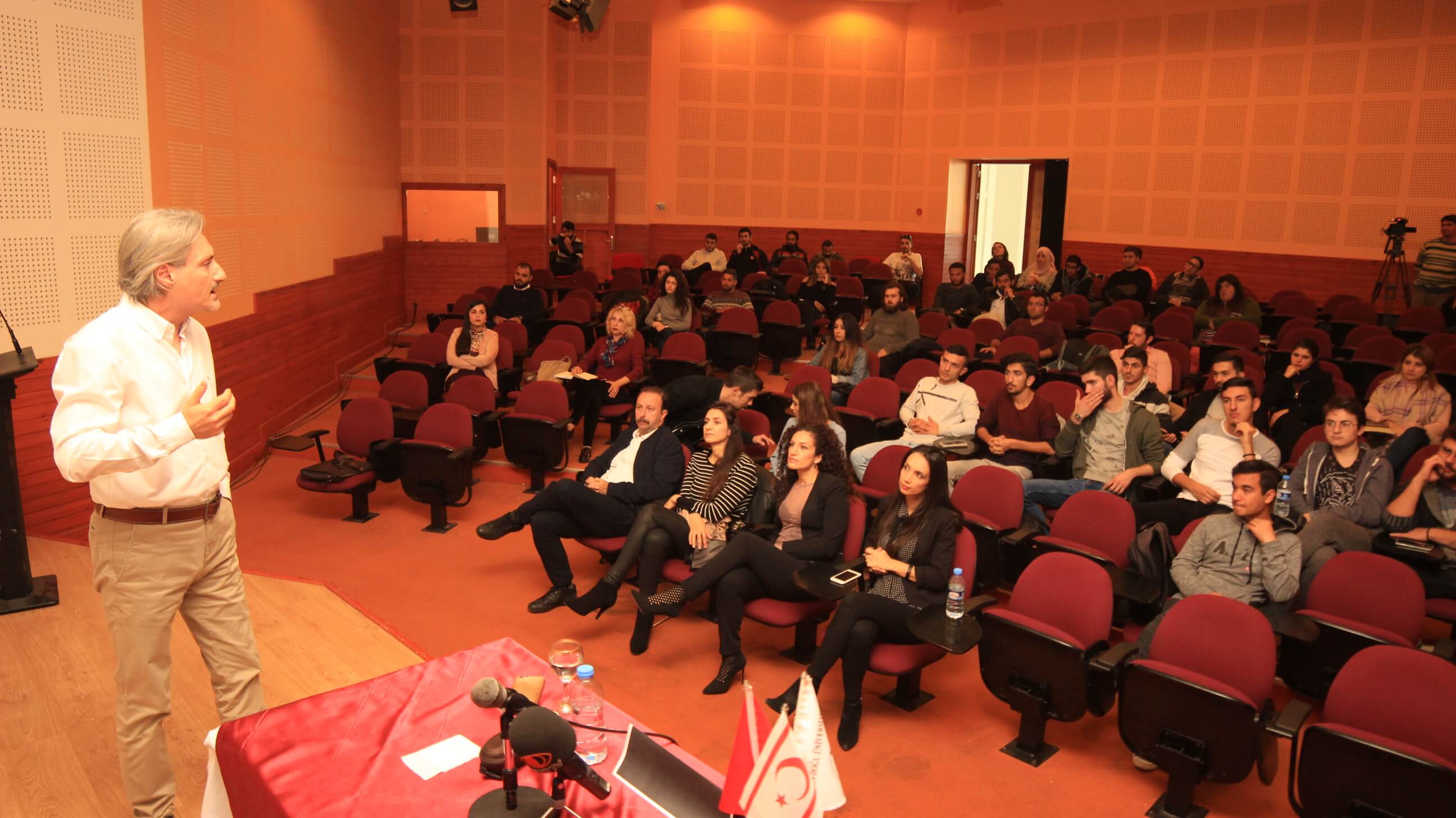 As part of the 6th International Media Workshop, Department of Public Relations and Advertising of Faculty of Communication of Near East University held a conference and workshop titled as "Brand Strategies Management" and recently hosted Arkan Oryal Özbay; a significant figure known for establishing the brand communication.
According to the press release issued by the Directorate of Press and Public Relations of Near East University, the first session of the conference was held as a dialogue (questions and answers) whereas the second session was held as a workshop themed as "intellectual property and advertising".
In his presentation, Özbay provided details regarding advertising agencies; including the one that he works in. Furthermore, he gave information on identifying the target group, developing an advertising strategy and relevant processes via an example commercial film. Arkan Oryal Özbay then interacted with the students, sharing views and opinions on the matter and enabling questions to be asked and answered.
Head of Department of Public Relations and Advertising, Assist. Prof. Dr. Nuran Öze made a statement regarding the event and stated that it was an extraordinary chance to enable NEU students to come together with such a significant figure such as Arkan Oryal Özbay, who has had the opportunity to work in many well known national and international firms and brands in the field of advertising in Turkey. Moreover, she stated that students were provided contemporary knowledge and open-minded views and theories on reality regarding high-budgeted advertising campaigns.
Who is Arkan Oryal Özbay?
He was born in 1970 in Çeşme, Turkey. After graduating from Department of English Langauge and Literature in Istanbul University, he completed his Master's Education in Advertising in Faculty of Communication of Marmara University.
He worked in RPM Radar, Grafika/ Lintas, DMB&B, DDA, Yorum Publicis, Portfolio and PARS McCANN ERICKSON as a Copywriter, Group Leader and Creative Director. Arkan Oryal Özbay also worked in leading firms and companies in Turkey and in the world such as Toyota, Subaru, Saab, Opel, Renault, Turkish Airways, Turkcell, Coca-Cola, Algida, Ülker and L'Oreal Paris. He is currently working in the field of Marketing Communication as a Founding Member and Creative Director.