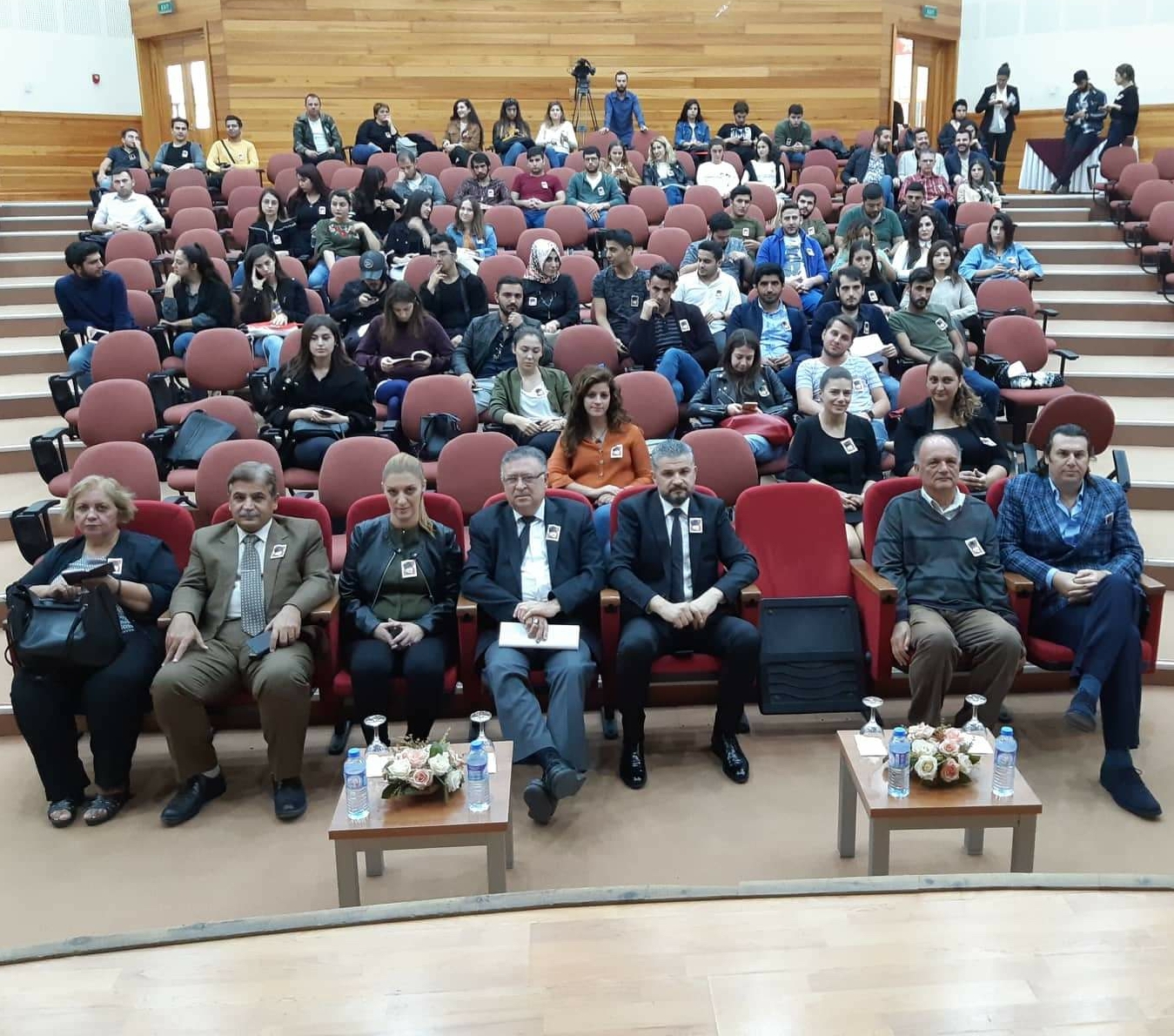 The Founder of the Republic of Turkey, Great Leader Mustafa Kemal Atatürk was commemorated on his 80th death anniversary by the participation of students from departments of the Faculty of Arts and Sciences.
According to the press release issued by the Directorate of Press and Public Relations of Near East University, the commemoration ceremony was held at Hall 3 of the NEU Grand Library which began with a minute's silence, in memory of all those who sacrificed their lives for this country, followed by the national anthem. Then the Dean of Faculty of Arts and Sciences Prof. Dr. Ali Efdal Özkul made a speech regarding the significance of the day.
It was pointed out that during his speech, Prof. Dr. Ali Efdal Özkul expressed his thoughts and feelings on how Atatürk made his mark in history as a great leader and added that it was everyone's duty to work hard by internalising Atatürk's principles. Furthermore, he emphasised that as long as we continued to walk along the path he created better days were to be reached by the people of both the Republic of turkey and the Turkish Republic of Northern Cyprus.
Atatürk was commemorated with poems…
Subsequent to the speech made by the Dean of Faculty of Arts and Sciences, Prof. Dr. Ali Efdal Özkul, a student from the Department of Turkish Language Teaching İsmail Tamer screened his slideshow themed on Atatürk. Later, Academic Member of Department of Turkish Language and Literature Assist Prof Dr. Erdoğan Saracoğlu made a speech titled as "Atatürk and his work on language". In his speech, Assist Prof Dr. Saracoğlu placed emphasis on the value Ataürk gave to Turkish Language and explained that the Turkish Language Society was previously established as the Language Council.
Following the above mentioned speech, a students from the Department of Turkish Language: Ayşenur Özbent read poems titled as "Mustafa Kemal`i Düşünüyorum", Alev Demir read "Kıbrıs'ta Atatürk" and Aysel Akkuş read "Mustafa Kemal'in Kağnısı". Moreover, Fatma Betül Kulular read a poem titled as "Ben Mustafa Kemal'im"; Mustafa Aktan read a poem titled as "Atatürk" ; and Hasan Altunbağ read "Ağıt-Destan".
It was stated that the commemoration ceremony ended upon the completion of poem reading.