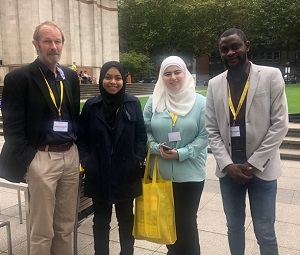 Near East University Faculty of Engineering Faculty members Assoc. Prof. Dr. Dilber Uzun Özşahin, Assist. Prof. Dr. İlker Özşahin and PhD student Musa Sani Musa presented their study on early diagnosis of breast cancer at "Biomedeng19" conference known as the biggest meeting of the UK's Biomedical Engineers, Medical Engineers and Bioengineers.
According to the information provided by the Directorate of Press and Public Relations of the Near East University, PhD student Musa Sani Musa attending to the conference held at London Imperial College presented the study titled "Performance Evaluation of Scintillator-Based PEM Scanners" supported by the Scientific Research Projects (BAP) unit.
The performance of commercial and non-commercial scintillator crystals was evaluated in the study, which is a part of the research conducted in the field of nuclear imaging called Performance Evaluation of Scintillator-Based PEM Scanners ". Five different detector materials (HfO2, BGO, LYSO, LSO and LuAP) were simulated and their performance was evaluated in terms of spatial resolution and sensitivity. The idea of conducting this research was derived from previous studies in a breast scanner using an LSO scintillator crystal.
The study aims to provide early diagnosis of breast cancer…
The study, which attracted the attention of most of the participants who are interested in breast screening in breast cancer diagnosis, aims to provide early detection of breast cancer. It was found that crystals such as hafnium dioxide (HfO2) had excellent sensitivity and spatial solubility due to their internal density, number of atoms and light higher than that of existing crystals. In the future, the existing detectors will be replaced by this detector as it is more efficient in early cancer detection.
Many topics discussed in Engineering…
In the conference which is a milestone in the progress of bioengineering discipline; Biomedical Imaging, Cancer Engineering, Drug and Gene Delivery, Artificial Intelligence and Machine Learning, Neurotechnology, Rehabilitation Engineering and Robotics, Digital Health Engineering, Medical Technology and Innovation, Medical Devices and Diagnostics, Biomaterials and Functional Bionano Materials, Organ-on-a- Chip Technologies and Artificial Organs have been discussed.