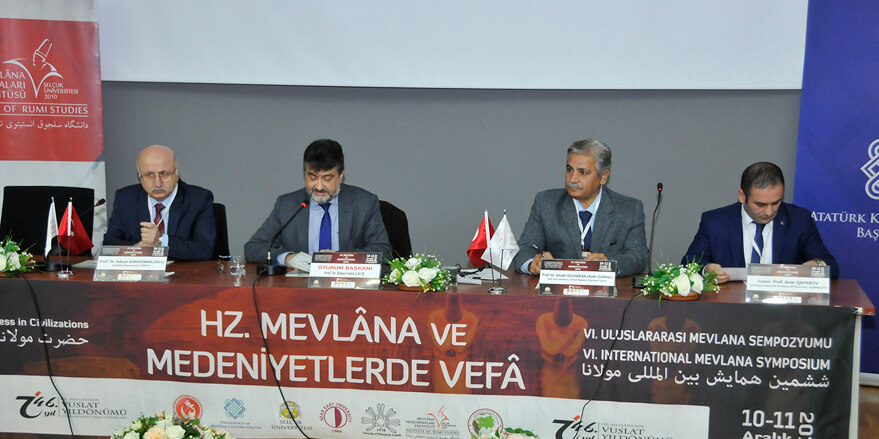 Having been organized collaboratively by Near East University Eurasian Research Center and Selçuk University Mevlana Research Institute with the support of Atatürk High Council of Language and History and Atatürk Culture Center, the 6th Mevlana Symposium was held at Selçuk University in Konya on 10-11 December to commemorate the 746th anniversary of the death of the great mystic Jalal al-Din Rumi (known as Mevlana), the founder of the Mevlevi Order.
The symposium, which is held annually on a different theme, provided platform for participants to share information through presentations or lectures on Mevlana and fidelity in civilizations.
The Directorate of Press and Public Relations Office of Near East University released that the Head of the Near East University Eurasian Research center Professor Ghadir Golkarian participated in the symposium that themed on Mevlana and Fidelity in Civilizations. Prof. Dr. Ghadir Golkarian made a presentation on "Fidelity in context of Human-Society Relations and Civilization.
Highlighting that Mevlana is like a vast ocean, Professor Golkarian draws attention to the necessity of learning and knowing the required techniques to reach the safe shore by swimming in his ocean of wisdom and knowledge.
The issue of fidelity was addressed...
Highlighting the deep meaning in Mevlana's sayings, Prof. Dr. Golkarian expressed his views: "Each saying of Mevlana is a lesson of life, meaning and responsibility itself. His words reflect everything that makes us human, everything we are able to see with our eyes open or shut. Therefore, every year important themes are taken into consideration in order to get to know and understand the multidimensional personality of Mevlana. This year, the symposium was realized on the theme "fidelity". The symposium provided a scientific platform to discuss the values such as loyalty and the importance of individual and social responsibility in the context of Mevlana and the civilizations.
The Masnavi of Mevlana Jalal ad -Din Rumi, which is a poetic collection of anecdotes and stories derived from the Quran, always begins its verses with "listen to the reed". Quran begins with "read". For Mevlana, listening is a matter of importance for weighing-up in mind to gain the ability of speaking and reading. If we are going to talk about Mevlana today and tomorrow, it is not enough to choose a good style to arrange words and sentences in a good manner; words need to come from the bottom of the heart and reflect the theological power of science. Otherwise, words remain shallow and soulless. It won't be enough to get to know Mevlana by evaluating only one of his aspects. We need to know all aspects and dimensions of him. Mevlana is like a vast ocean. We need to look into the hidden depths to understand him better. As we start to walk on his way, the way will appear" noted he.
Two other presentations titled "Fidelity Concept in Masnavi and its Characteristics" and "Fidelity Virtue in Turkic Khanate according to Kutadgu Bilig" attracted the attention at the symposium that realized with the participation of research academicians from Turkey, TRNC, Iran, Bosnia-Herzegovina and Azerbaijan