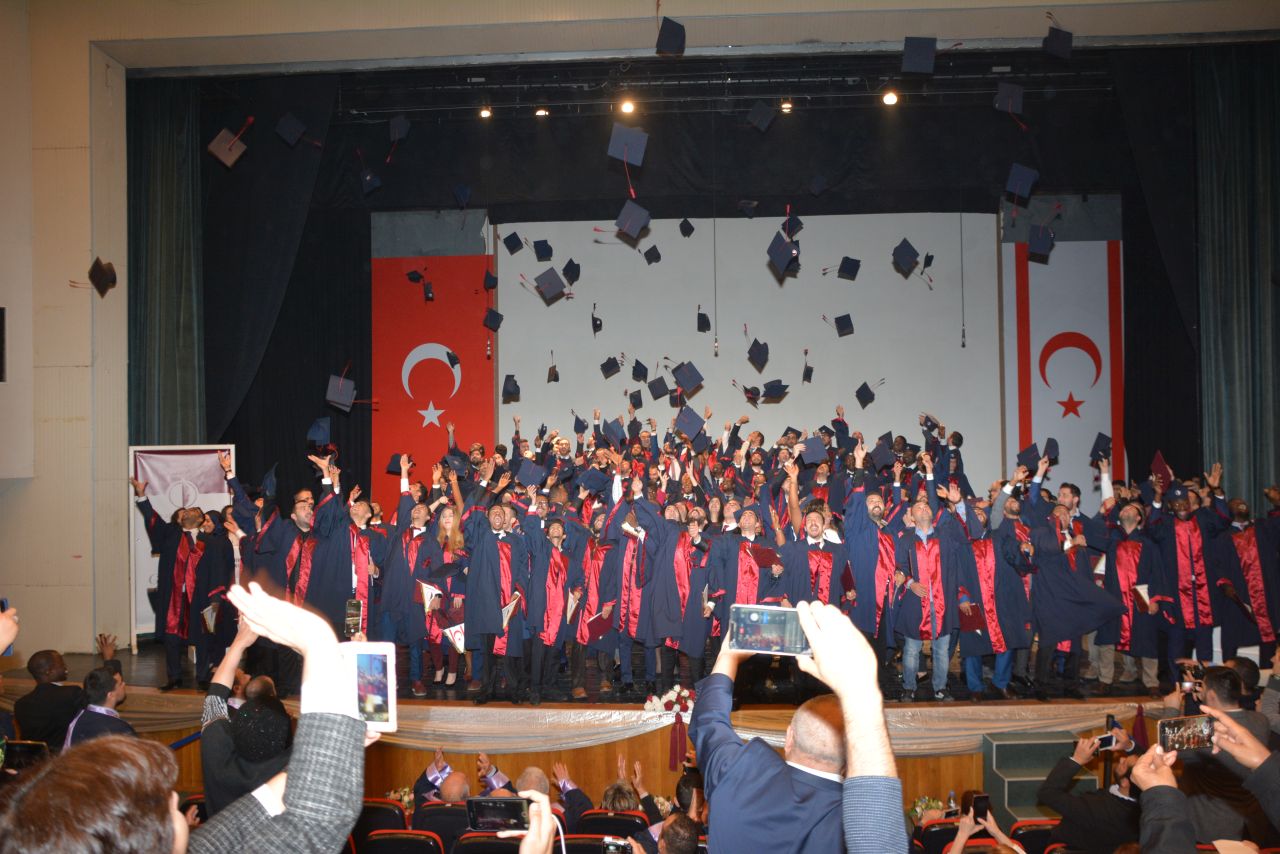 2017-2018 Academic Year Fall Term graduates of Near East University Department of Civil Engineering received their diplomas with a glorious ceremony held at Atatürk Culture and Congress Center (AKKM).
According to the press release issued by the Directorate of Press & Public Relations Office of NEU, the graduation ceremony was realized with the participation of NEU vice Rector Prof. Dr. Fahreddin Sadıkoğlu, deans, faculty members, graduates and their parents.
The graduation ceremony began with a commemorative stand in silence for Mustafa Kemal Atatürk, Turkish Cypriot leader Dr. Fazıl Küçük, TRNC Founding President Rauf R. Denktaş and all martyrs and followed by national anthem. Then, the participants experienced pleasant moments with the music recital performed by Atakan Sarı, faculty member of the Music Teaching Department of Atatürk Faculty of Education.
Following the video show, Acting Dean of the Department of Civil Engineering, Asst. Prof. Dr. Pınar Akpınar delivered her opening remarks: "Dear parents and graduates, we are proud of sharing this special day with you today. Dear students, you are graduating from a university reputable with quality and excellence in education. While we feel pride of you and your accomplishments, you will be proud of being a graduate of Near East University" said she. Then Asst. Prof. Dr. Pınar Akpınar read the message from the Faculty Dean Professor Hüseyin Gökçekuş who was abroad. In his message, Professor Gökçekuş wished good luck and success for the graduates.
Asst. Prof. Dr. Akpınar: "The thing that honors us is to see that you are successful"
Touching upon the devotion of the Department of Civil Engineering in raising engineers equipped with comprehensive knowledge as well as professional ethics and skills required to address the needs of the sector, Asst. Prof. Dr. Akpınar expressed her views. "With its dynamic structure and competent academic staff, the Department of Civil Engineering is a vibrant education center which is the training ground of many successful engineers working in different countries around the world. We firmly believe that we have raised you as first caliber engineers capable to address the changing needs of contemporary civil engineering. The thing that honors us is to see that you are successful. We will be happy if you keep your ties vibrant with us. We want to receive good news relevant to your accomplishments. I congratulate all of you and wish success. Do not forget that we are proud of you and will continue to be proud of you" noted she.
Then, Palestinian Ali Zaidan, the top ranked graduate of the Department of Civil Engineering, made a speech on behalf of graduates.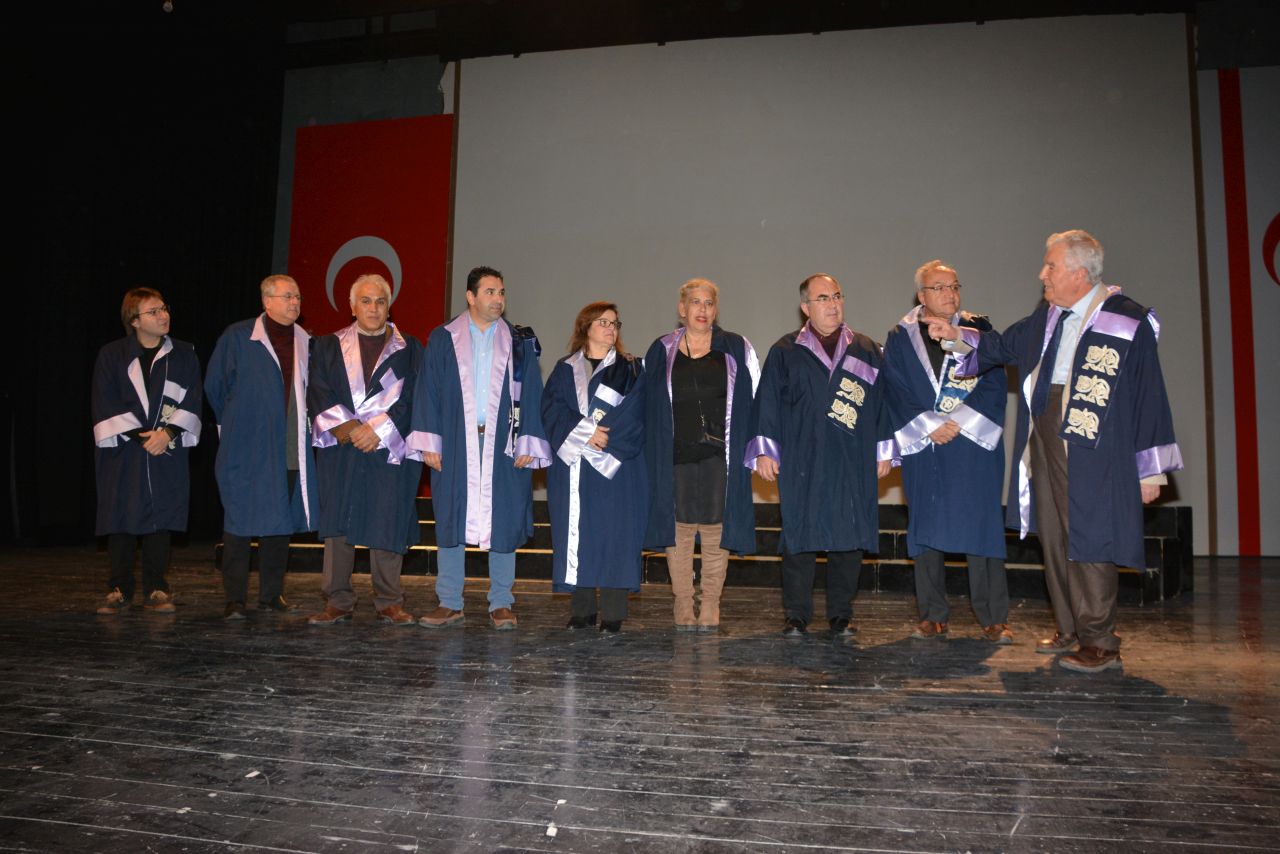 Zaidan: "We are at the point where words fail and action is required to gain success"
"I would like to begin my remarks by extending my appreciations to my parents for encouraging me to start, supporting me and praying for me to finish this journey successfully. Besides, thanks God for helping me in succeeding and completing my undergraduate educating at civil engineering by ranking the first place. I pray God to bring health, happiness and success for everyone. It wasn't easy at all to leave home for sake of education and come to a foreign country and start a new life. You should know that everything can be accomplished with determination and sacrifice. It is a good experience to start alone and succeed and it is the precusor of future accomplishments" said he.
Underlining that they were at the point where words failed and action required for achieving success, Ali Zaidan ended his remarks by wishing success for his fellow graduates in their professional lives.
Following the speeches, the graduates were presented their diplomas. Upon receiving their diplomas, the graduates experienced the joy of the graduation by throwing their caps…