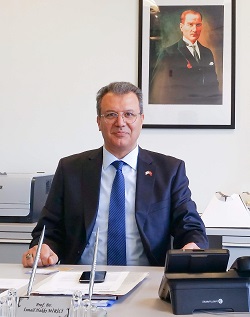 Professor Hakkı Mirici, the Dean of the Near East University Atatürk Faculty of Education, stated that their faculty, which had undertaken it as a mission to be on the leading edge of quality education at international standards, was ready for the academic year of 2018-2019 not only with its dynamic and competent academic staff but also with a new vision to ensure all essential integrals required for raising well equipped individuals through quality education.
Touching upon the significance of raising students that equipped not only with professional knowledge and skills but also with cultural, social, philosophical, literary, artistic and moral values, Professor Hakkı Mirici underlined that it was their overriding aim to train individuals and raise them as competent professionals who were aware of human values and capable to add value to the society they live in.
Expressing the right pride of being the most rooted faculty of education of the Turkish Republic of Northern Cyprus with its YÖK and YÖDAK approved programs, Professor Mirici stated that they would provide contemporary and quality education with internationally qualified faculty members.
Graduates are provided with opportunity to have Additional Professional Certificate along with Their diplomas
Highlighting the significance of their new vision in providing students with opportunity to receive more than one certificate including a diploma of their specialty and a professional certificate enabling them to be equipped not only as teachers but also in other fields concerning their specialties, Professor Mirici noted that they had widened the employment opportunities for their students by signing mutual agreements with various educational institutions. Touching upon the crucial role of collaboration and interaction in achieving the goals, Professor Mirici stated that they had designed certificate programs in collaboration with Near East University Lifelong Education Center (YABEM) to provide students with opportunity to receive not only a diploma from their faculty but also a certificate in a relevant field of science. He also underlined that "Meeting with the Dean" event, which was realized at least twice a year with the participation of students and faculty members, provided opportunity for students to assess their educational processes and plan their careers.
In order to provide platform for sharing and exchanging information, we annually organize "International Conference on Interdisciplinary Educational Relations (ICIER)" at our faculty which has a scientific journal called "Near East University Online Journal of Education".
Along with other international accreditations, our faculty also offers programs within the accreditation process of EBDAD approved by YÖK. In order to accommodate the demands of our graduates in pursuit of their advanced academic and professional careers, our faculty offers master's and doctoral degree programs that approved by the Council of Higher Education (YÖK) and the Higher Education Planning, Evaluation Accreditation and Coordination Council (YÖDAK). To this end, we are always in collaboration with the Graduate School of Educational Sciences to design a new myriad of high quality and goal-oriented graduate programs. Our faculty has many international institutional partnerships. We attach great importance on an inclusive environment in education as it facilitates communication, interaction and access to information. We adopt the principles regarding accessible administration, academic environment with spirit of sharing, productive education and happy faculty. We are determined to continue to be a model faculty, which embraces all educational and scientific innovations offered by our university" said he.