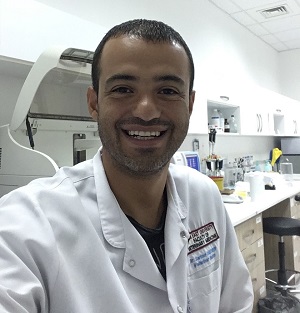 Near East University Faculty of Veterinary Medicine Department of Biochemistry Head and Near East University Animal Hospital Diagnostic Laboratory Chief Assist. Prof. Dr. Serkan Sayıner stated that they now have great knowledge and experience about how to deal with coronavirus infections in animals that can be a model for the new type of coronavirus SARS-CoV-2 infection in humans.
Stating that the profession of veterinary medicine is always on the agenda in the fight against epidemics, Assist. Prof. Dr. Sayıner, "We have great knowledge and skills in terms of field experience and laboratory experience. We have experienced examples of this in our country in the past years. We have successfully fought against many epidemics and implemented eradication programs. The role of animals in the spread of SARS-Cov-2, which is thought to have zoonotic origin although the origin is not fully clarified, is largely a question mark. As veterinarians, we have been dealing with many different types of coronavirus-borne infections for many years. The recent SARS-CoV-2 induced pandemic once again demonstrated the importance of our profession."
According to the information given by the Press and Public Relations Directorate of Near East University, Assist. Prof. Dr. Sayıner gave information about the role of animals in the spread of SARS-Cov-2. Assist. Prof. Dr. Serkan Sayıner noted that there is no situation that would require us to take precautions that would impair the livestock welfare of our animals. Stating that they have read articles showing contradictory results within 2-3 months depending on sample collection, methodological developments or approaches and applications, this situation still indicates the necessity of defining many aspects of the infection. Assist. Prof. Dr. Sayıner said "For example, in February, the findings of human SARS-Cov-2 originating from pangolines were shared, but when we returned to this day, the study results stated otherwise were shared, at which point the human may play a role in the transmission of SARS-CoV-2 with its development and spread. The PRRA peptide motif considered was not detected in the coronaviruses carried in the pangolines, since this motif is not in the pangolines, it is thought that the human SARS-CoV-2 virus does not come directly from the pangolines. This is necessary for the development of vaccines, antibodies and antivirals."
There is no situation to take measures that will corrupt the life welfare of our animals…
Stating that the studies on determining the origin of the virus and its intermediate hosts have increased, in a study conducted in this sense, 35 different animal species have been searched for defense proteins (antibodies) against the virus. Assist. Prof. Dr. Sayıner stated that ELISA technique is used for this purpose, which is accepted as one of the most widely used and reliable methods. According to the results obtained, Sayıner explained that it was believed that these animal species could not be possible to be the intermediate hosts.
Assist. Prof. Dr. Sayıner, "Different hypotheses and results have been suggested in different studies. SARS-CoV-2s, especially detected in our pets dogs and cats, caused anxiety at first. It was later established that these animals were in close contact with infected people. According to the latest scientific study data and the latest statements of the World Animal Health Organization (OIE), it was reported that there was no situation that would require us to take precautions that would impair the life welfare of our animals. A thorough understanding of the mechanisms that drive the evolution of coronaviruses in animals will help to better understand the emergence, spread, and evolution of SARS-CoV-2. Also, I consider it necessary for veterinarians to contribute to these studies."