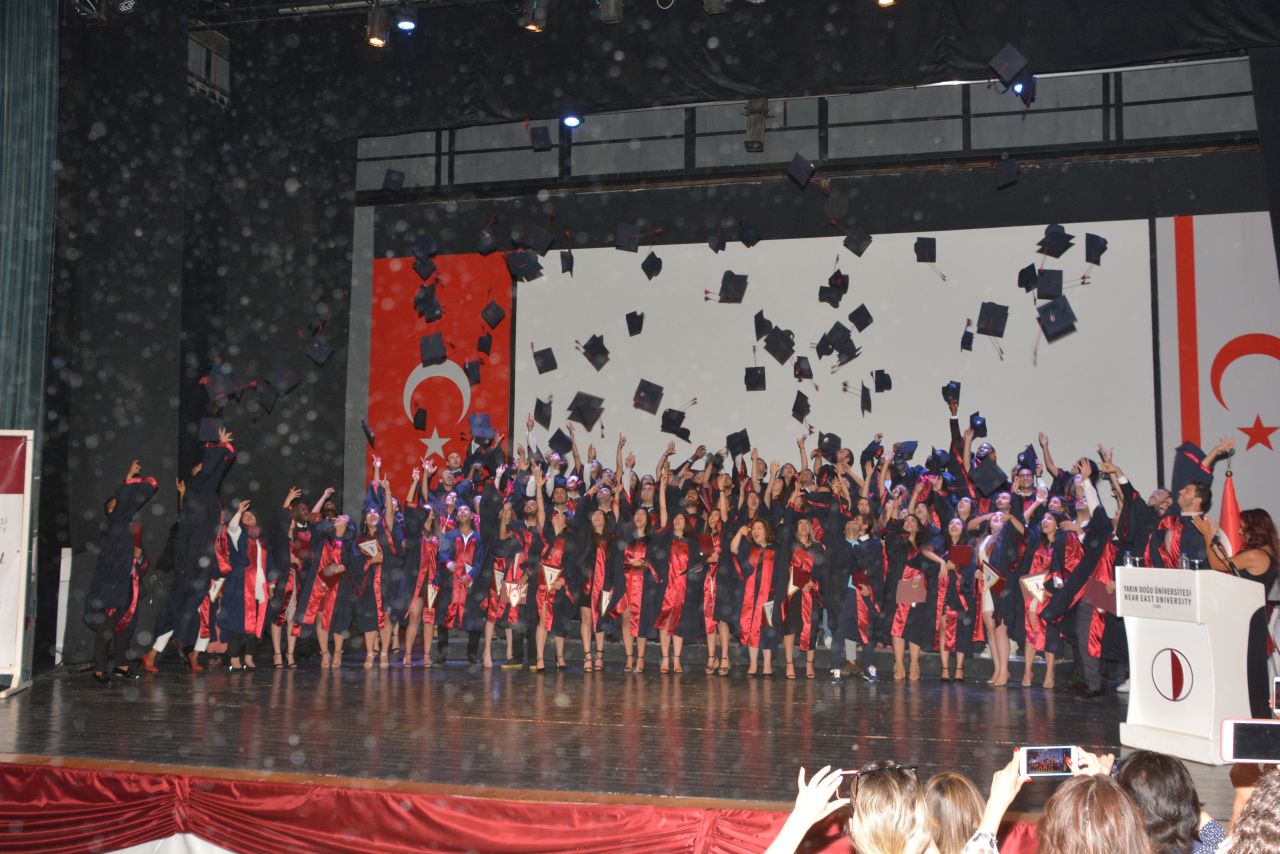 Near East University Faculty of Pharmacy 2018-2019 Academic Year Spring Semester Graduation Ceremony was held at the Atatürk Culture and Congress Centre.
According to the information given by the Press and Public Relations Directorate of the Near East University, the Vice Rectors of the Near East University Prof. Dr. Tamer Sanlidag and Prof. Dr. Şenol Bektaş, Dean of the Faculty of Pharmacy Prof. Dr. İhsan Çalış, faculty members, institute directors, students and their families attended to the ceremony.
Following a minute of silence in memory of Gazi Mustafa Kemal Ataturk, the leader of the Turkish Cypriots. Fazil Kucuk, Founder President Rauf R. Denktas and martyrs and reading of the National Anthem, the ceremony started with the opening speeches respectively delivered by Vice Rector Prof. Dr. Tamer Sanlidag, Dean of the Faculty of Pharmacy Prof. Dr. İhsan Çalış and Ceren Özcan, the valedictorian of the faculty. The music concert of İlyas Abdullin, a lecturer at the Department of Music Teaching was also admired.
We are the guidelines of rational drug use…
Ceren Özcan, the valedictorian of the faculty, speaking on behalf of the graduating students, said, "Today we all share our happiness and joy. We have come to the end of a 5-year-education which required a quite long and demanding study. We are not the persons who give the drug to the patients, we are the ones taking responsibility from the production of the drug to delivering it to the patient, and yet, after the delivery to the patient; we are pharmacists who provide equal and fair, ethical and deontological services to each patient without discrimination in accordance with the principles of rational drug use in cooperation with doctors, nurses and other health personnel in the most appropriate way. I would like to thank my friends and teachers who have been a family for me for 5 years.
Prof. Dr. Calis: "Pharmacy is an Active and Proactive Profession, Not Static…"
Dean of the Faculty of Pharmacy Prof. Dr. İhsan Çalış said that they are trying to equip their young colleagues with many competencies and skills in order to be able to properly perform their professions.
Prof. Dr. Çalış "Today, you are conferred upon the diploma of the pharmacy profession, one of the most important and respected professions in the world of health sciences. You were student pharmacists until yesterday and today you are at the beginning of your active professional life as pharmacists. Pharmacy is an active and proactive profession, not a static one. In other words, Pharmacist is a solution-oriented and hard-working person who monitors the events that develop outside of him, filters them, uses his emotional and spiritual intelligence with precision to bring up solutions. He performs risk analysis for each option and lives in peace with himself and his environment. He blends his knowledge and intellectual abilities with common sense and uses it with high efficiency."
Prof. Dr. Calis, giving advices to graduates about their future professional life, said "Never forget the Pharmacy Oath, let our oath guide you! Remember this science nest and remember your teachers who gave you the hand of life and profession.
Prof. Dr. Şanlıdağ; "We are training individuals and researchers who have the ability to apply contemporary teaching methods…"
Vice Rector Dr. Tamer Şanlıdağ in his speech said that, using the most up-to-date methods in education, they educate individuals and researchers who adopt the universal values, develop abilities in critical thinking, researching, questioning and successful in effective use of processes, and capable of applying modern teaching methods as the masters of their fields.
Professor Dr. Sanlidag emphasized that the Near East University, which has been advancing towards becoming a global information center since its establishment, has been continuing its academic and innovative studies as a higher education institution competing with world universities and aiming to become one of the world's top 500 universities. Şanlıdağ stated that the Near East University is progressing with certain determination with its 20 faculties, 6 institutes, 33 research and application centers, 104 research and application laboratories, countless research projects, more than 1200 international publications, 1 Nobel Prize, 2 TUBITAK science awards, more than 1000 academicians 5 of whom are among the scientists leading science.
Prof. Dr. Şanlıdağ also added that at the beginning of the 2018-2019 academic year, they brought into life the "Refreshing University" for individuals over the age of 60, and "Özay Günsel Children's University" the first and only Children's University of Cyprus. Prof. Dr. Sanlidag also reminded that they provide the best possible health services with Near East University Hospital, Dentistry Hospital and Animal Hospital. Prof. Dr. Tamer Şanlıdağ at the end of his words said "I personally celebrate your graduation on behalf of our faculty, I wish you a new life which brings health, success and happiness. God speed your way".
They had the joy of graduation…
Following the speeches, the top ranking graduates were presented their medals by Vice Rector Tamer Şanlıdağ, diplomas were handed out by Vice Rector Şenol Bektaş, and then they took the professional oath of pharmacy with their Dean, Prof. Dr. İhsan Çalış. The ceremony ended by throwing the hats into the air.