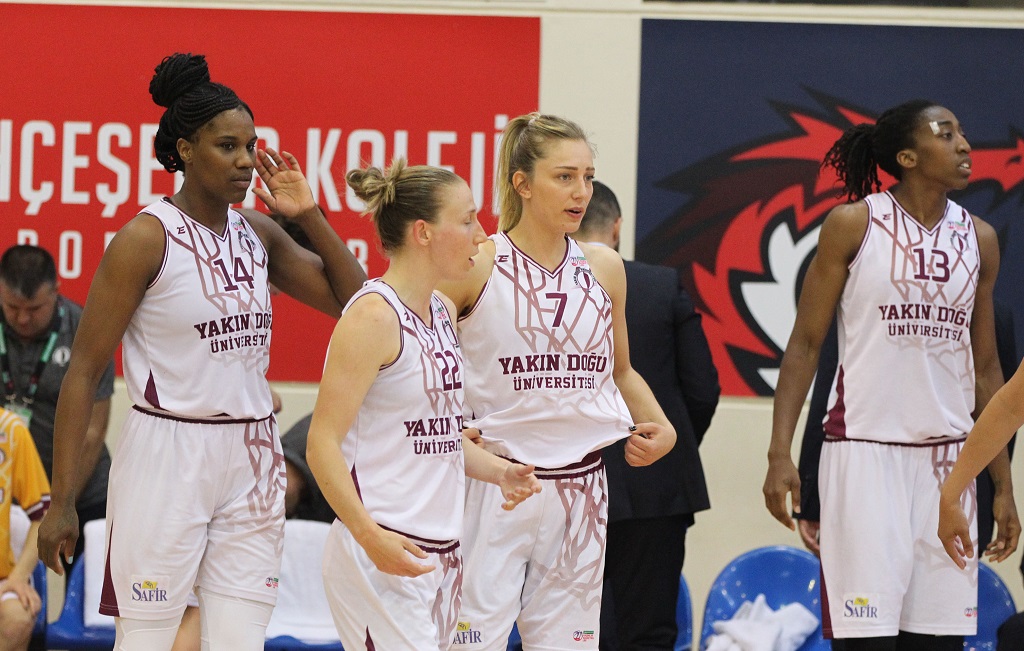 Near East University Women's Basketball Team, Turkey Women's Basketball Super League play-off first leg semi-final matches that go with that Cukurova Basketball scores 78-76'lık won. Near East University hosted the match and won the game 1-0 ahead. The second match of the season will be played on Caferağa Sports Hall on Saturday, May 5, 2018.
According to the information given by the Near East University Sports Club, the match played at the Istanbul Caferağa Sports Hall began with five of the Near East University's team; Courtney Vandersloot, Bahar Çağlar, Elin Eldebrink, Quanitra Hallingsworth, Kayla McBride. The periods of the match completed 16-21, 40-39, 59-60 and 78-76. During the match, Near East University managed to 17 steals, and Alina Lagupova became the top scorer of the matche with 28 points from Cukurova Basketball. From the Near East University, Courtney Vandersloot became the name making doubledouble with 18 points, 10 assists and 4 steals.
The first basket of the match came from Bahar Çağlar from the Near East University. Cukurova Basketball started to be effective in the first period and completed the period 16-21 ahead.The second period started with the superiority of Çukurova Basketball and the first 3 minutes passed 17-23 Çukurova ahead. Cukurova Basketball, which was effective in the period, reached to a score of 23-29 in the period. However, in the following minutes, Near East University produced numbers with Kayla McBride and Jantel Lavender, closing the second period 40-39 ahead. In the third period, the Near East University opened the curtain and moved to 45-41 with Quanitra Hollignsvorth's points. Olcay Çakır Turgut's basket made the score 59-60 at the end of the period through which the score superiority changed with only a number many times continuously.
In the fourth period, Çukurova Basketball's scores came first (59-63). Near East University was ahead 72-66 in the last 3 minutes of the match. The match ended up with the score of 78-76, with the advantage of the Near East University.
Prominents ...
Near East University; JantelLavender 19 points, 6 rebounds, 4 assists, Courtney Vandersloot 18 points, 10 assists, Kayla McBride 12 points, 7 rebounds, Quanitra Hollignsvroth 9 points, 7 rebounds, Olcay Cakir Turgut 8 points, 2 assists, Elin Eldebrink 6 points, 2 rebounds, 2 assist, Bahar Çağlar 4 points, 4 rebounds, 2 assists, and Cansu Köksal played with 2 points.
Çukurova Basketball; Alina Iagupova 28 points, 6 rebounds, 4 assists, Diamond Danae Aziza De Shields 18 points, 7 rebounds, 4 assists, Erlana Lanay Larkins 14 points, 16 rebounds, 5 assists, 4 steals, Sinem Ataş 5 points, 3 rebounds, Göksen Fitik 3 points , 2 rebounds.