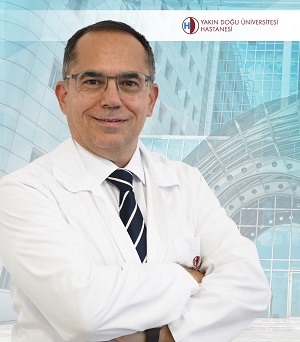 Near East University Hospital Chief Physician Prof. Dr. Müfit C. Yenen in his statement on Coronavirus said "We must comply with the protective rules to avoid the spread of the Coronary virus that has become a global problem".
Prof. Dr. Müfit C. Yenen strongly recommended to the public to show necessary sensitivity and said that this painful and hard process can be overcome through cooperation.
Prof. Dr. Müfit C. Yenen stated that the number of cases in our country has increased to 7 as of today, reminding that 5 of 7 cases are tourists and 2 of them are TRNC citizens coming from England. Stating that he believes that the spread of the virus can be easily stopped if we live on the island and the rules set by the Council of Ministers are fully obeyed.
Prof. Dr. Müfit C. Yenen stated that especially those who return from abroad should comply with the 14-day isolation rule, which is the incubation period of the disease. In addition to the measures taken by the state regarding coronavirus, Prof. Yenen pointed out that individuals have simple but important duties. Prf. Dr. Müfit C. Yenen said that the positive effects of these measures, which are simple to implement, will be enormous. Noting that all the hygiene rules protecting patients and their relatives are followed in the Near East University Hospital, the surfaces are frequently disinfected and that the healthcare staff take every precaution to protect themselves and patients. In addition to this, Prof. Dr. Müfit C. Yenen said that a visitor restriction was imposed in the inpatient and intensive care units to protect patients and accompanying persons.
Prof. Dr. Müfit C. Yenen reminded 14 basic rules that prevent the spread of the virus;14 rules to protect us and our country against the spread of coronavirus, which has become a global problem;
Wash your hands frequently with soap and water for at least 20 seconds.
Cover your mouth and nose with disposable wipes during coughing or sneezing. If there is no wipe, use the inside of the elbow.
Do not touch your hands, mouth, nose and eyes.
Keep a distance of at least 3, 4 steps between people who show signs of a cold.
Postpone or cancel your travels abroad.
Spend the first 14 days at home on your return from abroad. Do not accept visitors. Isolate yourself at home. Do not enter the room of the isolated person without a mask.
Ventilate your environments frequently.
Clean your favorite surfaces daily with water, disinfectant and detergent.
Do not share personal items such as towels.
Wash your clothes at high temperature.
Avoid close contact, such as handshaking or hugging.
For a strong immune system, drink plenty of fluids, eat a balanced diet, pay attention to your sleep time.
If you have cold symptoms, do not contact the elderly and people with chronic diseases. Do not go out without wearing a mask.
If you have complaints such as non-falling fever, cough, and difficulty breathing, contact a health care provider by wearing a mask.
Calling for compliance with all these rules, which are very simple to implement in daily life, Prof. Dr. Müfit C. Yenen called for everyone to "Stay at Home, Stay Safe" except those who have to go out due to essential needs.