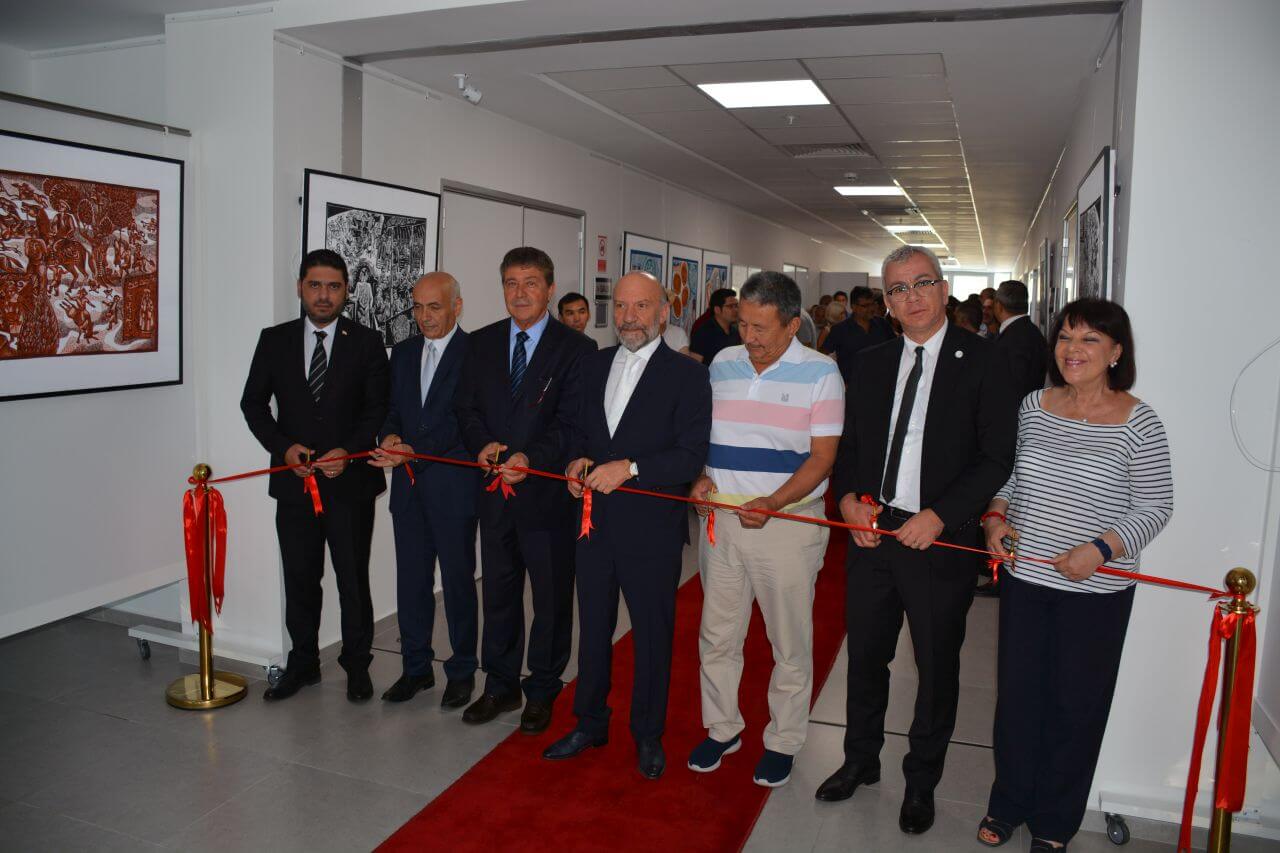 Consisting of 55 artworks specially prepared for Cyprus Museum of Modern Arts by Kazakh artist Batukhan Baimen, the Printmaking Exhibition was opened by the Tourism and Environment Minister Unal Ustel.
The Directorate of Press and Public Relations Office of Near East University released that the opening ceremony of the Printmaking Exhibition, which features 55 distinguished artworks of Kazakh artist Batukhan Baimen, was realized at the Exhibition Hall of Irfan Günsel Congress Center with the participation of Tourism and Environment Minister Unal Ustel, Near East University Founding Rector Dr. Suat Günsel, UBP Deputy Secretary the General Ahmet Savaşan, Undersecretary of the Ministry of Tourism and Environment İsmet Esenyel, vice rectors, lecturers, artists and guests.
The opening remarks of the exhibition were delivered respectively by Professor Fahreddin Sadıkoğlu, NEU vice Rector, and Unal Ustel, the Minister of Tourism and Environment.
The Collection of Cyprus Museum of Modern Arts Currently Encompasses 10 Thousands of Artworks…
Underlining that Batukhan Baimen's artworks took a worthy place in art galleries of many countries across the world, Professor Sadıkoğlu they were about to open the artist's solo printmaking exhibition that features 55 distinguished painting of graphic arts.
Expressing that Batukhan Baimen was one of the great artists of Kazakhstan who contributed to the world's art with his distinguished artworks, Professor Sadıkoğlu stated that the artist was well known all around the world with his unique works. Professor Sadıkoğlu said that the artist was from the education community that laid the basis of his impressive artworks. "B.Baimen's works display inspirations from the poetry of Abay, Chyngyz Aitmatov and Ali-Shir Nava'i, transferred to canvases. His unique works such as "Day lasts longer than a century", "Raymali-aga", "Migrating birds", "Hunting", "Nomads", "My experiences", "Restless dream", "Talk about happiness", "Paper plane" and "Blue lake" have a deep philosophical meaning.
Expressing that black and white colors were dominant in the artist's works painted on silk fabric, Professor Sadıkoğlu highlighted that the artist was very talented in boosting imagination, attractiveness and aesthetics.
Underlining the University's commitment to continuing to open up new horizons for the country by realizing outstanding breakthroughs, Professor Sadıkoğlu delivered information regarding the establishment of Cyprus Museum of Modern Arts. "There is no museum anywhere in the world that solely features the artworks of the artists of the Turkic World. Considering this fact, Near East University has rolled up her sleeves and initiated the project regarding the establishment of Cyprus Museum of Modern Arts. The museum is a project that the Günsel family has designed to collect the Turkic art under one roof and convey this cultural and art heritage to new generations. After realizing great accomplishments in the field of education, health and sports, under the initiative and helm of the Founding Rector Dr. Suat Günsel, Near East University has set sail to make our country's name known as a destination where Turkic culture and art come alive. In this regard, Cyprus Museum of Modern Arts is the first and only museum reflecting solely Turkic culture and art. The museum will not only be a place where artifacts are collected and exhibited, but also a place where the culture, history, art and cuisine of the Turkish world will be introduced. The museum will assume an educational and scientific role as a learning place. Tourists visiting our country will be able to get an idea about culture and art of Cyprus as well as the culture and art of Turkic world. The third floor of the museum, which will be a 5 floor building situated on 20 thousand square meters area, is currently being constructed. Almost 10 thousands of works belonging 600 artists have been collected and added to the inventory of the museum so far" noted he.
Minister Ustel: "Near East University with Her Cultural and Art Activities Promote Our Country to the World…
Expressing his pleasure and happiness of attending the exhibition of such a valuable artist, Minister Ustel extended his appreciations to the Founding Rector Dr. Suat Günsel for providing him with such an opportunity.
Highlighting the crucial role of art in adding color and vividness to social life, Minister Ustel extended his appreciations to the Turkic artists who had created very distinguished works and contributed to the museum so far. "I would also like to take this opportunity and extend my congrats and appreciations to Dr. Suat Günsel who spared no sacrifices and led the establishment of such a significant museum in our country.
Stating that our country, which is under isolations and embargoes, exerted efforts to open a door to the world through education and tourism, Minister Ustel expressed his views: "The people of the country are working hard to move the economy forward.
I would also like to thank our valuable artist brothers and sisters from the Turkish world for their contribution to us. Art is a phenomenon that shows where a country comes and where it goes. Mustafa Kemal Atatürk says "A nation devoid of art and artists cannot have a full existence". A country can have a full existence with her art and artists. We are in need of artists to promote our country in Turkic world, in Europe and Far East, shortly all around the world. Since art knows no boundaries, we can make our country well known via art and artists" said he.
Minister Unsel ended his remarks by saying that he firmly believed that Near East University, which is one of the most prominent universities of our country, would continue to promote our country to the world with such significant activities.
Silver Key Honor Award Was Presented…
Following the opening remarks, Unal Ustel, the Minister of Tourism and Environment, presented Silver Key Honor Award to Batukhan Baimen in recognition of his unique contributions to the event.
"Cyprus Museum of Modern Arts is the Voice of the Culture and Art of Turkic Peoples…
Expressing that he had opened many solo exhibitions in many countries so far, Batukhan Baimen stated that his solo exhibition to be opened at Near East University in Turkish Republic of Cyprus had a different place in his heart.
"Cyprus Modern Art Museum, which is one of the projects realized under the leadership of Dr. Suat Günsel, has an outstanding mission. The voice of the art and culture of the Turkic peoples began to be heard via a prominent university. As the artists of Turkic world, we support this project and feel great happiness to provide contribution. I would like to express my gratitude to the Near East University family for their support and interest. I sincerely wish health, happiness and prosperity to Günsel family" said he.
Exhibition Ribbon Was Cut…
Then, the ribbon was cut and the exhibition was opened for visits. The exhibition, an important theme of which is the childhood and memories of the artist, will be open to visits at Irfan Günsel Exhibition Hall between 08:00-16:00 on weekdays until 21 June, 2019.