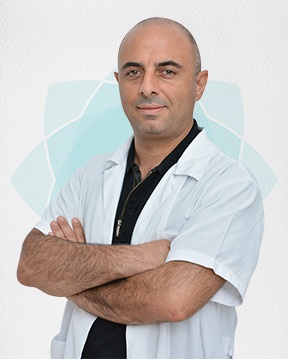 Specialist at the Department of Infectious Diseases of Dr. Suat Günsel University of Kyrenia Hospital, Assist. Prof. Dr. Hakan Evren, made a statement regarding the matter and answered the question: "What awaits for those who have been treated in intensive care and recovered from the coronavirus which has globally infected many?"
Assist. Prof. Dr. Hakan Evren said: "We know that the new type of coronavirus will continue to spread across the globe and infect more and more people increasing the overall number of patients. On the other hand, we are also aware that the number of people who can return home after overcoming this disease is also undeniable." Additionally, he emphasised that there was a very significant question yet to be answered which is how people will continue their lives from where they left subsequent to being connected to the ventilator for days on end.
Assist. Prof. Dr. Hakan Evren: "Although the main target of Covid-19 is lungs, it can attack many parts of the human body."
Although Covid-19 attacks the lungs, it can also attack many other parts of the human body. Due to oxygen deficiency and widespread inflammation caused by this virus, the covid-19 can also damage organs such as the kidneys, the heart, the brain, and the liver. Furthermore, Assist. Prof. Dr. Hakan Evren expressed that this virus causes serious pneumonia and sometimes progressive respiratory failure syndrome. He said studies on whether covid-19 caused permanent damage to the lungs were still ongoing and added that as we continue to learn about COVID-19, we are understanding more regarding how it affects the lungs while people are sick and after recovery.
He said:
"Current information shows that in some people, while lung tissue is healing, dysfunctional scar tissue, which we call fibrosis, occurs. There may be marked impairments in lung function in proportion to the width of this tissue. For this reason, people may have to apply to hospitals frequently with oxygen deficiency."
He stated that people exposed to Covid-19 had a continuous inflammatory condition in the body from the onset of the disease to the completion of healing. He said that in case of an additional disease in the covid-19 infected patient, the rate of heart attack, stroke and kidney diseases in the long term may be much higher compared to normal individuals.
Assist. Prof. Dr. Hakan Evren: "Regardless of the reason for hospitalization, people who are treated in intensive care for a long time develop a syndrome that causes cognitive and physical impairments."
In addition to the above, Assist. Prof. Dr. Hakan Evren indicated that regardless of the reason for hospitalization, people who have been treated in intensive care for a long time have developed a syndrome that causes cognitive and physical impairments. Furthermore, he said that muscle loss, weakness and memory loss are among the most important elements of this syndrome. Moreover, he expressed that the fact that coronavirus can cause damage to the brain, which is the second most important target after the lungs, is supported by different studies. He said:
"As a result, many people who have recovered from coronavirus disease due to damage caused directly or indirectly in the central nervous system may face a chronic coronary problem related to brain functions. When this pandemic is over, it is certain that nothing will ever be the same. Physical therapy and rehabilitation centres can work on full capacities and psychiatric clinics can be filled with patients with panic attacks, depression, anxiety, and posttraumatic stress disorder."
Assist. Prof. Dr. Hakan Evren:"After recovery, physical and psychological rehabilitation support should be provided to patients exposed to Covid-19"
He expressed that some of the people who are followed up in the intensive care unit may be young patients with no chronic illness, while the majority of them are elderly people with additional diseases. He pointed out the necessity of creating an organization that will provide both physical and psychological rehabilitation of these patients.
Assist. Prof. Dr. Hakan Evren: "It is time to review our self-centred lives."
He said: "Although it affects every area of our lives negatively, the message that the coronavirus wants to give us is clear. In other words, it is time to re-consider our lives which we desperately live by placing it at the centre of the universe. Additionally, Assist. Prof. Dr. Hakan Evren stated that the coronavirus pandemic has taught us many important lessons: shared adversity can foster a sense of community and affinity, the necessity and significance of developments in science, there is a need to show respect and appreciation to health care workers, and how spending more and quality time with family and friends is a "must" and is crucial to us all.