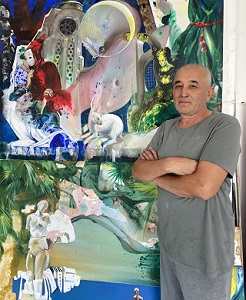 Due to COVID-19 pandemic, which affect the entire world, a long quarantine process was experienced in our country within the frame of the measures taken against the pandemic. Within this process, artists involved in painting, sculpture, ceramics, and printmaking created very significant artworks for the Cyprus Museum of Modern Arts.
The Directorate of Press and Public Relations Office of Near East University released that artist Muratjon Urmanov, who inspired by the historical sites of Cyprus, reflected various aspects of Turkish Cypriot culture through canvas paintings that he created during the COVID-19 quarantine days for the Cyprus Museum of Modern Arts.
Inspired by the historical sites of Cyprus, artist Muratjon Urmanov created 5 distinguished artworks depicting various aspects of Turkish Cypriot Culture. M. Urmanov presented these significant pieces to the taste of art-lovers under the titles "Cherry", "Weaver", "Ancient City of Salamis", "St. Barnabas" and "Untitled".
The ancient city of Salamis was founded in the Bronze Age and became the capital of Cyprus as far back as 1100 BC. St. Barnabas Monastery was built in the name of Saint Barnabas, who is considered the father of Christianity in Cyprus. The monastery is situated in the Famagusta Region of the island of Cyprus and currently used as an icon museum housing a stunning collection of artworks dating back as far as the 7th Century BC.
Who is Muratjon Urmanov?
Born in 1957 in Tashkent, the artist Muratjon Urmanov is a member of the Uzbekistan Artists Union. He studied at the Republican Art Boarding School between 1970-1976. He completed his education at the Faculty of Monumental Painting of Theater Art Institute between 1976 and 1981. He participated in the decoration of Berlin between 1996-1998. Between 2000 and 2010, he served as the director of the Sergey Borodin Museum. He participated in the creative association "Play Tasviriy" between 2010-2015. Muratjon Urmarov participated in the "My Contemporary" exhibition held in the Baltic States and many other exhibitions in Uzbekistan.