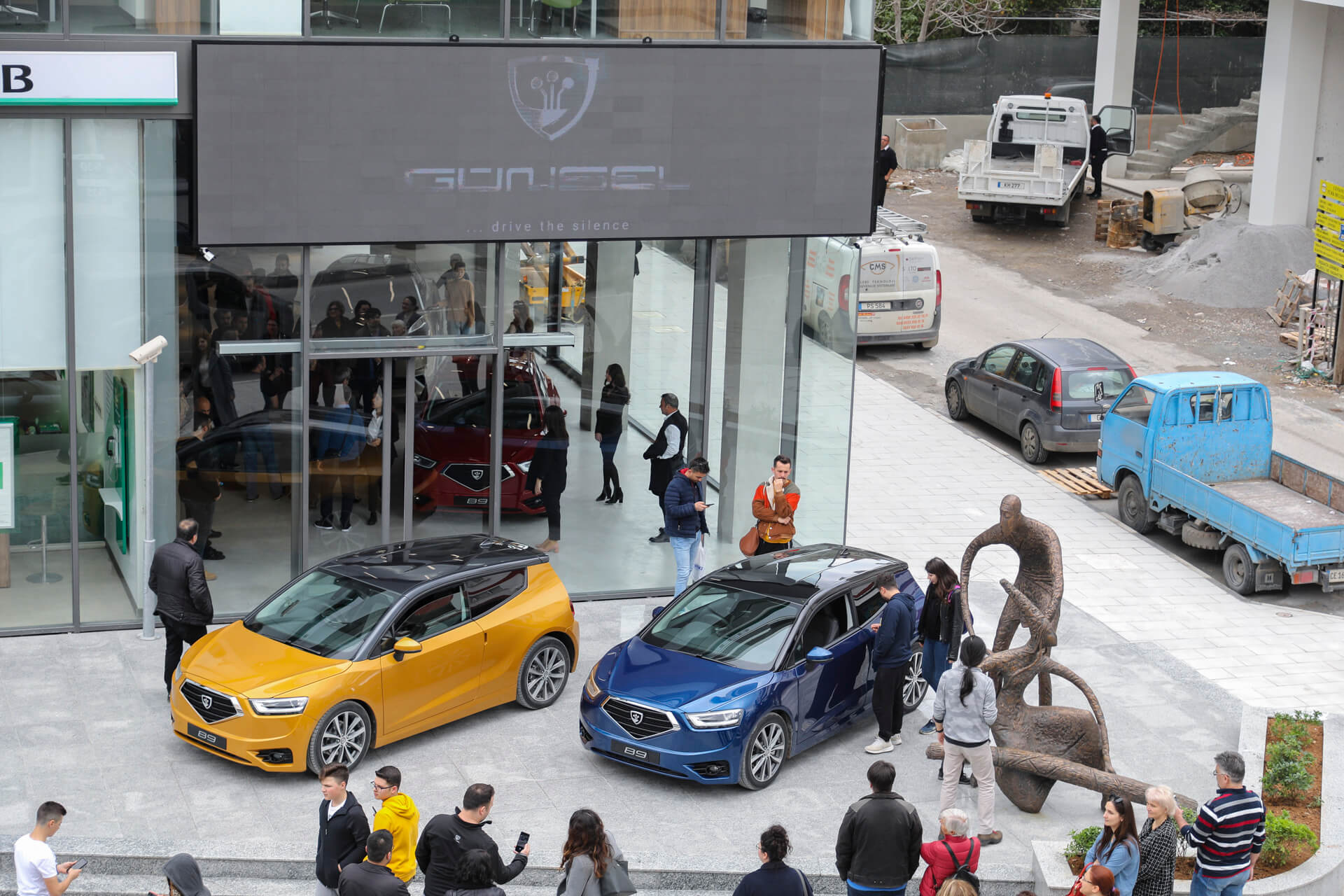 The promotion office of GÜNSEL, the domestic and national car of our country, which was designed by 109 Turkish engineers and of which prototype production was completed and introduced with participation of 3000 people on February 20, was opened in Dereboyu, Nicosia. In the "Günsel Promotion Office", where the B9, which has come to the production stage, is showcased and offers the opportunity to closely examine the GÜNSEL B9 model, detailed information can be obtained with the model, brand and technical features related to GÜNSEL. A test drive for GÜNSEL B9, which was waited for with great excitement and curiosity, will be available by appointment at GÜNSEL Promotion Office, which opens the doors of the opportunity to try the GUNSEL brand.
The second model "J9" is on display, too…
GÜNSEL, which entered the automotive sector with GÜNSEL B9, is also exhibiting its second model "J9" in the SUV segment, which will attract attention with its unique and eye-catching interior and exterior design, as well as its dynamic and sharp lines and different equipment features, standing out as a large-volume family car.
Prof. Dr. İrfan Suat Günsel: "We have made our targets and our plans in the automotive sector…"
Stating that the Turkish Republic of Northern Cyprus with GÜNSEL is among the countries that produce cars and they entered the automotive sector, Chairman of the Board of Trustees of Near East University Prof. Dr. İrfan Suat Günsel said that they have planned their targets in parallel with the changes and developments in the automotive industry and that they want to create an opportunity to reach wider market by continuing their investments. He stated, "GÜNSEL Promotion Office, which was opened as part of our strategy of becoming a reliable and prestigious brand in the electric car market, is a concept of corporate visions to create brand awareness and speed up the branding process."
Prof. Dr. İrfan Suat Günsel said, "While GÜNSEL, equipped with advanced technology and design, aims to add value to our country and region as an innovative brand in the electric car segment, the sales and after-sales services that will start with the mass production are very important. Firstly, we are offering Günsel B9 to the taste of car enthusiasts."