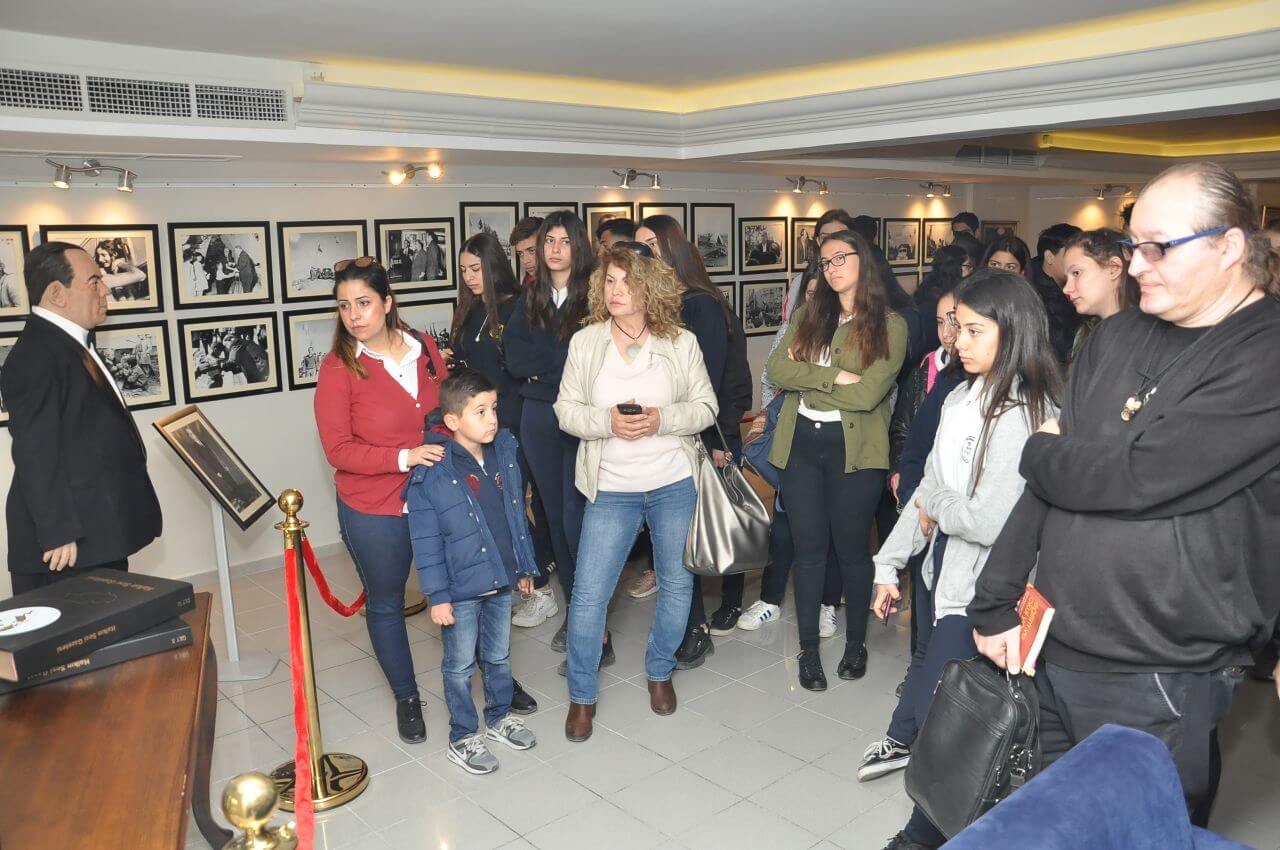 Functioning under the body of Near East University Education Foundation and held with the initiative of Cyprus Museum of modern Arts, the exhibition titled as "Dr. Fazıl Küçük and National Struggle" is held due to the 35th death anniversary of the great Turkish Cypriot leader. The exhibition, which consists of 165 pieces made by 92 local artists, is continuing to receive numerous visitors.
According to the press release issued by the Director of Press and Public Relations of Near East University, a group of teachers and students from Kyrenia Anafartalar secondary school recently visited the "Dr. Fazıl Küçük and National Struggle".
Züleyha Atakara: "This has been an absolute visual feast for us in terms of both history and art…"
History Teacher at Anafartalar Secondary School, Züleyha Atakara, made a statement during the visit to the exhibition and stated that this was absolutely a visual feast for them both due to the history and art illustrated at the exhibition. Furthermore, Züleyha Atakara stated that the exhibition is rather informative, providing details on the much-loved Turkish Cypriot leader Dr. Küçük and the national struggle and pointed out that there were visual and audio materials-the art pieces of Turkish Cypriot artists which they found the opportunity to see at the exhibition.
Anıt Ergin: "A very significant means of passing on information to future generations on what Dr. Fazıl Küçük has done for the Turkish Cypriot community and assure that he is remembered…"
Another teacher from Anafartalar Secondary School, Anıt Ergin, also made a statement and expressed that as a significant figure for the Turkish Cypriots, this exhibition was a great means to inform future generations of Dr. Fazıl Küçük; and thanked everyone involved in realising the exhibition. Moreover, Anıt Ergin stressed that the exhibition was also pleasing in terms of being an opportunity to get to see the art work of local artists.