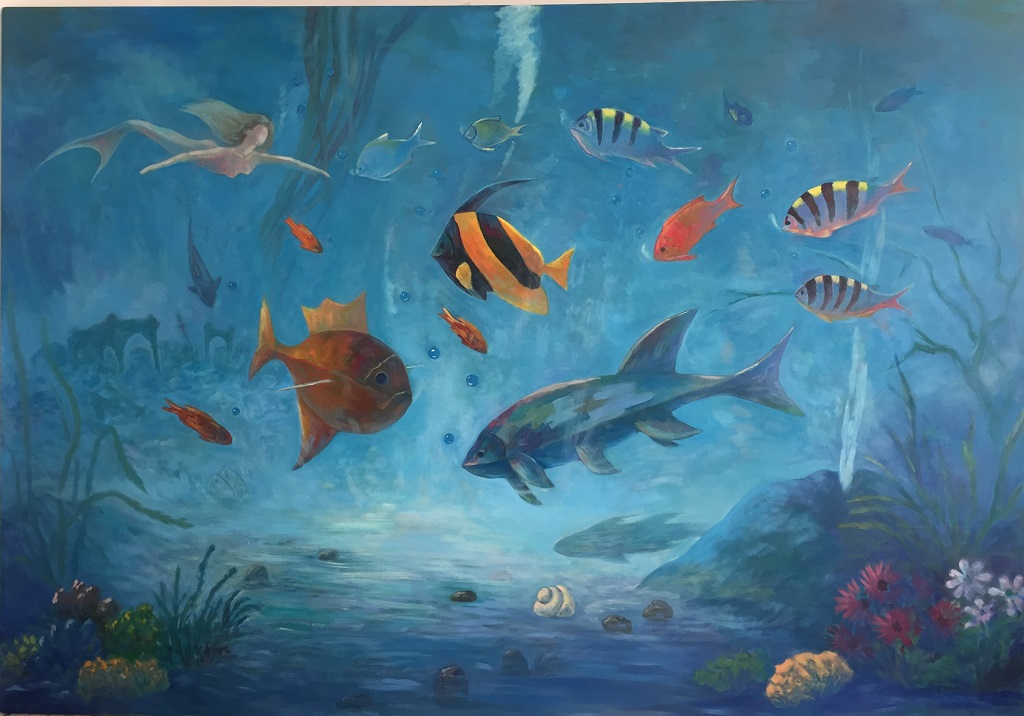 Four solo painting exhibitions consisting of 141 artworks of Kazakh artists Andrey Orazbayev, Galymzhan Suyunov, Turar Tulayev and Sultan Amanzhol, exclusively made for the Cyprus Museum of Modern Arts and a group painting exhibition consisting of 25 artworks of Kazakh artists Gania Chagataeva, Meldekhan Kassymbek, Nurlan Shilibaev, Sadir Kairbay and Renlan Yelubaev will be opened by the Minister of Public Works and Transportation Tolga Atakan.
According to the information provided by the Directorate of Press and Public Relations of the Near East University, on October 15, 2019 Tuesday at 08.00, Andrey Orazbayev solo exhibition consisting of 90 works will be opened at the Near East University Hospital Exhibition Hall, and Galymzhan Suyunov, Turar Tulayev, and Sultan Amanzhol 's solo and group painting exhibitions will take place at 08.45 at the Faculty of Communication Exhibition Hall.
Relations between human and world, time and depth are reflected in paintings…
The works of the Kazakh artist Andrey Orazbayev are based on a symbolic plan. They are distinguished by the complexity of the lines, the density and completeness of the composition, the elegance and accuracy of the line. The works are filled with internal expressions and presented in the original interpretation. The use of mixed media and the introduction of various materials allows the artist to create multiple tissue collages. Andrey Orazbaev's paintings represent the modern form of creative process. His paintings reflect the relationships between man and the world, time and depth.
Who is Andrey Orazbayev?
He was born in 1963 in Pavlodar. He graduated the Department of Civil Engineering, Pavlodar State Pedagogical Institute. He studied Art and Graphics at Omsk State Pedagogical University. He is a member of the International Union of Artists of Russia and Artists of Kazakhstan. In 1994, he opened an exhibition called "New Steppes" as an avant-garde artist in Pavlodar. He is known as a performance artist who works in the fusion style of fine arts and theater performance.
Who is Galymzhan Suyunov?
He was born on May 1, 1964. In 1986, he graduated from the Department of Architecture, Faculty of Architecture in Almaty. In 2013, he opened his solo exhibition at 'Solo' Art Gallery and participated in 'Altyn Kayyk' competition in 2015, 'Plein Air Aktobe' international painting symposium in 2015, and Port Portrait art action in 2018. In 2018, his solo exhibition titled "Appearance" was opened at Aktobe Art Museum.
Who is Turar Tulayev?
In 1988, he graduated from Aktobe Culture Enlightenment College, Graphic Design Department. Since 1991, he has been a member of Kazakhstan Artists Association. He participated in regional, republican and international exhibitions. In 2015, he received a letter of thanks from regional Akim. In 2017, he participated in the Republican Symposium held in the city of Semey in memory of Abay Kunanbaev. In 2018, he organized the anniversary exhibition.
Who is Sultan Amanzhol?
She was born on 1 February 1993 in Almaty region. In 2015, she graduated from the Graphic Department of the National Pedagogical University of Kazakhstan. In 2014, she participated in the Shabyt International Festival. Since 2015, she has been a member of the Young Artists Association. In 2015, she participated in the "Echo of History" art exhibition dedicated to the 550th anniversary of the Kazakh Khanate. In 2017, she participated in the exhibition "2017 Koktem Gazhaby". Her artworks take place in the museums and private collections in China and in many private collections in Russia.