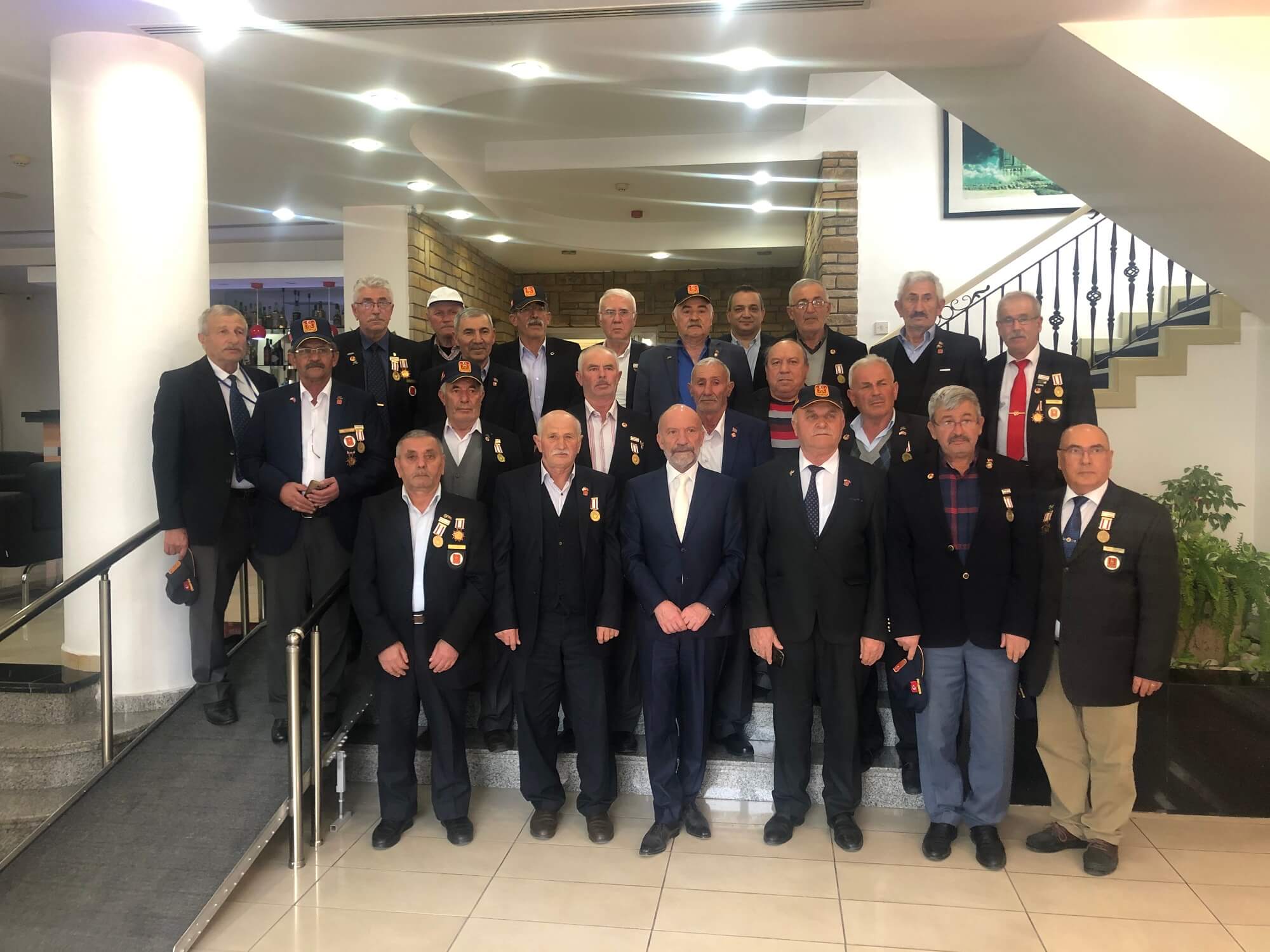 Representatives of Tokat Branch of Turkey War Veterans Association coming to Cyprus at the invitation of Near East University visited Near East University Founding Rector Dr. Suat İrfan Günsel.
According to the press info released by the Near East University Press and Public Relations Directorate, Vice-Rector Assoc. Prof. Dr. Murat Tüzünkan was present along with the delegation of Turkey War Veterans Association presided by the Chair of Tokat Branch Bilal Özerem. In honor of the delegation, Founding Rector of Near East University Dr. Suat İrfan Günsel gave a lunch at the Dorona Hotel.
Dr. Suat İrfan Günsel; "You have made your cognates have a state by sacrificing your lives during the hard times…"
Founding Rector Dr. Günsel in his speech at the lunch said that the war veterans who took part in the Peace Operation from various parts of Turkey are hosted by Near East University every year to show them what an important duty they had fulfilled and they are very honored from their visits.
Dr. Suat İrfan Günsel stating that they are very happy to host the war veterans affiliated with Tokat Branch of Turkey War Veterans Association said, "Welcome to our country and your homeland, it is our pleasure to welcome you."
Dr. Suat İrfan Günsel said, "You have sacrificed your lives during the hard times of your cognates and made them state owners. Our task is to ensure the integrity of our beloved Cyprus and Turkey in memory of your sacrifice. Thus, after the 1974 happy peace operation, when I thought about how we can achieve this integrity, we decided that the best instrument to achieve integrity is a university, and we laid the foundations of the Near East University. We have spent all our energy, all our time, always working hard to be worthy of you, producing and by investing every penny we earn in our country. There are 2 very important words for me that I always say. One is to be a whole and the other is to be cast. There are always societies that know and act in the depth of these two words. Turkey and Cyprus is a whole. For us, the important thing is to be united with our Turkey. Turkey may stay without Cyprus. However, when you look from our side, if there is no Turkey, then we cannot exist here. Our Cyprus is grateful to you."
Bilal Özerem; "We became martyrs and veterans in Cyprus. Cyprus is our blood, our life .. "
Bilal Özerem, Chair of Tokat Branch of Turkey War Veterans Association, stating that they were very grateful for the invitation of Dr. Suat Günsel to revisit Cyprus, said that they feel a great honor to be in Cyprus again. Bilal Özerem said, "We were martyred in Cyprus and became veterans. We gave 498 martyrs across the country. We gave seven martyrs from Tokat, may God rest their souls. Our flags will fly forever in Cyprus. If necessary, we will fight again. Cyprus is our blood, our lives. Whatever Turkey is for us, Cyprus is the same. We are inseparable parts of a nation. We say this at every opportunity. After the visit to the Near East University and what we have seen there, we understand much better how our Teacher Suat Günsel made great services to his country with the huge investments he made and how he crowned his struggle. This also makes us happy."
The visit ended with taking a photo of the moment after the mutual exchange of gifts.