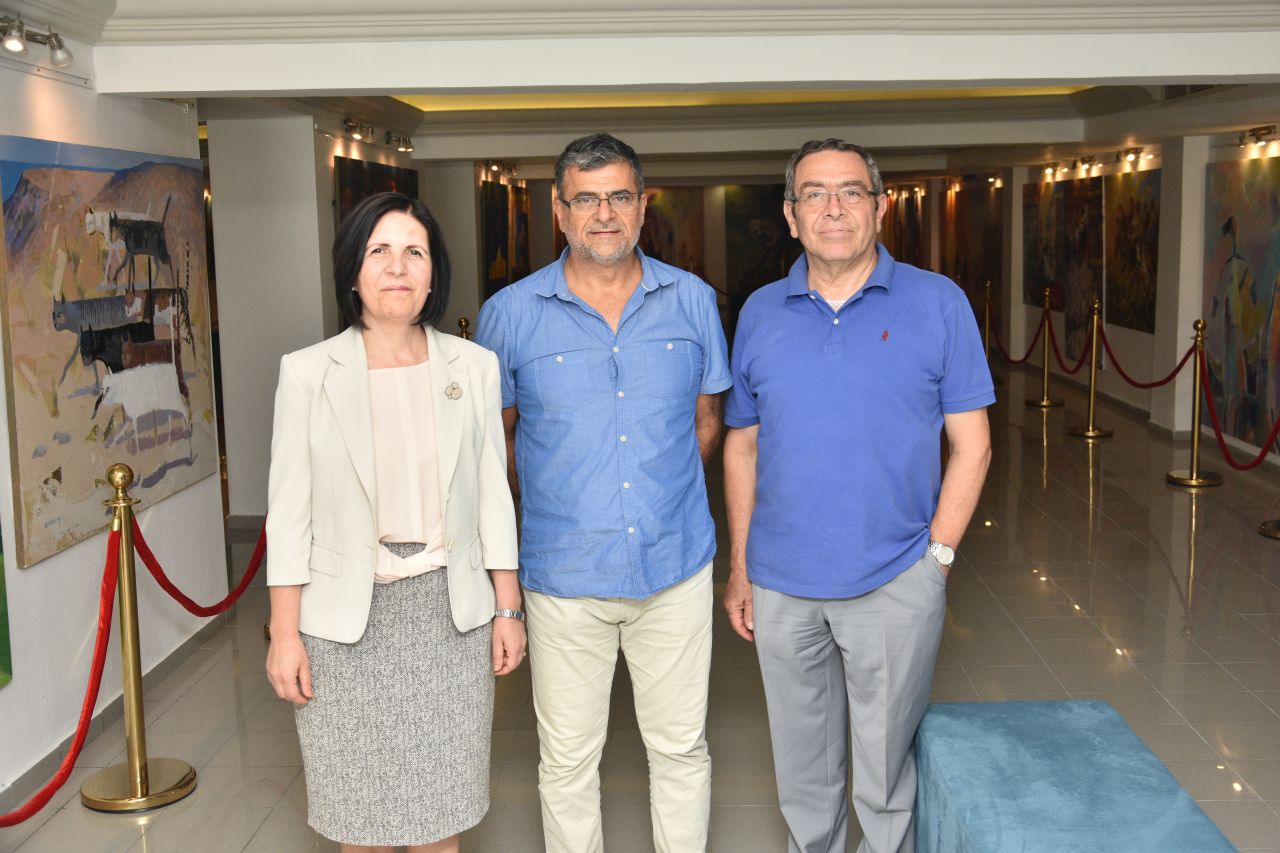 Former President of the Turkish Republic of Northern Cyprus Dr. Sibel Siber visited the solo painting exhibition titled "Living Like a Tree" and consisting of 22 paintings of Assist. Prof. Dr. Mustafa Hastürk, lecturer of Faculty of Fine Arts and Design at the Cyprus Museum of Modern Arts.
According to the press information provided by the Directorate of Press and Public Relations of the Near East University, the former president of the Turkish Republic of Northern Cyprus, the first female Prime Minister, Dr. Sibel Siber accompanied by Rıfat Siber, her husband, and Mustafa Hastürk. Assist. Prof. Dr. Hastürk informed Dr. Sibel Siber about the exhibitions held at the Atatürk Culture and Congress Center Exhibition Halls, and his own exhibition as well as the works of artists from Turkmenistan and Kazakhstan.
Dr. Sibel Siber; "We Need These Beauties…"
Speaking at exhibitions during her visit, Sibel Siber emphasized the need for beauties such as art in the country and mentioned the works with great appreciation.
Dr. Siber said, "Today we visited a very nice exhibition again. Especially Mustafa Hastürk's solo exhibition consisting of trees in line with the theme "living like a tree, single and free, but in brotherhood like a forest" took us to the depth of emotions. These are concepts of beauty. I always emphasize this. We need these beauties and the paintings that are made and produced by the Turkic Republics and presented in exhibitions held at the Near East University are magnificent."
She said that the exhibitions had a positive impact on our country. Siber stated that art is the soft power and it is our power to give importance to art in small countries and to exhibit such exhibitions almost every day, every week. Dr. Siber said, "It is our wealth that not only our own artists but also artists from abroad come to produce and exhibit here. Near East University attaches great importance to art and it is the pride of all of us "
Continuing her speech, Sibel emphasized that the Cyprus Museum of Modern Arts is developing day by day, and we all share the common joy and pride of this development . Sibel Siber congratulated Mustafa Hastürk for his successful studies.