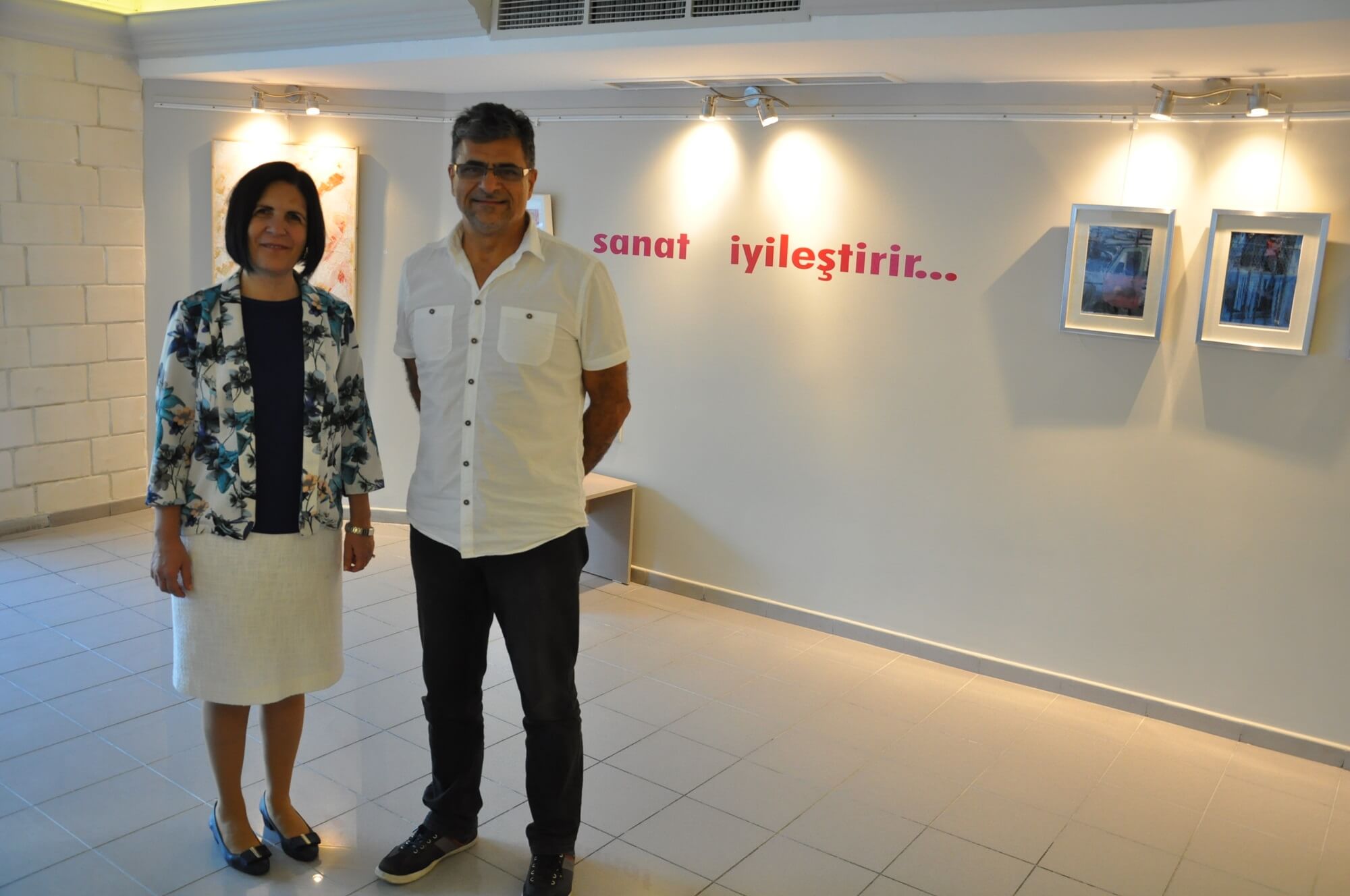 Retrospective Painting Exhibition of Mustafa Hastürk, artist and lecturer of Faculty of Fine Arts of NEU, was visited by the former President of the Assembly Dr. Sibel Siber at the Art Center of Cyprus Museum of Modern Arts Museum located on the campus of Near East University.
According to the press information provided by the Near East University Press and Public Relations Directorate, the first woman prime minister of the Turkish Republic of Northern Cyprus (TRNC) and the former President of the national Assembly, Dr. Sibel Siber was informed about the paintings and the scope of exhibition by Assoc. Prof. Dr. Mustafa Hastürk during her visit to the museum.
Sibel Siber; "We need art, artists for peace, for a better world, for a better environment"
Dr. Sibel Siber in her statement at the end of the visit to the exhibition said that we need art and artists for peace, for a better world, a better environment the message for them could be seen in the exhibition.
Sibel Siber stating that during the period of her service as the Speaker of the National Assembly, Mustafa Hastürk was her art consultant, said "I have seen the artworks and exhibitions of Hastürk. This exhibition of him is as impressive and thought-provoking as the others, we can see the reflection of thoughts and spirit of an artist With the motto of art heals, there are really optimist and hopeful perspectives that keep the existing hope even more vivid from the perspective of their world. And we are so glad we have the artists. We need art, artists for a more beautiful world for peace, for a better world. In this exhibition we see these messages being exhibited. I once again congratulate the artist Mustafa Hastürk and wish success in his future art life".
Dr. Siber also said "I congratulate the Near East University especially for hosting art and artist, and for the value that it gives to art and artists".
The exhibition can be visited until 12 November between 10:00 and 17:00 until 12 November at the Art Center.