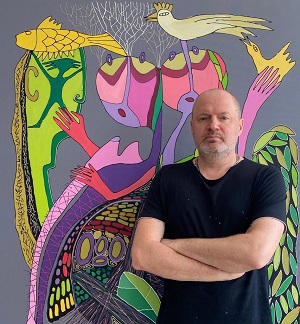 Due to the spread of the new type of coronavirus worldwide (Covid-19), artists continue to create their works on sculptures, graphite, ceramics and canvases in our country as well as in various countries to support the fight against coronavirus.
According to the information given by the Press and Public Relations Directorate of Near East University, painting and ceramic artist Alexey Balin depicted Salamis, Kyrenia Castle and Famagusta, some of the important touristic destinations of the Turkish Republic of Northern Cyprus, for the second time, by reflecting the struggle against the coronavirus spread around the world. tried to express his feelings.
Artist Balin emphasized that although the Covid-19 epidemic still continues in many parts of the world, it has almost disappeared in Cyprus and that people have succeeded to get rid of it by following the precautions and warnings. The artist also stated that the periods in isolation cannot keep them away from art, and that they will continue to support the fight against the pandemic by raising awareness through their artworks.
Who is Alexey Balin
He was born in 1971 in Kazakhstan-Pavlodar. In 1991, he graduated from Almata N.V. Gogol art college. In 2003, Alexey participated in the 'Shabit' international creative youth festival. In 2015, he participated in the "History of the People" competition, which was held on the 550th anniversary of the Kazakh Khanate, dedicated to the 70th Anniversary of World War II by Pavlodar artists. In 2016, he participated in the regional "Children of Irrigation" project in Pavlodar. In 2016, he became the winner of the regional competition titled "My Kazakhstan" held among the fine arts teachers. In 2017, he held a solo exhibition at the Pavlodar Regional Art Museum. In 2018, he won the IV international Siberian ceramic festival. Besides the Pavlodar Art Museum, his works take place in private collections in Kazakhstan, Russia and Germany.