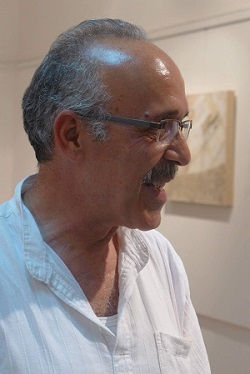 Artist Osman Atila Keten will present his solo exhibition titled "Touching Existence" and consisting of 27 paintings and 4 sculptures for the Cyprus Museum of Modern Arts and to the taste of art lovers in the exhibition hall of the Dentistry Faculty.
According to the information provided by the Press and Public Relations Directorate of Near East University, the artist Osman Atila Keten, who synthesizes the cipher and minimal in his works for the Cyprus Museum of Modern Arts, said; "However, in this way, the art that gained its own form away from the consumable functionality and started to carry the superiority of the nonobjective feeling reveals a real-world order, a new philosophy of life."
The artist states that he pursues this because art is a mysterious language and is true only to the extent that it can touch the sense of existence in man's roots and meet his deep spiritual need. The personal exhibition of artist Osman Atila Keten will meet art lovers on Tuesday, July 14, 2020, at 09:30.
Who is Osman Atila Keten?
Turkish Cypriot artist Osman Atila Keten was born in the village of Anafotia (Akkor) in November 1962. He completed his secondary and high school education in Famagusta Canbulat High School. He graduated from Marmara University, Faculty of Fine Arts, Painting Department. He stayed in the UK for a year to carry out research and observation in 1985. He continues to work as a painting teacher, which he started in 1987, and also continues his studies at Arabahmet Art Studio in Arabahmet area of Nicosia. The artist, who has also been a member of the Ministry of National Education and Culture, Culture and Arts and the President of the Mediterranean European Art Association (EMAA), has held 6 solo exhibitions and participated in many exhibitions.