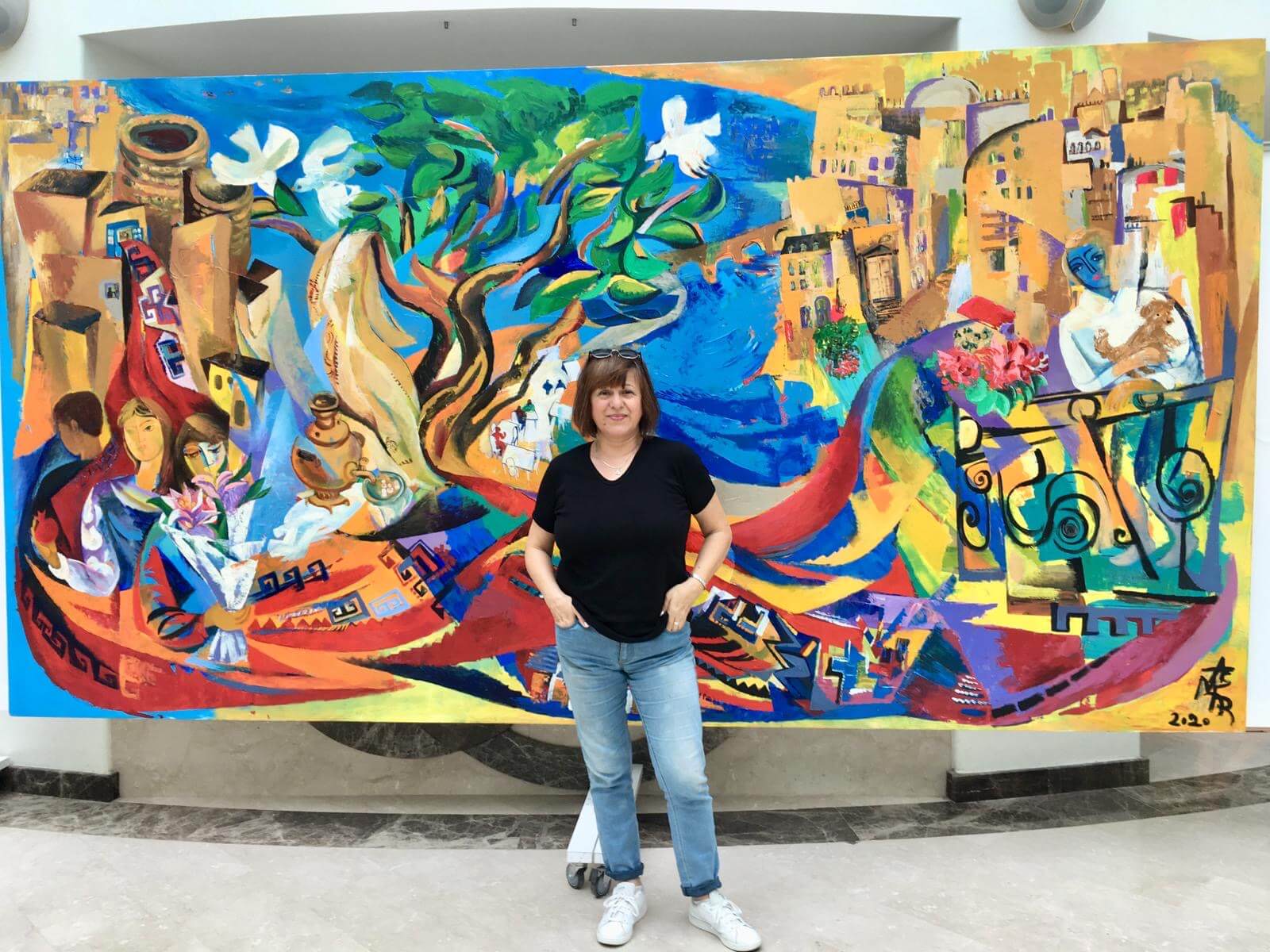 Works of art composed of paintings, ceramics, printmaking, graffiti and sculptures created by artists for the Cyprus Museum of Modern Arts during the Kovid-19 quarantine days continue to be shared with art lovers.
According to the information released by the Directorate of Press and Public Relations Office of Near East University, artist Asmar Narimanbekova provided support to the fight against new coronavirus that caused fear and anxiety all around the world through her paintings that she created during the quarantine concerning COVID-19 pandemic.
In order to move off the negative impacts on people caused by the new coronavirus and raise awareness, artist Narimanbekova used her brush with inexhaustible enthusiasm and created unique artworks depicting Cyprus dance festival, Kyrenia Castle and Antic Port as well as Cyprus ceramic, lily flower and acacia portraits and showcased them for the art-lovers.
It was released that the works created by the artists during the quarantine days for the Cyprus Museum of Modern Art will continue to be shared with art-lovers.
Who is Asmar Narimanbekova?
She was born in Baku in 1961. She is a state artist of the Republic of Azerbaijan and currently works as an Associate Professor at the Academy of Fine Arts. She is the President of Baku Modern Art Gallery. She is also the Chairperson of the Togrul Narimanbekov Association in Paris, France. She is a member of the Union of Artists of Azerbaijan and France. She graduated from Tbilisi State Art Academy in Georgia. In 2019, she opened her solo exhibition "Infinite Art" at UNESCO in Paris. She also participated in the Art of Peace exhibition held in the 8th Paris City Hall and UNESCO in 2019. In 2018, she participated in art exhibitions held in PassepARTout Gallery in Milan, Forli and Varese-Italy. In 2019, she opened her solo exhibition "Infinite Colors" in Venice, Italy. She organized exhibitions in Expo Center in Cannes in 2016 and 2017. In 2016, her solo exhibition "Poesie der Farben" opened at the Cultural Center of Azerbaijan in Vienna, Austria. In 2016, she opened a solo exhibition at the Baku Gallery in Berlin, Germany. In 2009, she opened a solo exhibition at the Contemporary Art Center (Gallery) in Baku-Azerbaijan. In 1998, she held a solo exhibition at the Humei Gallery in the United Kingdom.