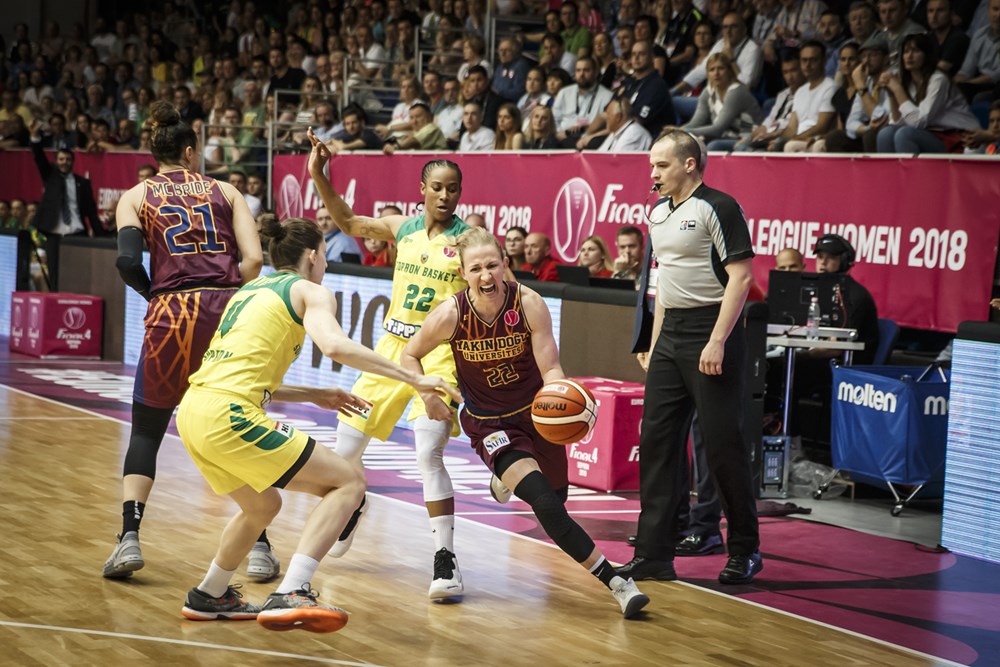 Near East University Women's Basketball Team was defeated by Sopron Basket with a score of 68-65 in the FIBA Women's Euroleague Final Four in Sopron, Hungary. With this score, losing the chance for the final, Near East University will be rival to Russia's Dynamo Kursk team for the third place of Final Four on Sunday (April 22nd).
In Final Four, UMMC Ekaterinburg team and Sopron Basketball will challenge to each other for the 2017-2018 championship of the Euroleauge.
According to the information given by the Near East University Sports Club, the game played at the Novamatic Arena included Courtney Vandersloot, Kayla McBride, Sandrine Gruda, Jantel Lavender and Elin Eldebrink from Near East University. Match periods ended with scores of 19-12, 40-30, 56-46 and 68-65. Yvonne Turner became the top scorer in the game with 19 points.
The first basket of the game came from Courtney Vandersloot of NEU team whic started the offense. Sopron Basket was able to find his first score only after the first minute from beginning the match. Near East University made scores with Elin Eldebrink, Kayla McBride scored 7-4 in the first three minutes. Sopron Basket closed the first period ahead 12-19.
The first minute of the second period passed with a score of 21-14. Near East University making a pressure on its rival and increasing the effectiveness of the match, made made score 21-17 at 7.49 hours of the second period, and lowered the gap to 4 points with its opponent. The last 4 minutes in the period was entered with a score of 36-22 Sopron Basket ahead. The first period of the match was completed with a score of 40 – 30, Sopron Basket ahead.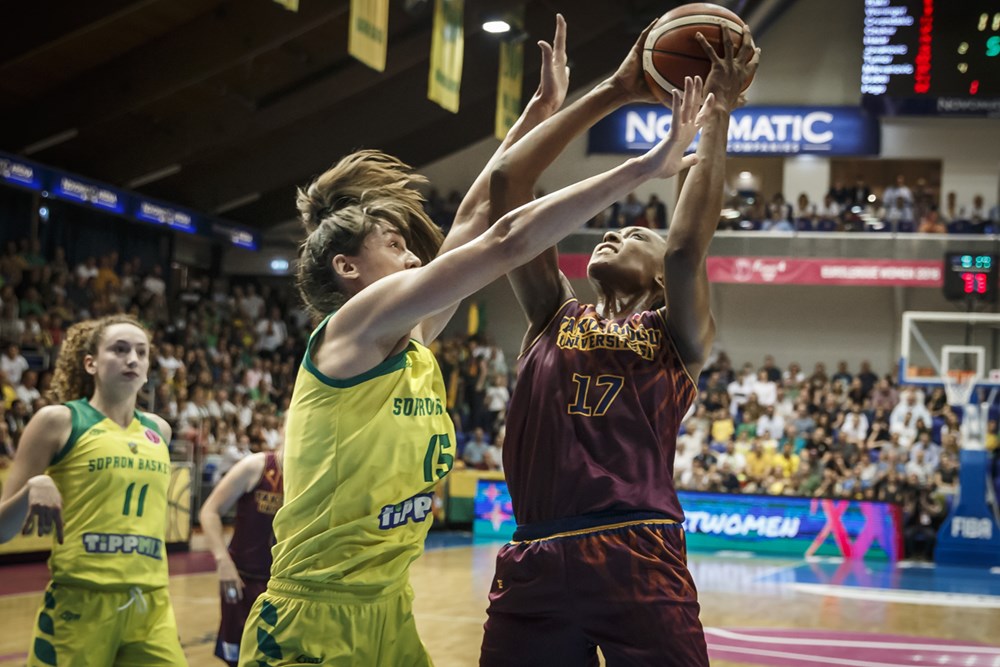 The two teams were unable to record a score for two and a half minutes in the second period of the match, Sopron Basket was able to make a score at 7.02 (30-42). In the final period, Sopron Basket led the game with a score of 56-46.
The first score in the last period came from the Sopron Basket at 8.38 (58-46). Near East University, which becoming dominant in the last period made scores one after another and entered the last 2.30 minutes ahead, 61-62, closing the 20 points gap with its superior game. In the last minute the score was 65-65 and Sopron Basket made the score 68-65 with a three-point basket in the last second.
Highlights
Near East University: Courtney Vandersloot 15 points, 7 rebounds, 5 assists, Kayla McBride 12 points, 5 rebounds, Quanitra Hollignsvorth 11 points, 2 rebounds, Jantel Lavender 10 points, 10 rebounds, Elin Eldebrink 7 points, 3 assists, Sandrine Gruda 3 number, 8 rebounds, Olcay Cakir Turgut 4 points, Bahar Çaglar 3 points.
Sopron Basket: Yvonne Turner scored 19 points, 4 rebounds, Angela Salvadores 16 points, 4 rebounds, Aleksandra Crvendakic 10 points, 11 rebounds, Zsofia Fegyvemeky 10 points.