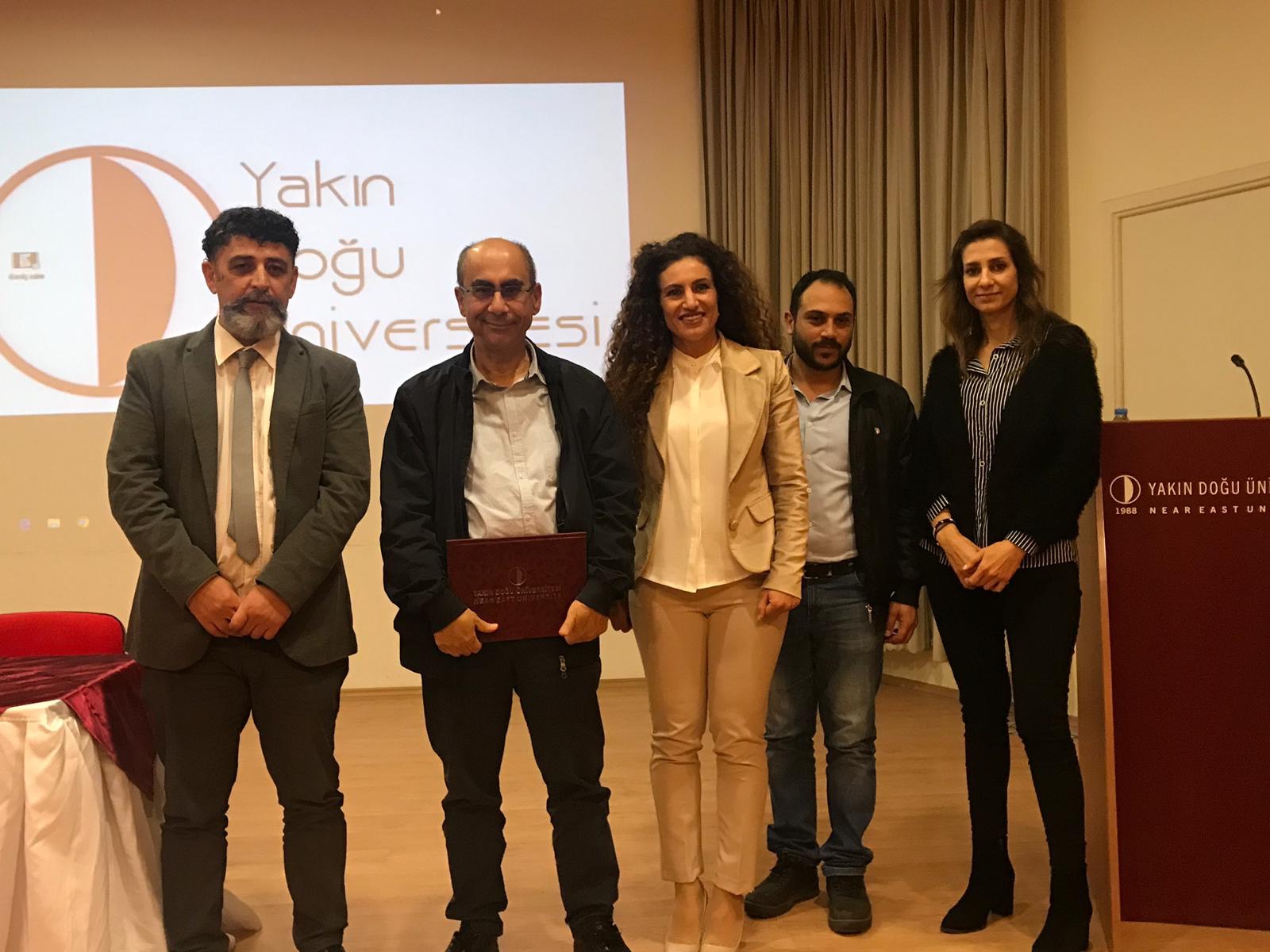 Film Director and Producer Derviş Zaim met with students at Near East University Faculty of Communication.
According to the information given by the Near East University Press and Public Relations Directorate, Director and Producer Dervis Zaim had an interview with the students at the event titled "Cinema and Publicity Works" held by Emrah Öztürk, lecturer at the Near East University Faculty of Communication, Department of Radio, Television and Cinema.
In the interview held at the Faculty of Communication Orange Hall, Director Zaim talked to the students about his cinema experiences, the difficulties of producing artistic films in the cinema sector, and the promotion works of cinema films.
Vice Rector Assoc. Prof. Dr. Mustafa Kurt, Vice Dean of the Faculty of Communication and Head of Department of Public Relations and Publicity Assist. Prof. Dr. Nuran Öze, students of the department and faculty members attended the event, showing great interest.
Derviş Zaim; "We have distributed brochures by walking on İstiklal Street with players to advertise the film…"
In his speech, Zaim mentioned that it was a great advantage to work with the same publicity team and graphic team for many years and added that shooting a movie and advertising it were entirely different jobs. Zaim also mentioned that they had a great success in the movie titled "Somersault in a Coffin" which they filmed under very difficult conditions and by getting into debt, and that they had used the guerrilla methods to advertise the film.
Zaim also mentioned about the importance of the films "Mud" and "Shadows Surrogates" about Cyprus. Zaim said that the Cyprus themed films do not attract interest in Turkey and to promote the film they walked in İstiklal Street with the actors and handed out leaflets.
Publicity Works are important in Every Sector
Emrah Öztük stated that public relations and publicity activities are in cooperation with the cinema sector and it is a fact that can not be ignored. Emrah Öztük emphasized the importance of promotional activities in his speech.
Ozturk; "As with any industry, promotional activities are vital for cinema, a branch of culture industry. Usually we go to the cinema and watch the movie and we think the process is over. However, it is extremely important that the artist presents his film with creative strategies. Therefore, it is a fact that public relations and publicity activities are in cooperation with the cinema sector…"