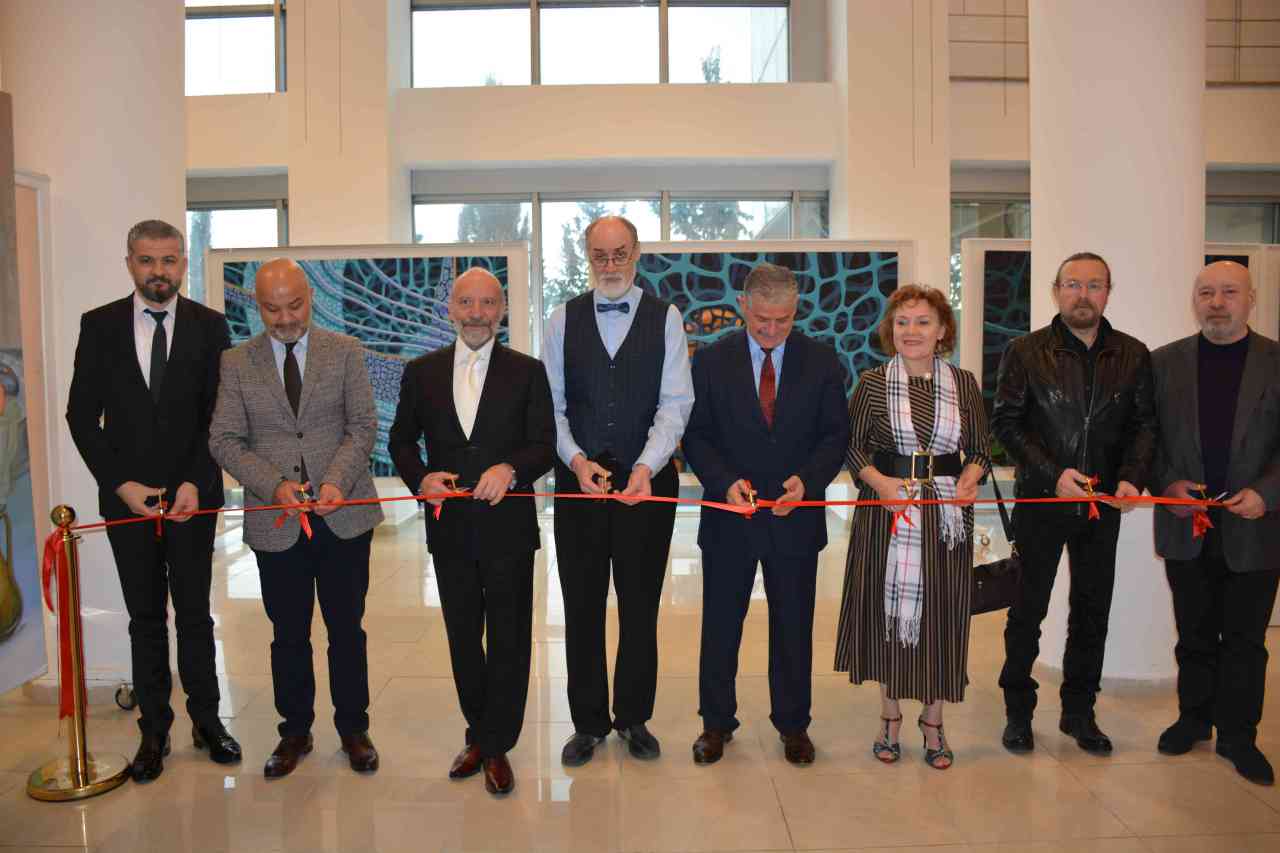 Lidia Drozdova's solo exhibition titled "Mystery of Perfection" and consisting of 17 paintings reflecting the extraordinary art vision of the artist and Igor Gushchin's solo exhibition titled "Travel to the Different World" and consisting of 17 paintings reflecting his new concepts of space, color, light and design that carry painting beyond the appearance of the physical world and describe the invisible world, in total consisting of 34 artworks exclusively made for the Cyprus Museum of Modern Arts, was opened by MP MenteşGündüz, Former Minister of Tourism, Culture and Sports and Deputy Prime Minister.
According to the information provided by the Press and Public Relations Directorate of Near East University, the opening ceremony of the exhibition held at the Faculty of Communication Exhibition Hall of Faculty of Communication was attended by the Founding Rector of Near East University Dr. Suat Günsel, Güzelyurt MP and former Minister Menteş Gündüz, vice-rectors, institute directors, deans, lecturers, artists and invitees.
At the opening of the exhibition, Vice-Rector of Near East University Prof. Dr. Tamer Şanlıdağ, artists Lidiya Drozdova and Igor Gushchin delivered speeches.
Prof. Dr. Şanlıdağ: "We realize the mission of transforming society with education, research, R&D and innovation…"
Delivering the opening speech of the exhibition, Near East University Vice-Rector Prof. Dr. Tamer Şanlıdağ stated that they have realized the Cyprus Modern Art Museum project in the field of art within the scope of the mission to transform the society, and talked about the works so far conducted. Stating that they continue scientific and artistic projects without slowing down, Prof. Dr. Şanlıdağ said, "Today we are together at the opening of 263th exhibition. In January, we had 23 exhibitions, 18 of which were solo and 5 of which were group exhibitions, in total consisting of 715 works." Stating that the Near East University has adopted the 4th Generation University Model, Prof. Dr. Şanlıdağ pointed out that they dedicated to quality in education, qualified research, R&D and innovation and transforming society.
Prof. Dr. Şanlıdağ said, "Near East University, which is a member of 118 national and international institutions such as the European University Association, the World University Association under the UNESCO and the Federation of the Universities of the Islamic World, is carrying out scientific and academic studies with 21 Faculties, 3 colleges, 4 vocational schools, 8 institutes, 33 research/application centers, 220 undergraduate and associate degree programs, 218 graduate programs and schools, and with teaching staff of whom 2 are Nobel laureates, 11 with an H-index above 40, and over 1,000 academicians. We provide the best possible education and training environment for our distinguished students."
Success is increasing gradually…
Speaking about the achievements of Near East University, the Vice-Rector Prof. Dr. Tamer Şanlıdağ said, "When achievements of our university is evaluated and academic performance data considered in 2019, our academics participated in 813 national or international events, organized 1142 scientific events, presented 864 papers, published more than 1200 international publications, and increased the rate of international publications per faculty. In addition, 2 of the 5 patent applications made by our researchers have resulted positively and the procedures of the others continue. The launch of our domestic and national electric vehicle Günsel, of which the first test drive was successfully carried out as a result of long-lasting R&D innovation efforts, will be held with large participation on February 20. As for the sports, except football, in 2019, 1615 licensed athletes in all branches became champions and set records in both women and men categories in branches such as athletics, basketball, volleyball, handball, cycling, chess, tennis, swimming, and wrestling.
Cyprus Museum of Modern Arts is a great project with no match in the world…
In his speech, artist Lidiya Drozdova stated that the Cyprus Museum of Modern Arts is the only, big, perfect and unmatched organization in the world. Expressing that she included the woman figure in her works, Drozdova stated that the woman was an excellent asset. Drozdova said: "When I came to the symposium, I saw too many men. There were male artists in the workshops. I asked why there are so few women artists. When I arrived here were only 8 women. This is a very low rate. If you ask why, the reason is; In everyday life, women care about the home, the stove, is responsible for the comfort of house and raising children. And, she designs a dream of success for each of his children, however, in such a struggle she can find time for painting. Women are very special. Dear Mr. Suat Günsel advised me to draw only about women. Thank you for giving the idea of drawing a "Turkish Bath" in the pictures. And you know what? How many beautiful women did I draw on the canvas? I decided to count and found out that 48 women figures have been included in my works. I hope it was at least somewhat closer to the number of male artists. Thank you for taking care of, loving and or admiring women."
Cyprus Museum of Modern Arts will awaken the spirit to achieve further success, spiritual heights, and discoveries…
In his speech, Igor Gushchin expressed his gratitude to Dr. Suat İrfan Günsel for bringing together a large culture and art community for peace and prosperity from all over the world.
Gushchin said, "My heart is full of pride and gratitude to our honorable teacher, Dr. Suat Günsel, as he has given us the opportunity to open a creative universe and participate in such a large-scale project for a bright future. Man existed on Earth to be creative. Thanks to Suat Günsel, we have done much more than the paintings that can survive forever and stand out as our subjective achievements. We create and strengthen our very thin soul within us, which strengthens our creativity and provides the light and beneficial development of all humanity. We believe that the project of the Cyprus Museum of Modern Arts will utilize the best qualities in all people, provide the opportunity to awaken the success of spiritual heights and discoveries."
Member of Parliament Menteş Gündüz: Suat Günsel succeded to realize his ideals and dreams…"
Former Deputy Prime Minister and Minister of Economy, Tourism, Culture and Sports, and Güzelyurt MP Menteş Gündüz reminded the saying "One of the arteries of the states lacking art has been cut" and said that the Cyprus Museum of Modern Arts project will develop a different perspective on human consciousness. Stating that he has studied the works before the exhibition, MP Gündüz said that he realized that two important issues were touched on in artworks; if we want to find out our own solution, we should look at the third dimension, change our perspective, and explain what the women do in our lives and that he was very happy to open the exhibition.
Gündüz said, "We once again have seen how important is the Gender Equality law we passed in the Assembly when I was the Committee Chair. It explains how perfect and how good women are and the world without women cannot exist. The importance given to women and the two-dimensional perspective highlighted in this law. People must always look at life in two ways. If you do not know the brightness, you cannot understand that there is darkness, you cannot find goodness, and if you do not see the evil, you do not know what goodness is. Without women, there is no life. We see how true is this, and how life is not one-sided. Expressing the words "There is a woman behind every successful man", Gündüz said that he saw this expression being told by art and added: "Behind our Teacher, Suat Günsel, there is the woman who brought him to the world. Since 1988, Suat Günsel has provided great services especially since the establishment of the Maritime Faculty. When the faculty was established, we planted the trees in the garden of the Rectorate Building. There was no water, we watered them with buckets. As a close friend of Suat Günsel, I am very proud that he came to these days because I know his ideals and dreams. He had many dreams when he founded the Cyprus Museum of Modern Arts. And I congratulate him for achieving his dreams. I would like to thank our Teacher, Suat Günsel, who pioneered this kind of artistic activity. I thank the artists here. We will soon see the Günsel car, which is domestic production, except for some of its parts. I am very proud to be a member of the Günsel Family.
Silver Key Honor Award was presented and the exhibition opening was realized…
Following the speeches, the "Silver Key Honor Award" was presented by the Former Deputy Prime Minister of Economy, Tourism, Culture and Sports, Güzelyurt MP Menteş Gündüz to the Kazakh artists Lidiya Drozdova and Igor Gushchin. Then, two solo exhibitions were opened. Exhibitions can be visited between 08.00-16.00 hours on weekdays until February 12, 2020, at the exhibition hall of the Faculty of Communication on the campus of Near East University.