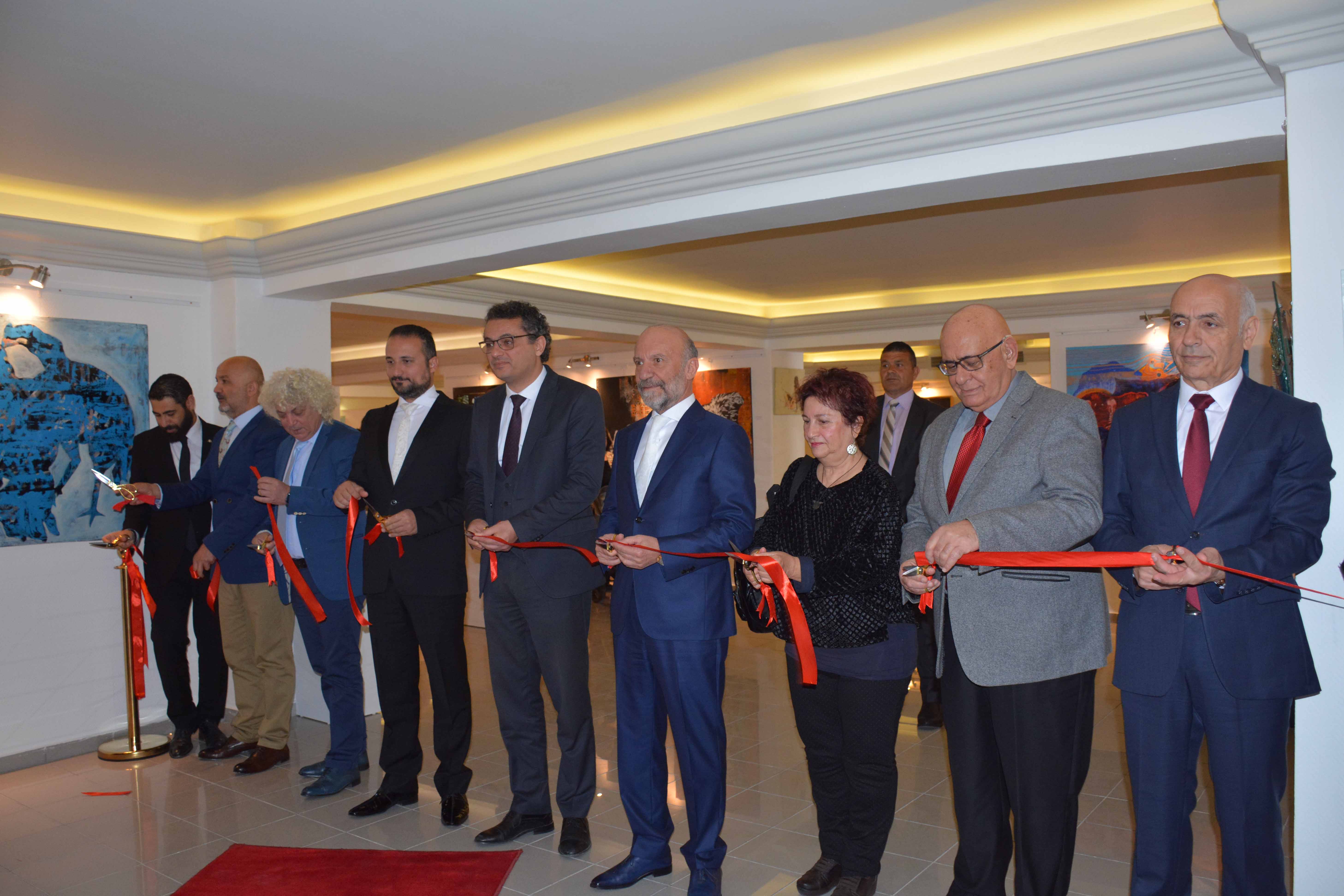 Having been organized by Cyprus Museum of Modern Arts in memory of the tenth death anniversary of İsmet Vehit Güney, one of the cornerstones of the Turkish Cypriot art of painting, the exhibition titled "To Exist with Art" was opened by TRNC Prime Minister Tufan Erhürman. The exhibition features 142 artworks created by 61 artists.
The Directorate of Press and Public Relations Office of Near East University released that Prime Minister Tufan Erhürman, Founding Rector Dr. Suat İrfan Günsel, Erhan Özkan; TRNC Chief Consul to Gaziantep, Ismet Vehit Güney's family, Board of Trustees Chairman Associate Professor İrfan Suat Günsel, Rector Professor Ümit Hassan, vice rectors, deans, department chairs, faculty members, artists and guests participated in the opening ceremony of the exhibition titled "To Exist With Art" that realized at the Exhibition Halls of Cyprus Art Center that located in the foyer area of Atatürk Culture and Congress Center (AKKM).
The opening remarks of the exhibition were delivered respectively by NEU Rector Professor Ümit Hassan, İsmet Vehit Güney's daughter Nilgün Güney and Prime Minister Tufan Erhürman.
Prof. Dr. Ümit Hassan: "We attach special importance not only on quality education but also on art events…"
Delivering the opening remarks of the exhibition, Near East University Rector Professor Ümit Hassan stated that they were experiencing a day existing with art with very valuable artists by underlining that Near East University, since her establishment, had attached a special importance on art along with education.
"Near East University adopts it as a mission to mobilize all her possibilities to open new horizons for our country. In this regard, Near East University has put the wheels into motion to stake a claim on our cultural and artistic heritage. It is a pride concept to commence and sustain this mission by ensuring collaboration and support in all domains of art and culture and organizing national and international exhibitions, concerts, and events concerning with visual arts and performing arts and using all other communication mechanisms associated with arts. Our Founding Rector Dr. Suat Günsel's foresight and initiative constitutes the basis and prime mover of all steps taken towards a brilliant future for our country. Günsel's projects are the impetus of the selection of the plastic art products created by using painting, sculpture, printing and all other techniques. Through his significant projects, the Cyprus Museum of Modern Arts will be learning center featuring very distinguished and rare artworks" said he.
Qualifying the Turkish Cypriot painters as masters, Professor Hassan highlighted that Turkish Cypriot painters made their names known at international platforms through the color, pattern, and figurative, abstract and naive aesthetic synthesis in their works. Touching upon that the lifestyle of Turkish Cypriots that predisposed to music, theater, literature and other art fields had become evident via art of painting; Professor Hassan stated the art of painting started in Turkish Cypriot community towards the end of 19th Century. Talking about the characteristics of Turkish Cypriot artists and their paintings, Professor Hassan underlined that İsmet Vehit Güney was considered as the pioneer of Turkish Cypriot painting art. Delivering information about İsmet Vehit Güney, Professor Hassan stated that Güney was the winner of all important state awards and the designer of the flag of 1960 Republic of Cyprus.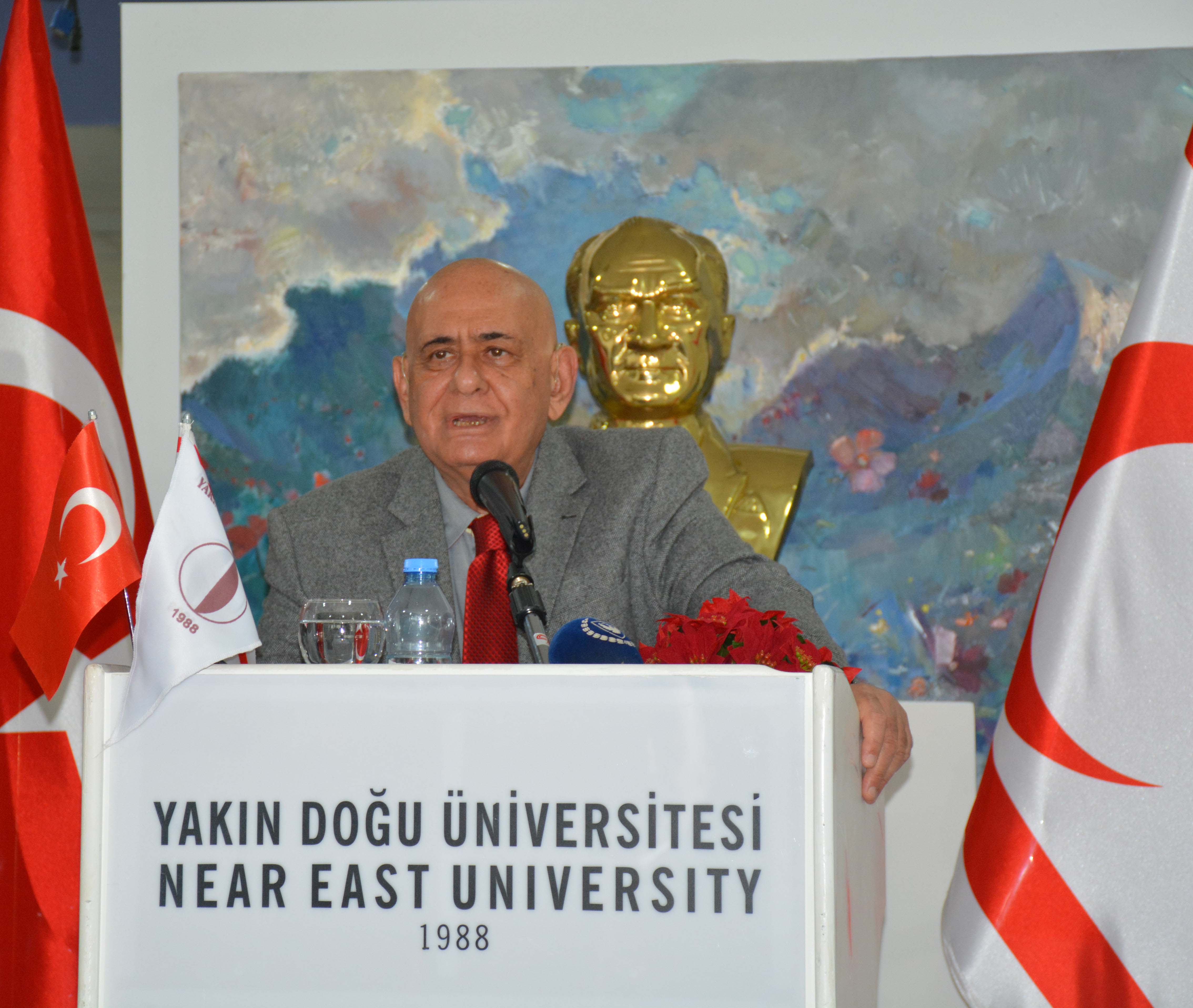 Herbarium Museum will be opened on 3 May…
NEU Rector Professor Ümit Hassan continued his remarks by stating that Near East University Herbarium Museum, where almost 100 thousand plant species that collected as a result of 18 year efforts will take place, would be opened on 3 May 2019. "The museum, which is launched with the great efforts of the Faculty of Medicine and Faculty of Pharmacy, will shed light on many branches of science" noted he.
Professor Ümit Hassan ended his remarks by touching upon the academic success of Near East University: "In terms of the scientific studies published in h-indexes that measure both the productivity and citation impact of the publications of a scientist or scholar, Near East University ranked the third place among universities in Turkey and the top among the universities in the Turkish Republic of Northern Cyprus. "This is a significant proud success which does not only articulates the soul of the world of science and academic environments but also contributes to the morale of the public".
Nilgün Güney: "I would like to thank everyone who contributed to this Honorary Exhibition to be realized…"
Expressing that her father had an important place in Turkish Cypriot art history, İsmet Vehit Güney's daughter Nilgün Güney stated that her father was the first Turkish Cypriot painter that opened the first painting exhibition in 1946. Nilgün Güney also voiced her wish for having a Turkish Cypriot art history book written.
"His first exhibition attracted great interest and motivated him to continue his painting work. He opened his second exhibition at Victoria College for Girls during British Colonial Period. The governor of the period also visited the exhibition and bought one of his paintings. This reinforced his passion to continue the art of painting. He continued painting till the end of his life. When he died, he had a picture on his easel which was almost finished. Besides painting, he was interested in many art branches such as cartoon, advertising, graphics, photography, serigraphy and color-separation. He also wrote poems and stories. He lived his life as art on painting. We are proud of him. I would like to extend my appreciations mainly to the Founding Rector Dr. Suat İrfan Günsel for organizing this honorary exhibition in memory of my father, and to the artists who provided contributions to the exhibition with their valuable works" said she.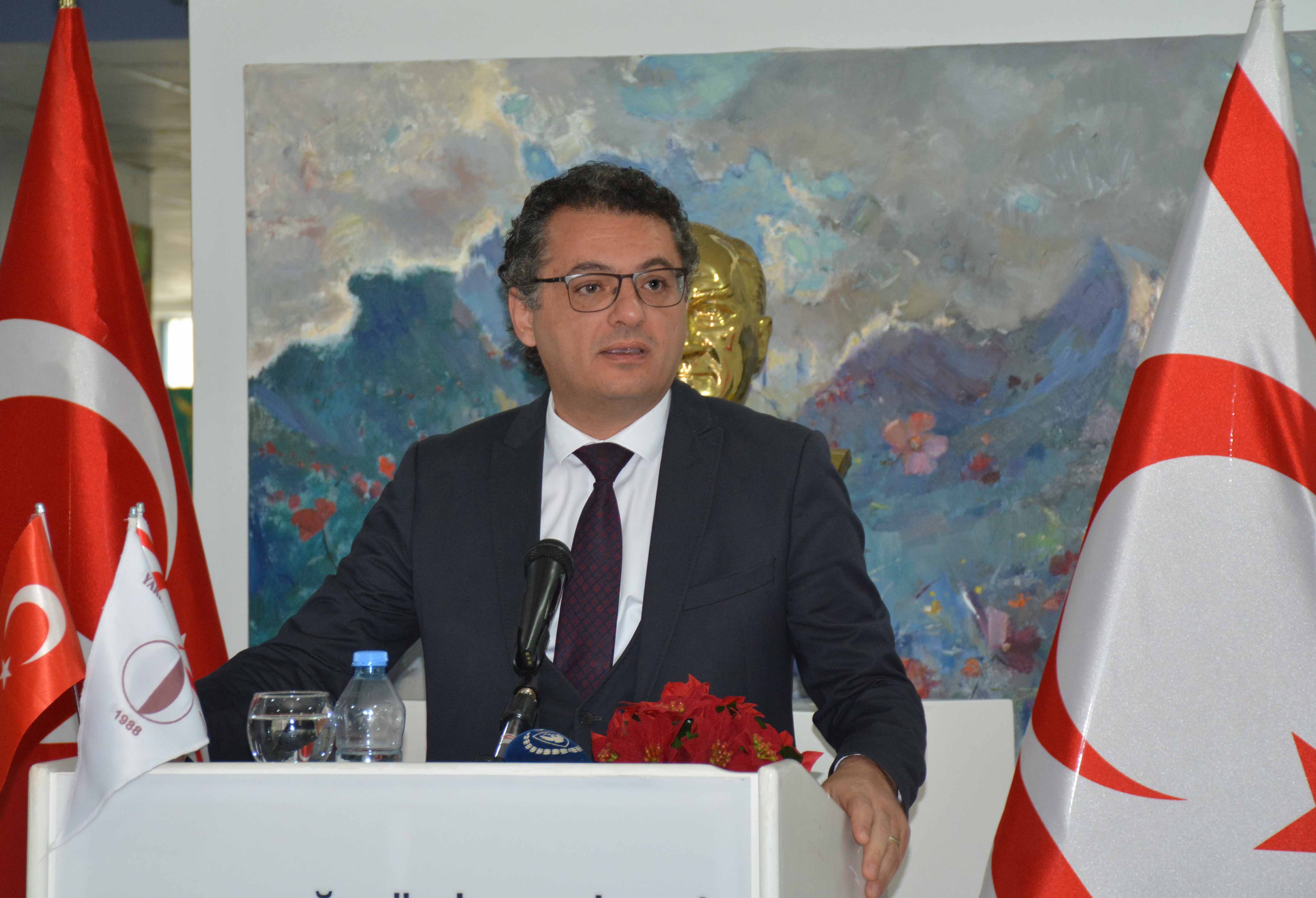 Prime Minister Erhürman: "The Exhibition bears the Meaning of Fidelity…"
Indicating that he felt deep respect and admiration for İsmet's Vehit Güney's memory and the beauties that he had created, Prime Minister Tufan Erhürman stated that they were experiencing another proud day of culture and art activities held by Near East University.
"Indeed, a university trying to exist only via science is something like a bird trying to fly with a single wing. Cultural and artistic activities are also important for a university. In this context, Near East University has balanced science with cultural and artistic activities, and has lately activated the second wing in a dense manner and has made the university fly higher. This is praiseworthy. I keep a tap on the developments in this aspect with great happiness.
The importance and meaning of this exhibition is that it bears the meaning of a kind of fidelity of the artists, who follow the lead of İsmet Vehit Güney, the first Turkish Cypriot pioneer painter. The solidarity and loyalty among the artists is something that should be underlined. Expressing that a society needs to be productive in order to survive, Prime Minister Tufan Erhürman ended his remarks: Existing by producing; art is the noblest, aesthetic and special form of surviving as a being by producing. Plastic arts are a component that shows our existence to the whole world through our artists. We commemorate İsmet
Vehit Güney with honor and pride. We feel great proud of the awareness and contributions of our artists and universities in this issues. We met on a prideful morning, and I would like to thank cordially all those who contributed to this significant event".
The exhibition will be open until May 9…
Following the speeches, the opening ribbon was cut and the participants toured the exhibition. "To Exist with Art" exhibition, which features 142 artworks covering all disciplines of plastic arts of 61 artists in Cyprus, will be open for visits from 10:00 to 16:00 on weekdays until 9 May 2019.