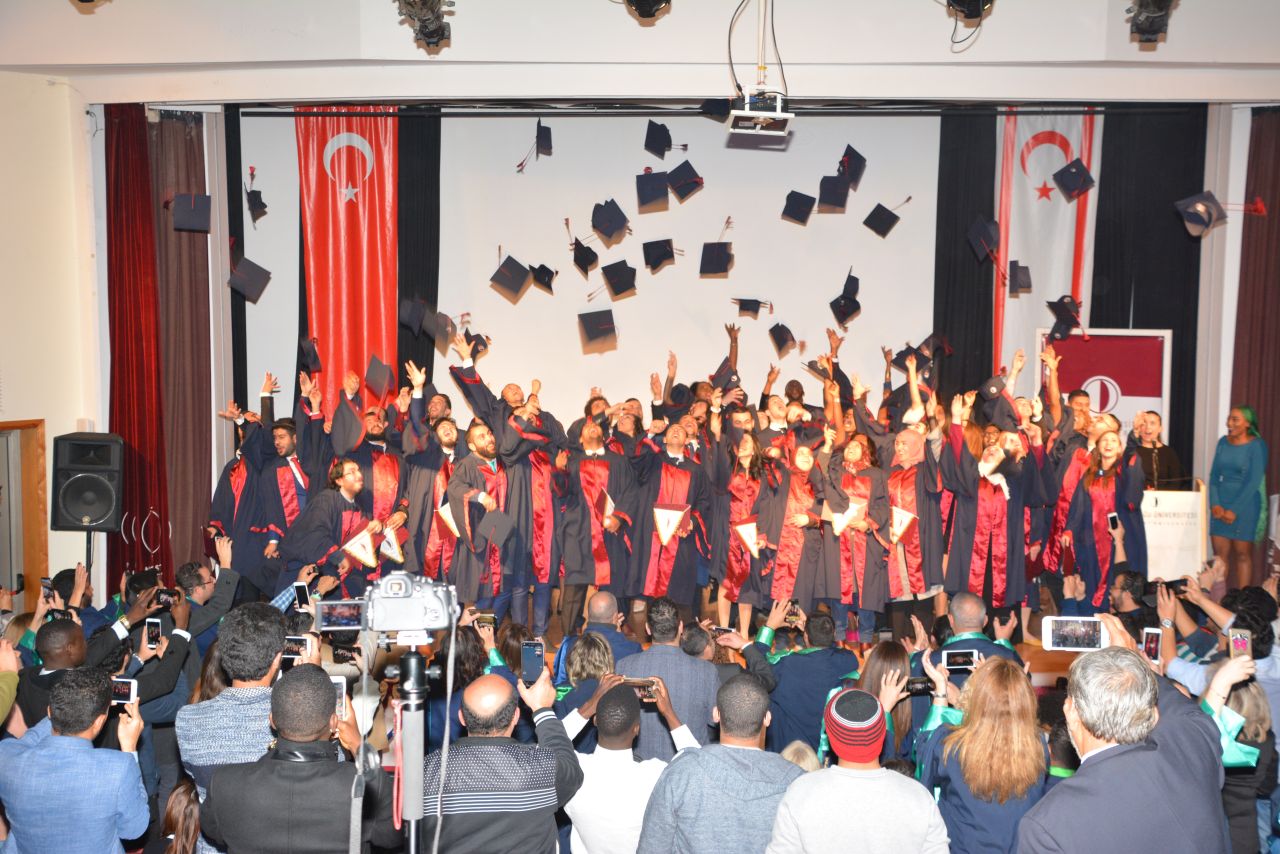 Prof. Dr. Eyüpoğlu: "The Accreditation Approvals of Our Programs are Concrete Indicators of the Quality Education that We Offer"
Prof. Dr. Fahreddin Sadıkoğlu: Farewell Isn't Separation"
2017-2018 Academic Year Fall Term graduates of Near East University Faculty of Economics and Administrative Sciences received their diplomas with a glorious ceremony held at NEU Grand Library Hall 4.
According to the press release issued by the Directorate of Press & Public Relations Office of NEU, the graduation ceremony was realized with the participation of NEU vice Rector Prof. Dr. Fahreddin Sadıkoğlu, NEU Faculty of Economics and Administrative Sciences Dean Prof. Dr. Şerife Zihni Eyüpoğlu, Institute directors, vice deans, department chairpersons, faculty members, graduates and their parents.
The graduation ceremony began with a commemorative stand in silence for Mustafa Kemal Atatürk, Turkish Cypriot leader Dr. Fazıl Küçük, TRNC Founding President Rauf R. Denktaş and all martyrs and followed by national anthem. Then, the participants experienced joyful and unforgettable moments with the music recital performed by the Music Teaching Department of Atatürk Faculty of Education.
Prof. Dr. Eyüpoğlu: "Our aim is to raise graduates equipped with qualities required to compete on a global scale"
First, Olga Mocan made a speech on behalf of the graduated students. Then, the Dean of the Faculty of Economics and Administrative Sciences,  Prof. Dr. Şerife Zihni Eyüpoğlu took the stage and addressed the attending body. "Near East University Faculty of Economics and Administrative Sciences started its educational life in 1988 with two departments consisting of the Department of Business Administration and the Department of Computer Information Systems. In the following years, 11 departments consisting of International Relations, Economics, Political Science, Banking and Finance, International Business, Marketing, Human Resource Management, European Union Relations, Public Administration, Management Information Systems and Information and Documentation were brought into service gradually. Today, with its 13 departments and its competent academic staff and dynamic structure, the Faculty of Economics and Administrative Sciences is a vibrant intellectual community that offers quality education to almost 1800 students from different countries. Our aim is to raise well equipped graduates capable to address the needs of the sector. To this end, we attach great importance on keeping up with the developments and changes regarding economics and administrative sciences in order to provide our students with appropriate and the most up-to-date professional knowledge and skills. In this regard, we always keep our educational programs updated and in compliance with the standards set by national and international bodies. Through these dynamic and continuously updated course programs, we will continue to raise high calibre professionals capable to address the needs of sector as well as compete on a global scale. We have proven quality and excellence in education. The success of our alumni working across the globe demonstrates the power of our faculty in exceeding the boundaries of our country" noted she.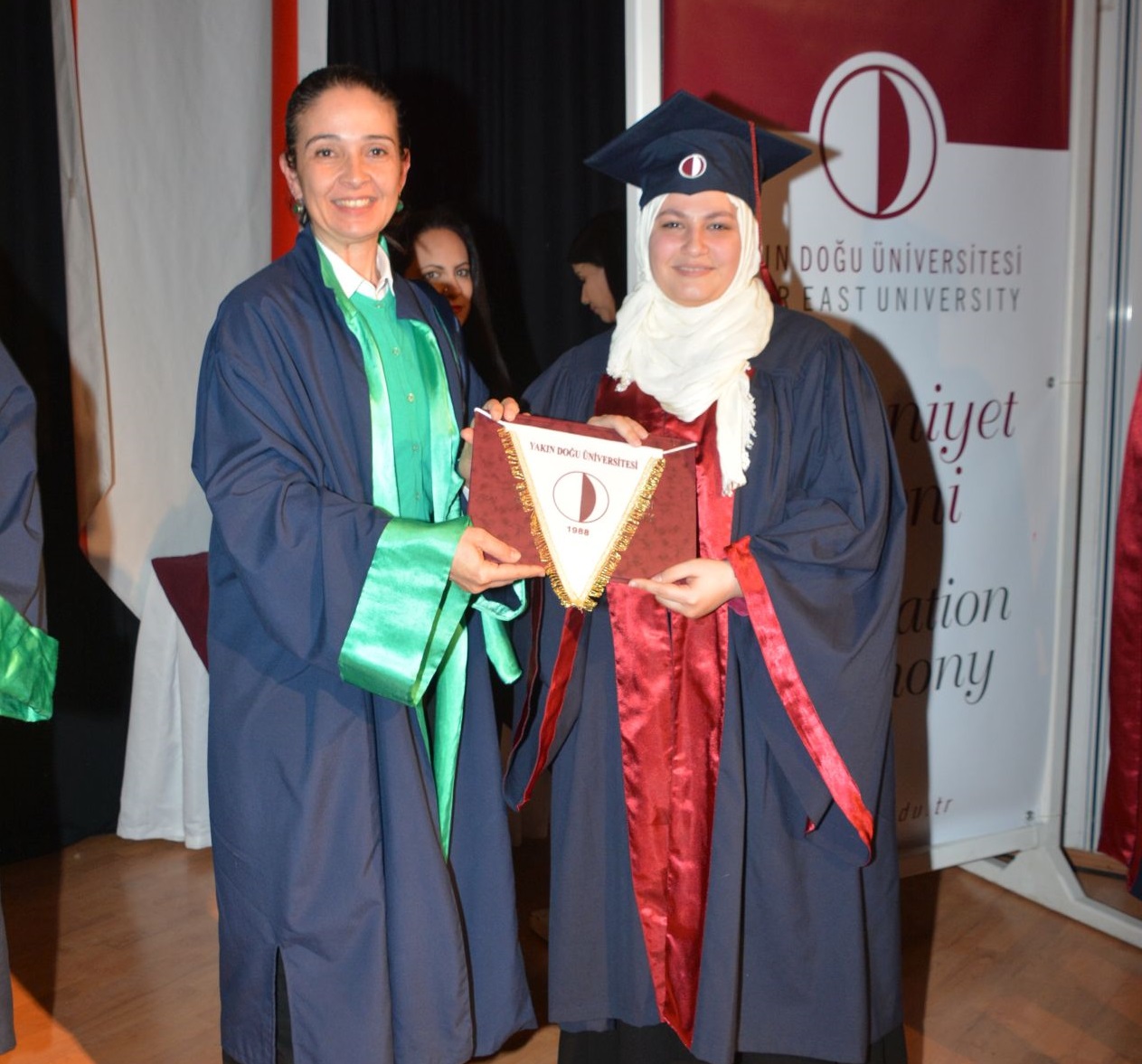 Prof. Dr. Eyüpoğlu: "Accreditation Approvals of our programs indicate the quality of education that we offer"
Highlighting their devotion to ensuring and maintaining excellence in undergraduate education, Professor Eyüpoğlu stated that five undergraduate programs offered by the faculty accredited by international accreditation organizations last year. The programs implemented in English including Banking and Finance, Business Administration, Economics, and International Relations accredited by FIBAA while Computer Informatics accredited by ASIIN. The accreditation approvals of these international bodies are concrete indicators of quality education that we offer" said she.
Underlining the significant role of parents in the success of their children, Prof. Dr. Eyüpoğlu expressed her views: "Dear parents, undoubtedly you did everything and provided all kind of support for your beloved ones. You also have great devotions, efforts and shares on the diplomas that we are going to present our graduates today. As parents, you have passed through different events subject to this process and you always supported your children. Consequently, you are experiencing the right proud of witnessing your children receiving their diplomas. We share the same excitement and pride with you.
Dear graduates, you are going to receive your diplomas from a faculty known as the training ground of many successful professionals working around the world. As NEU Faculty of Economics and Administrative Sciences, we have undertaken a crucial role in training you and paving the way for you towards establishing a cutting-edge career over the others. Our graduates go on to make an impact in the world of economics and administrative sciences. While we are proud of your future accomplishments, you will also feel the right pride of being a graduate of Near East University Faculty of Economics and Administrative Sciences which has a prominent place in education.
Prof. Dr. Fahreddin Sadıkoğlu: "Farewell isn't a separation"
Near East University vice Rector Professor Sadıkoğlu also delivered a speech and expressed his views. "Today, we have gathered here to share the graduation joys of our students. Our graduated students are closing a page while opening a new one in their lives. A Roman philosopher has a saying: "As is a tale, so is life: not how long it is, but how good it is, is what matters." Opportunities are also important in life. I firmly believe that you will get that opportunity to realize your career. Dear parents, you entrusted your children to us during their university education. Be sure that we educated them in the best way. As Near East University, we have no doubt that they are well equipped with up-to-date information and professional skills to make impact in their fields. Dear graduates, farewell doesn't mean separation. Our ties will be vibrant for a lifetime. You will always remember both North Cyprus and Near East University. I wish you success in your new life" said he.
Following the speeches, the graduates were presented their diplomas. Upon receiving their diplomas, the graduates experienced the joy of the graduation by throwing their caps…