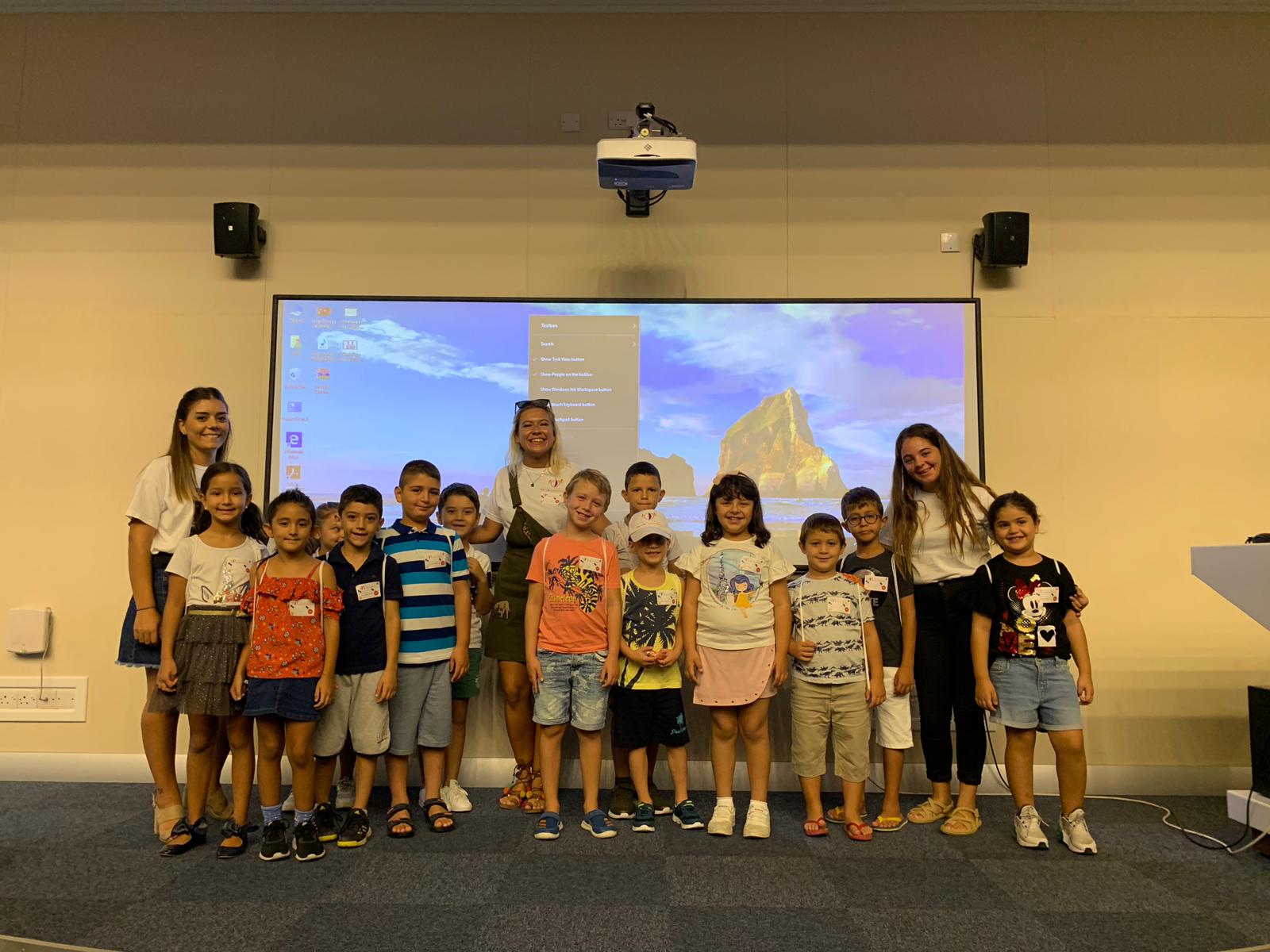 Being the first and only of its kind in our country, Özay Günsel Children's University has proudly announced that it has initiated its programs, especially designed for different age groups and which promote high academic and character development, for the Fall Term of the Academic Year of 2019-2020.
According to the press release issued by the Directorate of Press and Public Relations of Özay Günsel Children's University, the programs are to continue and be completed as 100 hours. On the first day of the program, a welcome organisation to the Near East University Faculty of Health Science was held for the students and their parents. Furthermore, Rector of Özay Günsel Children's University Prof. Dr. Filiz Meriçli provided the students and parents details regarding the programs to be run during the Fall Term. Prof. Dr. Meriçli gave information on the vision and mission of the children's university, the importance of the development of their children, credits to be collected during the period, and possible certificates to be awarded. Later, General Coordinator and General Secretary of the University Duygu Kaptanoğlu Coşkun detailed information on the new term was given and students were presented their especially prepared bags.
They played fun games…
Subsequent to the welcome organisation, students participated in an English proficiency event and played fun games. Then, students were divided into their groups and sent to their classrooms where they did several other activities throughout the day. The World Group had Maths workshop, Sun Group had making lavender scented cream activity, Galaxy-Universe Group spent time at the Near East TV to learn about the TV world.
They made lavender scented cream and explored the World of Books…
Galaxy-Universe Group students' second week program involves "Product Development from Fragrant Plants" with Prof. Dr. Filiz Meriçli and Dr. Selin Işık. Therefore, including the Jasmine flower, which is the characteristic plant of Cyprus, lavender and rose petals, students made products such as soaps and candles with scented plants. On the other hand, Sun Group students went to the Faculty of Fine Arts and Design and made print art of fish with Assist Prof Dr. Gökhan Okur. The students in the World Group went to the Children's Library of the Near East University Grand Library and realised the "Being a bookworm at the Children's Library" program with Dr. Sevgi Toplu.
Prof. Dr. Meriçli: "We have prepared programs to improve English Speaking Skills of Our Students…"
Making a speech at the opening ceremony of the Fall Term, Rector of Özay Günsel Children's University Prof. Dr. Filiz Meriçli congratulated the parents for truly valuing the education of their children. She said that each child was unique and likened the children to stars. She said that they, as the Özay Günsel Children's University, they were offering children the medium to shine. Furthermore, she expressed that the children will be conducting experiments at the laboratories of the faculties and explore their own skills and interests.
She advised and assured parents who make statements such as; "that their child is a little introvert, is quiet at school and parents suspect that their child is crushed. In fact, parents who say that this upsets them and say that they wished for their child to get over this and learn to have self-confidence." Prof. Dr. Filiz Meriçli said: "You are at the right place and be assured that we as the Özay Günsel Children's University encourage your children to ask questions. We listen to their questions and seek answers/solutions together. They learn by experimenting, playing games, having fun, encouraging them to tell them that they know, improving their self-expression skills, increasing their self-confidence. Furthermore, Prof. Dr. Filiz Meriçli expressed that in order to improve the students' speaking skills, they prepared short "English time" breaks and also had discussion and events which will be organised for the parents.
Prof. Dr. Filiz Meriçli added that the fall term program of Özay Günsel Children's University comprised workshops on children's rights, what children expect from teachers and families; and that the results of the workshops will be recorded as reports and presented to the relevant parties. Additionally, students will have the opportunity to work on projects of their interests and take part in social responsibility projects. Rector of Özay Günsel Children's University Prof. Dr. Filiz Meriçli said that everything done for the benefit of children triggered new developments to happen. She ended her words by wishing successful and a productive academic year to all the schools in the Turkish Republic of Northern Cyprus.