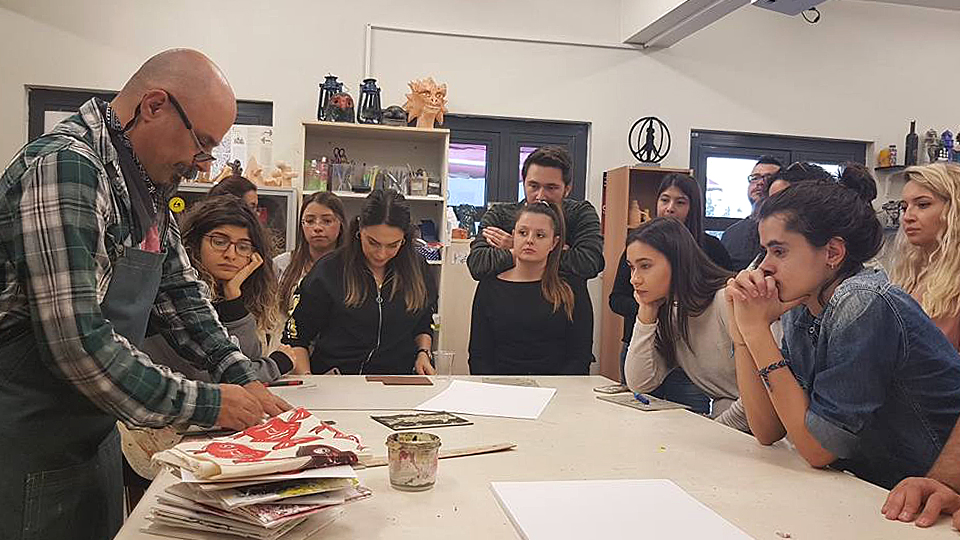 Organized by METU Northern Cyprus, the Culture and Arts Festival mARTfest hosted Dr. Gökhan Okur, lecturer at the Faculty of Fine Arts and Design of Near East University.
According to the press release issued by the Directorate of Press and Public Relations Office of Near East University, mARTfest continues to enjoy many cultural events on all art branches. The faculty members of Near East University Faculty of Fine Arts and Design, which has an everlasting devotion to disseminating culture and art to wider populations, continue to contribute to the festival by participating in workshops and studios. The festival hosts many artists and designers from all branches of arts. Along with workshops and studios, dance performances, concerts, plays and competitions will be held as part of the festival this year.
Participating in the workshop on printmaking, Dr. Gökhan Okur, lecturer at the Department of Design of FFAD (Faculty of Fine Arts and Design) of Near East University, shared his knowledge and experiences on printmaking with participant students.
Dr. Gökhan Okur Produced Linoleum Block Prints by Using Carving Techniques
Fish images from Samet Behrengi's fairy tale titled as "Little Black Fish" were chosen for printmaking. Once the images were transferred successfully on the Linoleum block, Linocut carving technique was used for printmaking. First cut, beginning with careful outline of the image, just outside the lines allowed the adjustments in line quality. Then, Dr. Okur worked into details after the overall image form was developed. Once the image was carved, he carefully cleaned the loose material left from the carving process. The carved Linoleum block was exposed to the solvents in the ink body for printing. After printing, excess ink was removed from the surface of the plate with a cloth lightly dampened with solvent, and allowed to dry. "I truly believe in the positive outcomes of such events. I would like to take this opportunity and extend my appreciations to everyone, mainly Mr. Serhat Selışık in recognition of their contribution to the organization" noted he.
Underlining the importance of collective production in arts, Serhat Selışık, artist and lecturer in charge of the organization of the event, expressed his views regarding the event: "I firmly believe that the experiences of the artists/designers invited to mARTfest are very valuable for our students. Such events that combine the dynamics of science with the practice of arts and design provide students with opportunity to enhance their artistic skills and capabilities required for developing creative solutions for problems likely to be encountered. "Thanks to all precious artists and designers for their participations and unique contributions" said he.